Our Wedding Reception
This post may contain affiliate links. Please read my disclosure policy.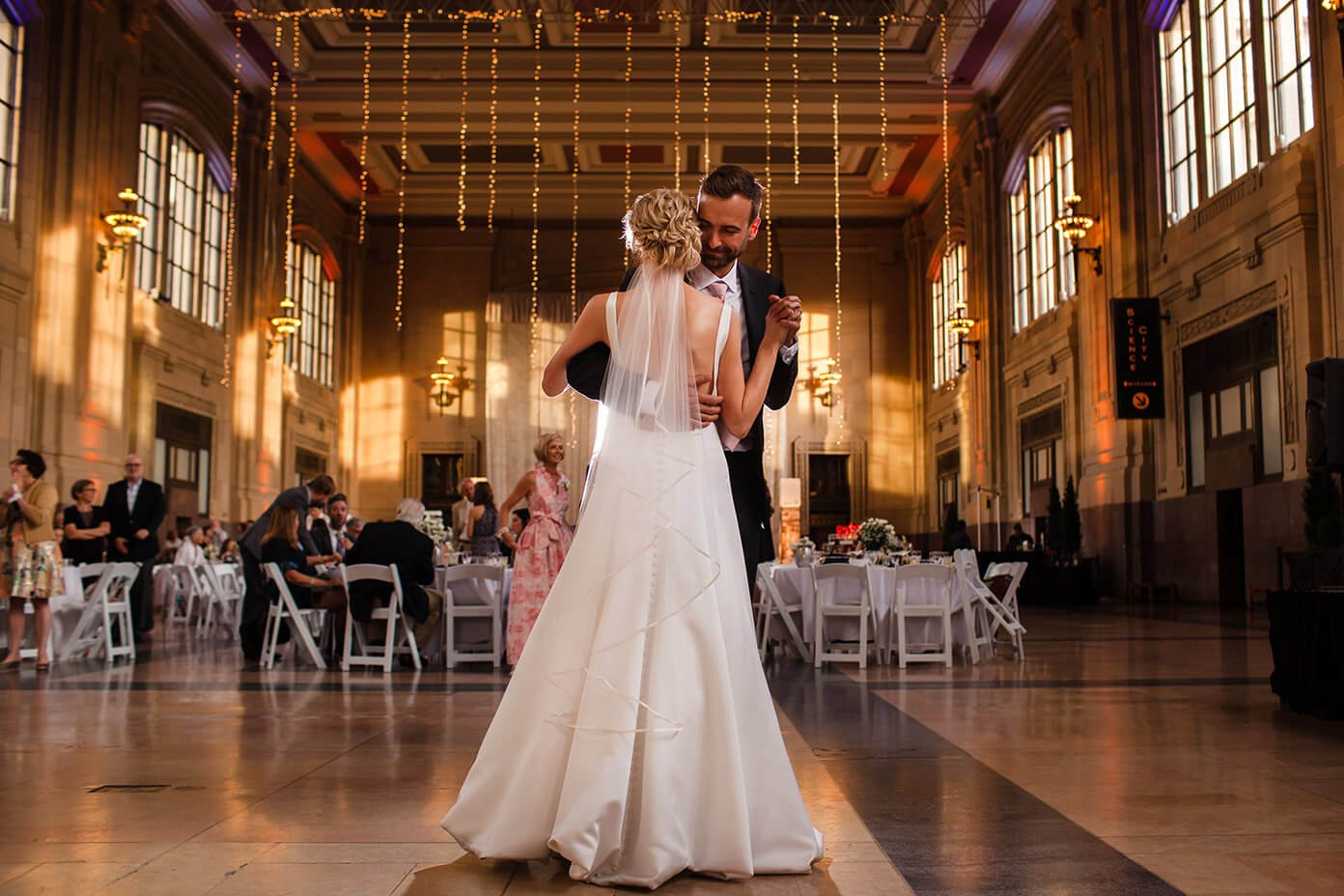 Well after all the tears in our wedding ceremony, I'm happy to report that the reception was all smiles. (Well…almost. Our first dance song gets us every time. ?)
Since we had the ceremony and reception side by side in Union Station, we were able to kick off the party literally the minute the ceremony wrapped up. Actually, make that "fiesta", since the reception kicked off with chips and salsa and margaritas for all, followed by a Mexican street food dinner and a surprise Mexican treat for dessert. Add to that two dozen of our friends each taking the turn in the live band playing and singing love songs, a kickin' VW bus photo booth, yard games, and our friend DJ-ing a dance party until late in the evening — it was the fiesta of our dreams.
And you'd better believe everyone came ready to par-tay. ?? ??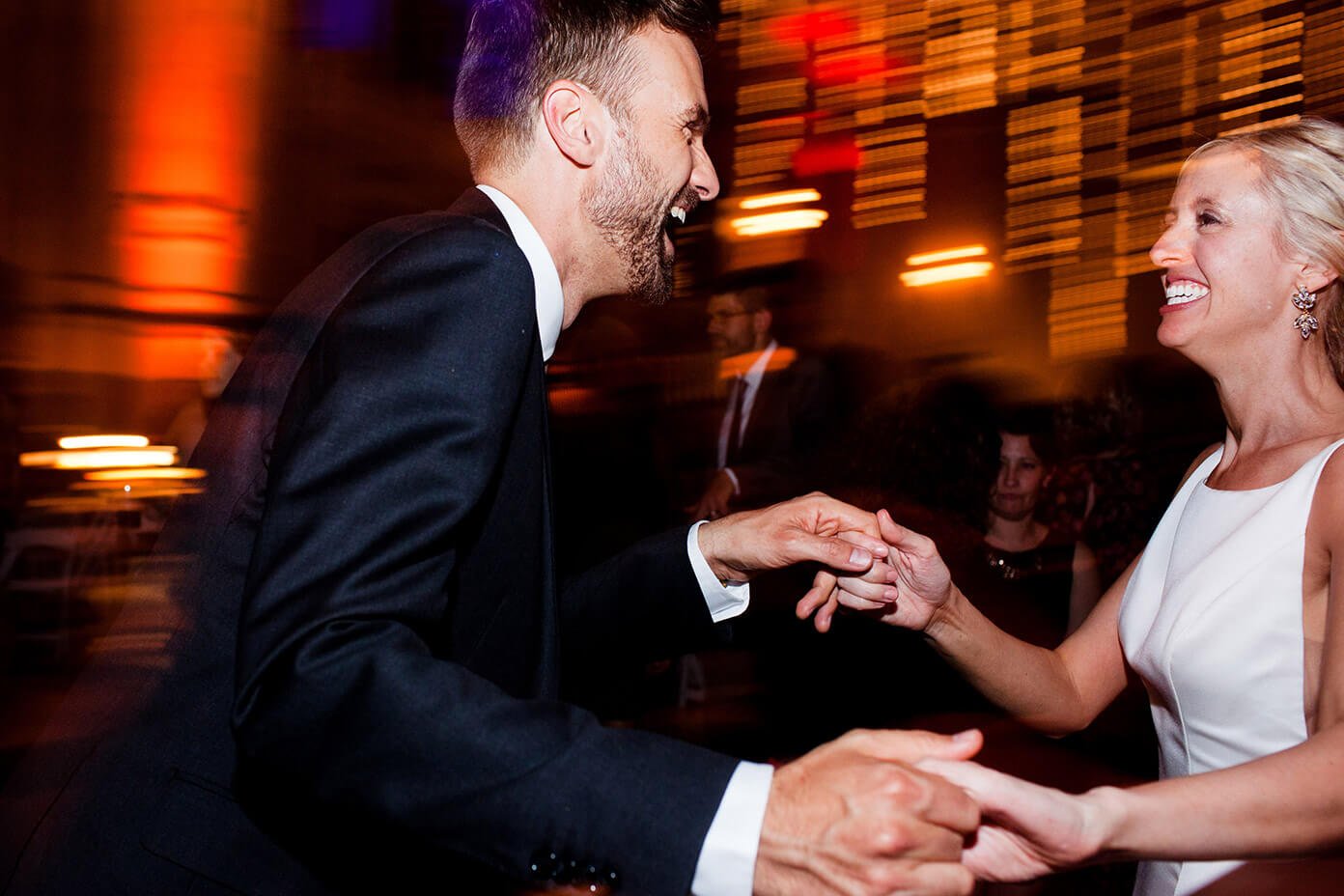 Alright, before we get to the dancing, I thought I'd start with few of the highlights: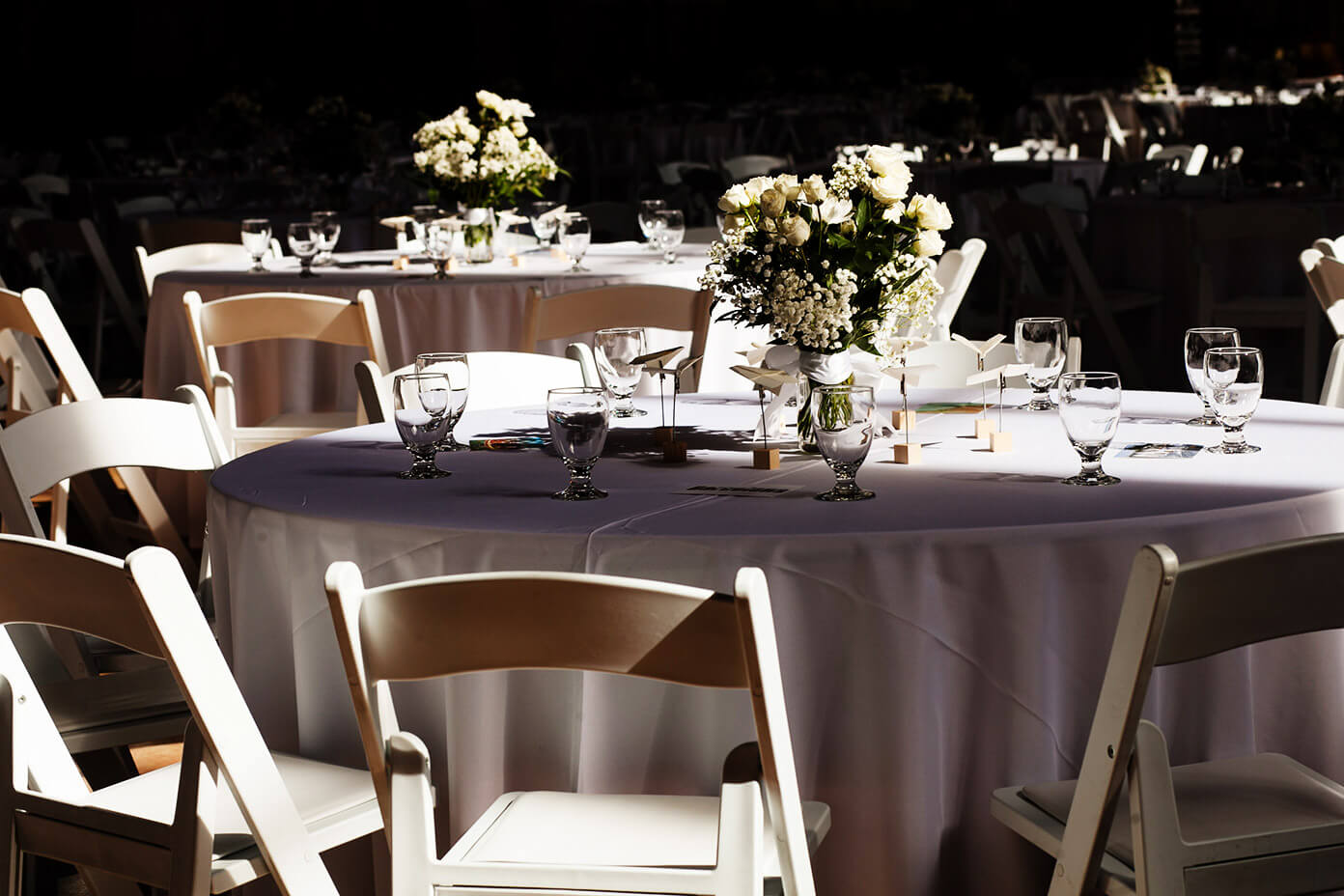 The Flowers
All of those lovely bouquets you see were the handiwork of my talented mother-in-law, Jen, who graciously took charge of designing, arranging, and setting up all of the flowers for the wedding. As you can see — she did an absolutely beautiful job.
We didn't really have wedding colors — just wanted as much white on white in the room as possible, since the room was already so dramatic and warm-toned. So Jen arranged a variety of beautiful white flowers and greenery in mason jars for the table centerpieces. And they positively glowed in that beautiful light at Union Station. So classy and simple and beautiful. And so perfect.
Barclay and I are so thankful for all of her hard work making everything so lovely!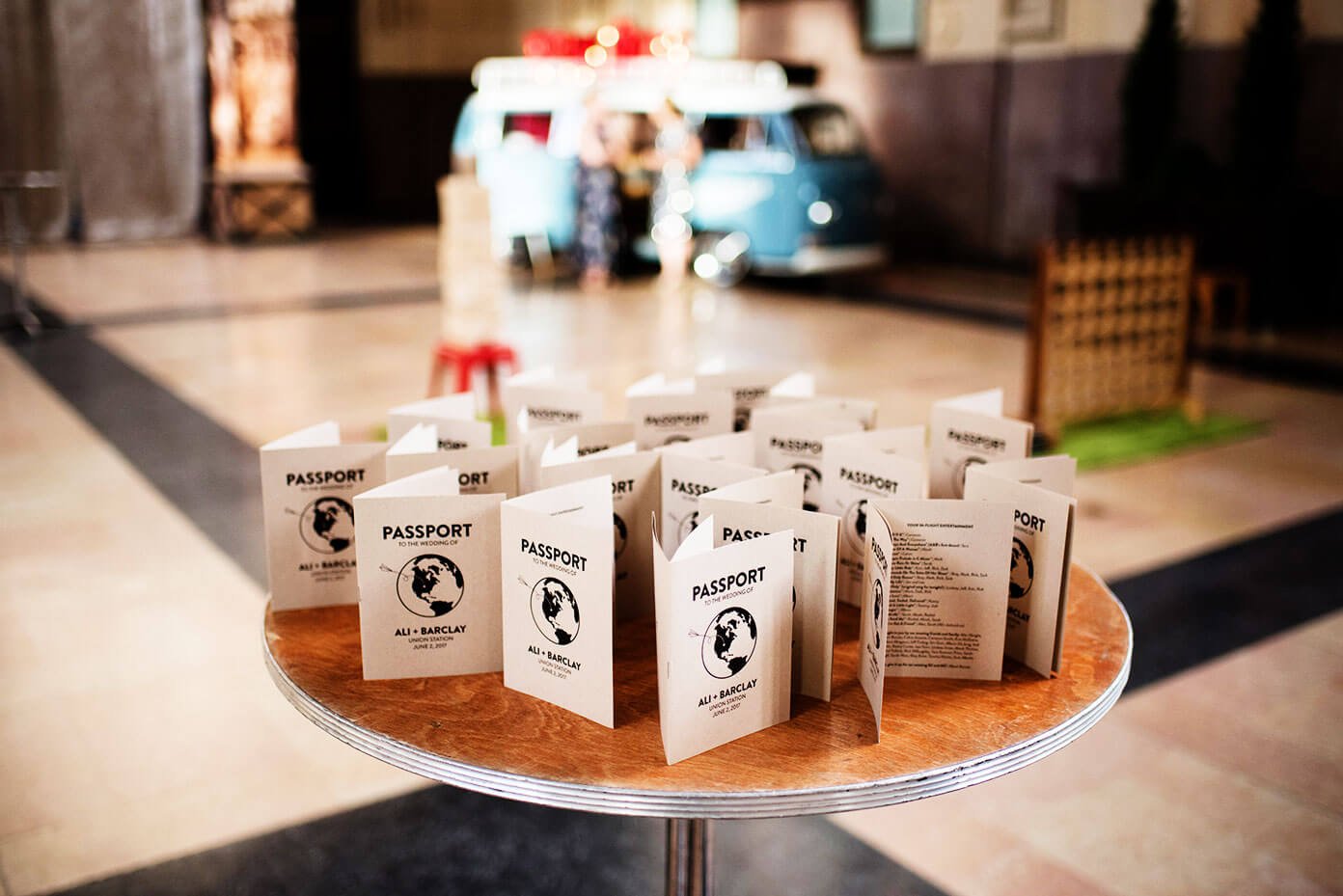 Programs / Passports
Our programs were also DIY, designed by Yours Truly…um…two days before the wedding. ?
We might have procrastinated on these a wee bit, and pulled a late-nighter trying to finish them and figure out how on earth to lay out the pages for printing. (Ha, apparently my brain does not work that way.)  But in the end, they turned out great! I just uploaded some closeups and details about these wedding "passport" programs here, if you'd like to take a peek.
Big thanks to our Kiwi relatives for offering to have a folding/assembling/stapling party on the floor of their AirBnB to help us out the day before the wedding. These little guys were a team effort, for sure!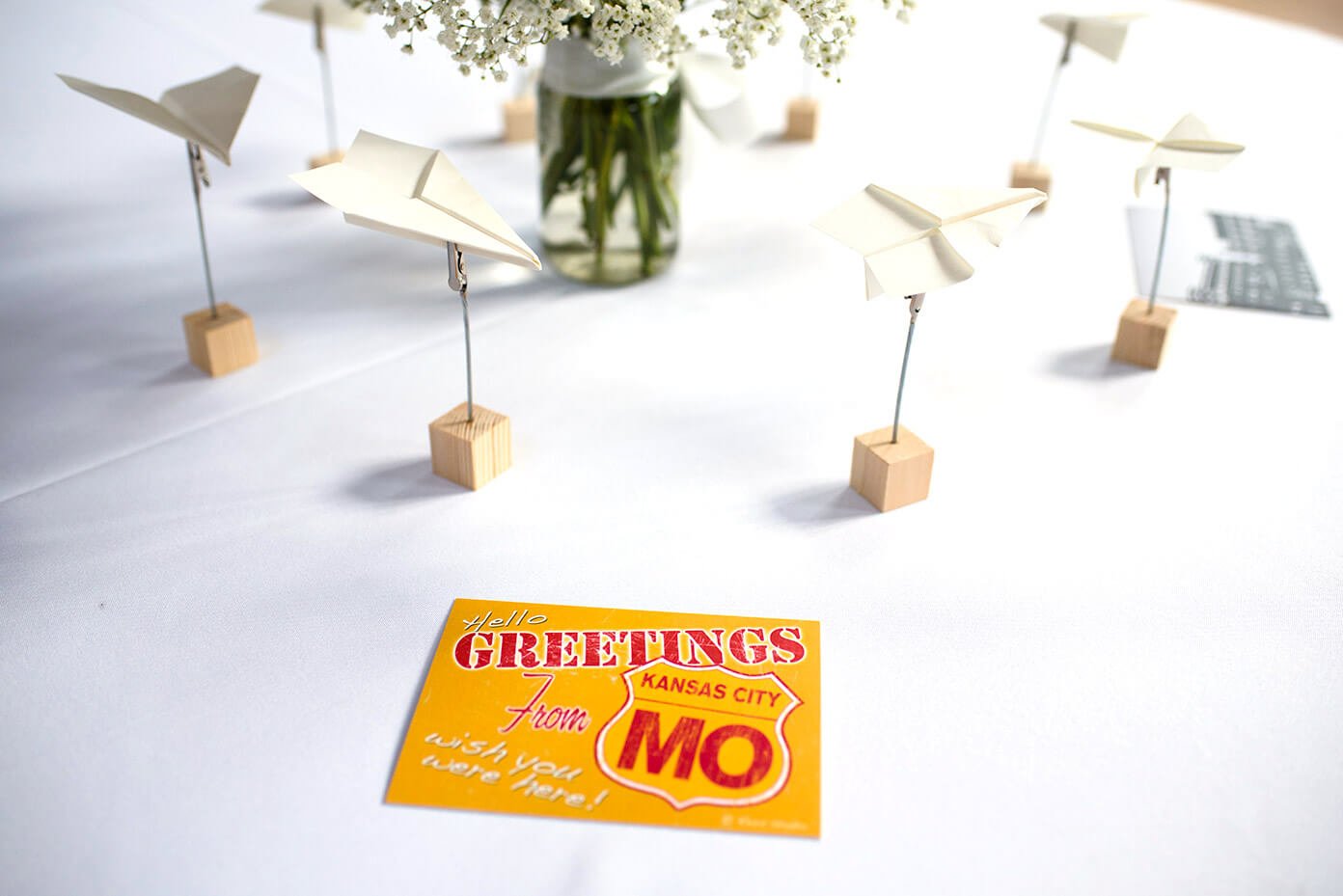 "Guest Book"
Since we had a large number of guests attending the wedding, we wanted to avoid a bottleneck with a single guest book. And also…do something fun and original too!
So in keeping with our travel theme, we placed a handful of postcards on every table from either Kansas City or Barcelona (psst – where we're moving in two months!), and invited guests to leave us a little message on them and then drop them in the mailbox (see below) on their way out. And they did! And we loved them!!
Seriously, we've had a blast reading and re-reading through all of the fun messages that people left us, and love the cool postcard collection as well. Someday soon when I have time, we're going to punch a hold in the corner of them and bind them together with a little metal ring to turn them into a coffee table "book". I'll upload a quick DIY with some photos whenever I do!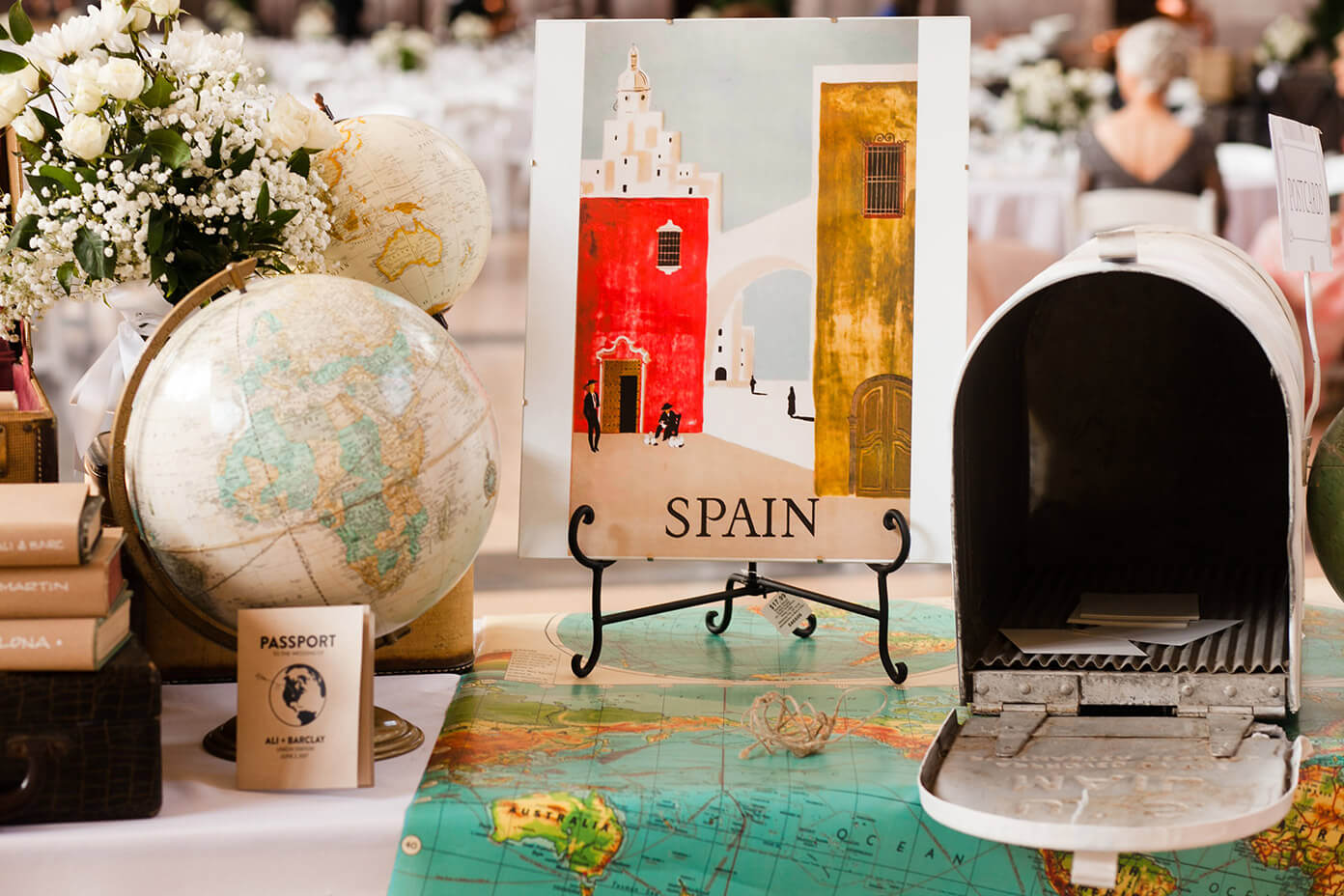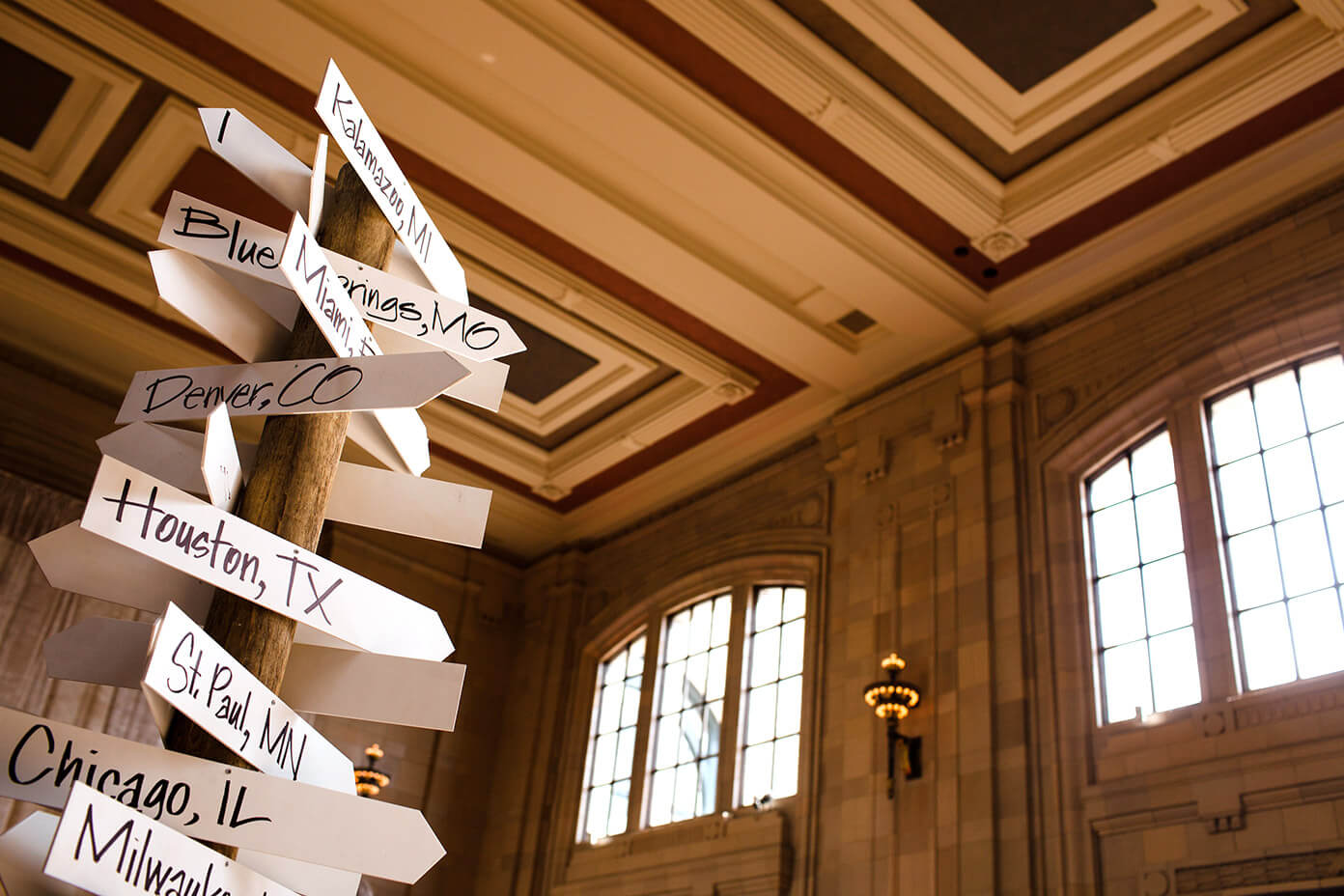 Decor
The rest of the DIY credit for our wedding goes to my awesome mom and dad, who took the reigns with all other reception decor projects. They created this adorable little welcome sign (above), giving a shout-out to all of our out-of-town guests who came in for the wedding. My crafty mom also created a travel-themed "guest book" table (see the mailbox above!) that also had suitcases where guests could drop off any cards or gifts. They also folded the zillion paper airplanes that went with the centerpieces. And — I love this — created a cute paper airplane folding/toss game below for the reception.
Our friends, John and Cate, from The Photo Bus (see below) also generously brought along some yard games that we set up in the reception area, including a huge Connect Four and Jenga games. So there were lots of options for fun things to do all evening!
Loved it all. Big thanks to Mom and Dad for rockin' the DIYs.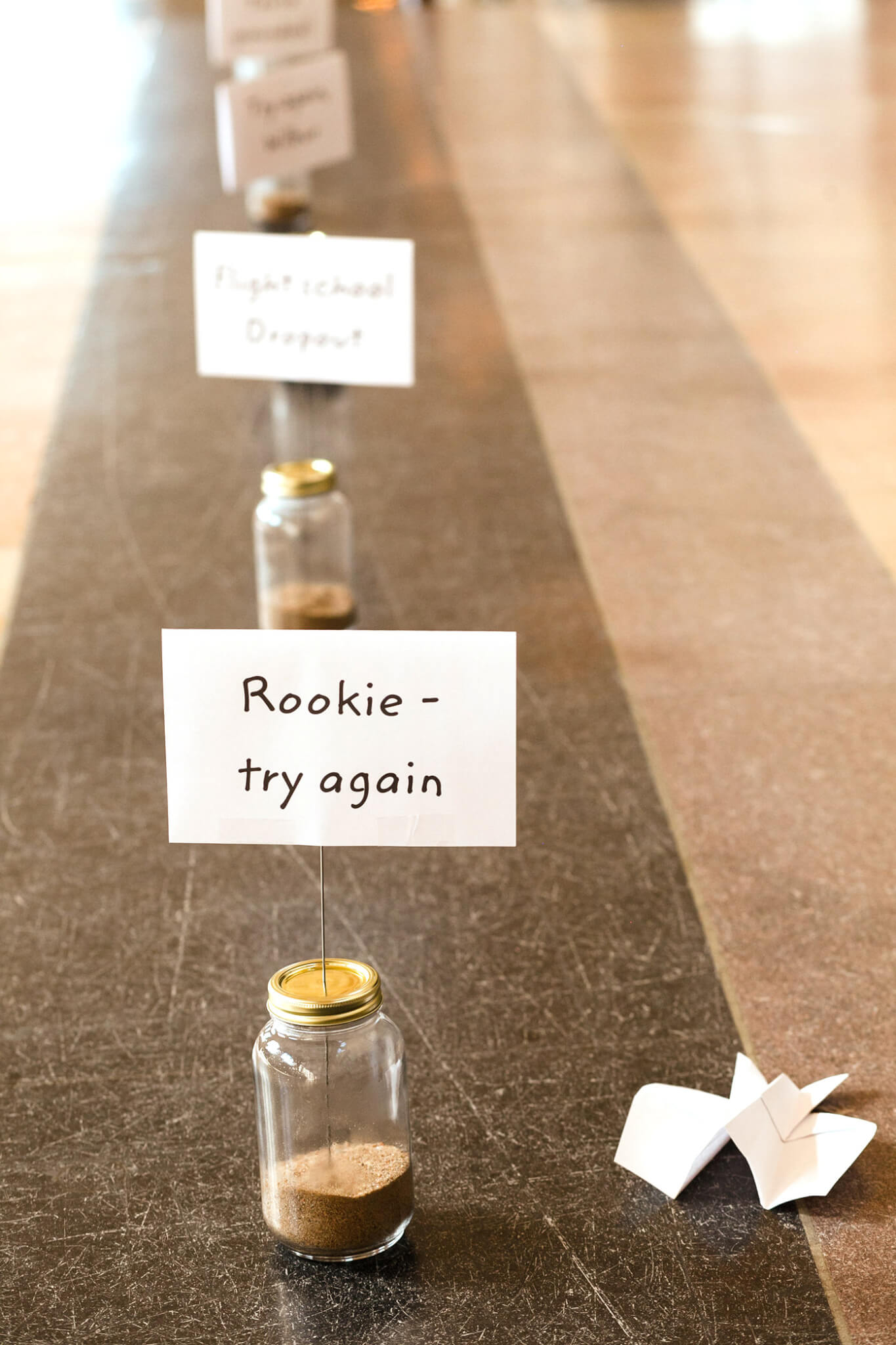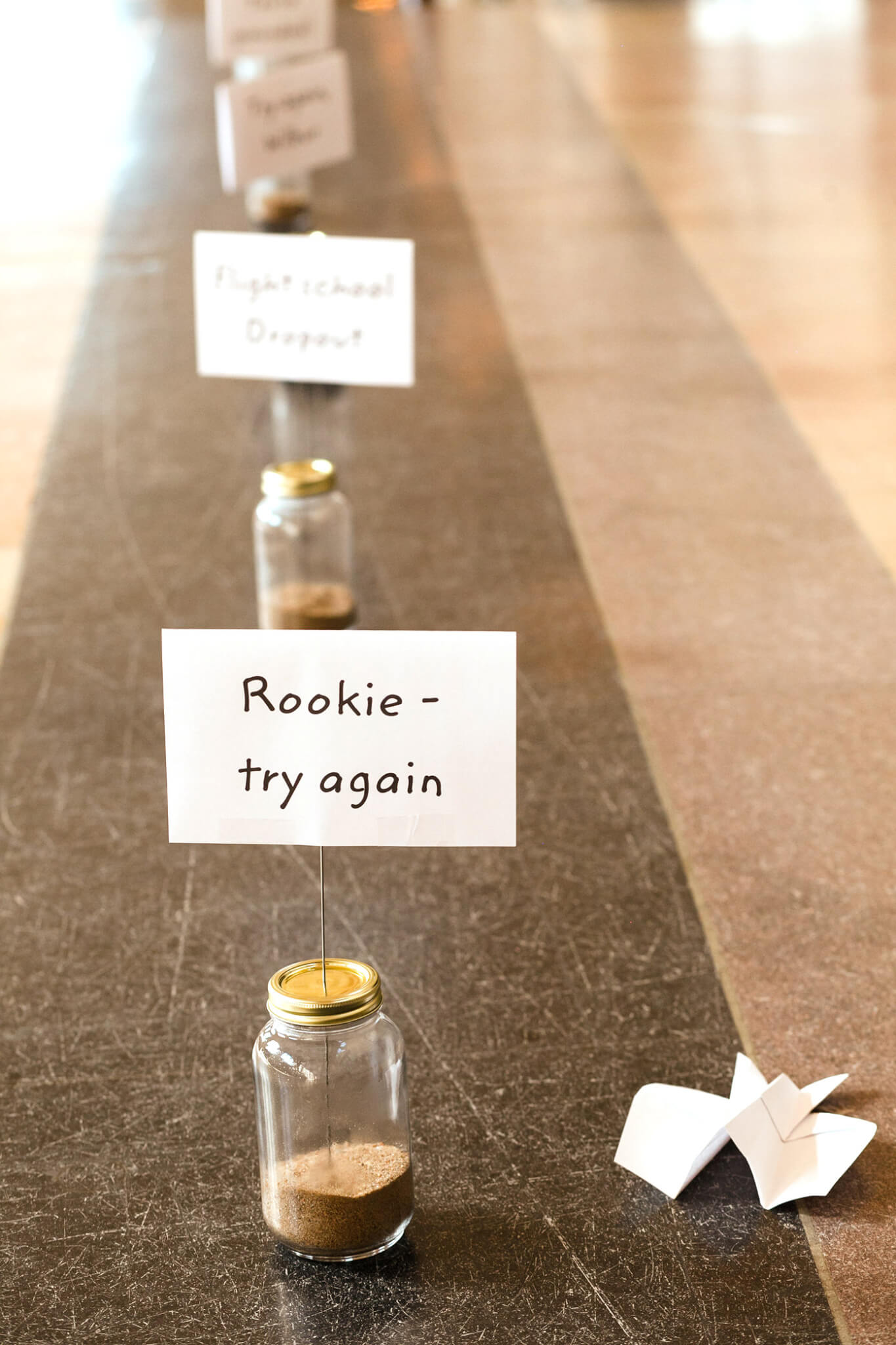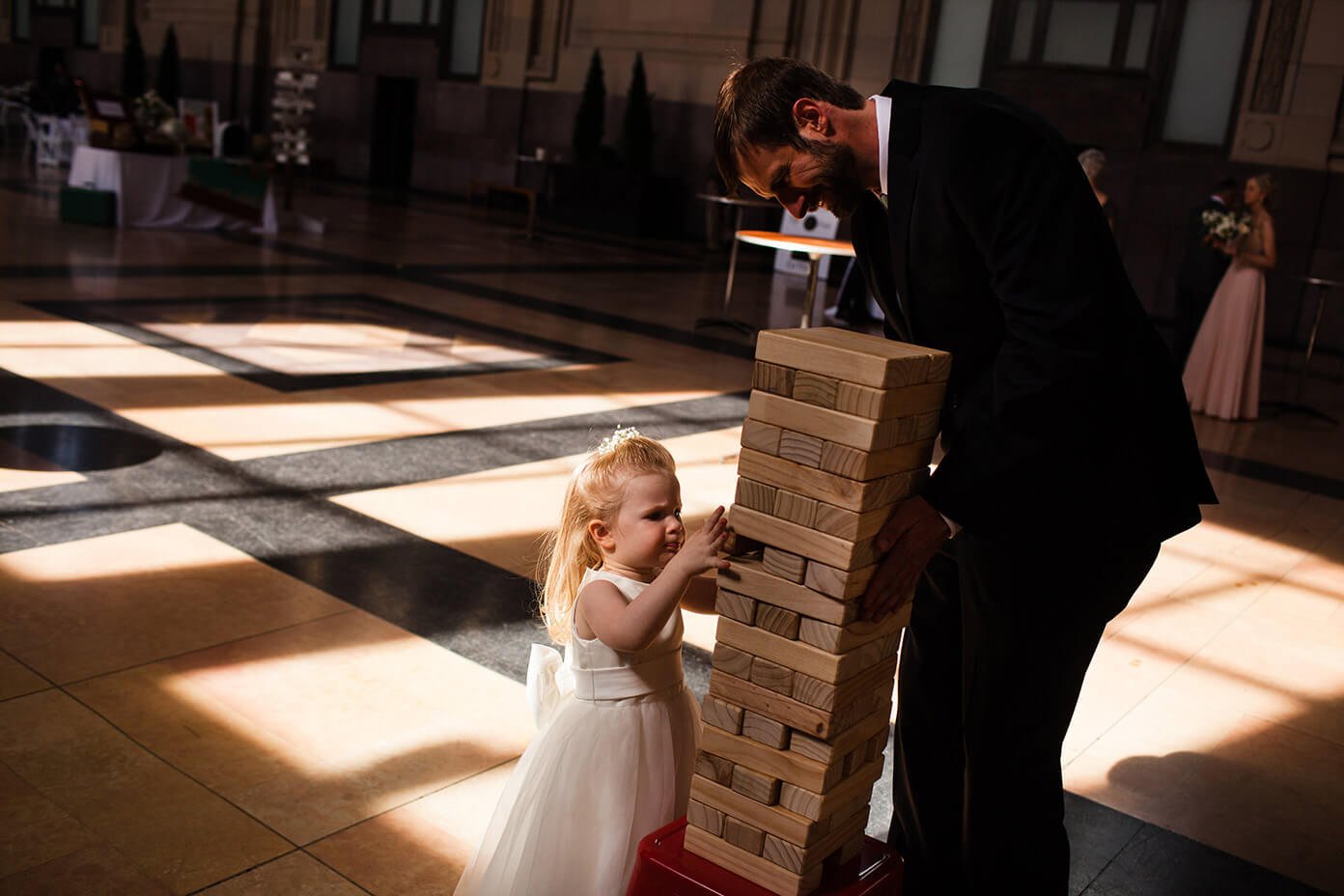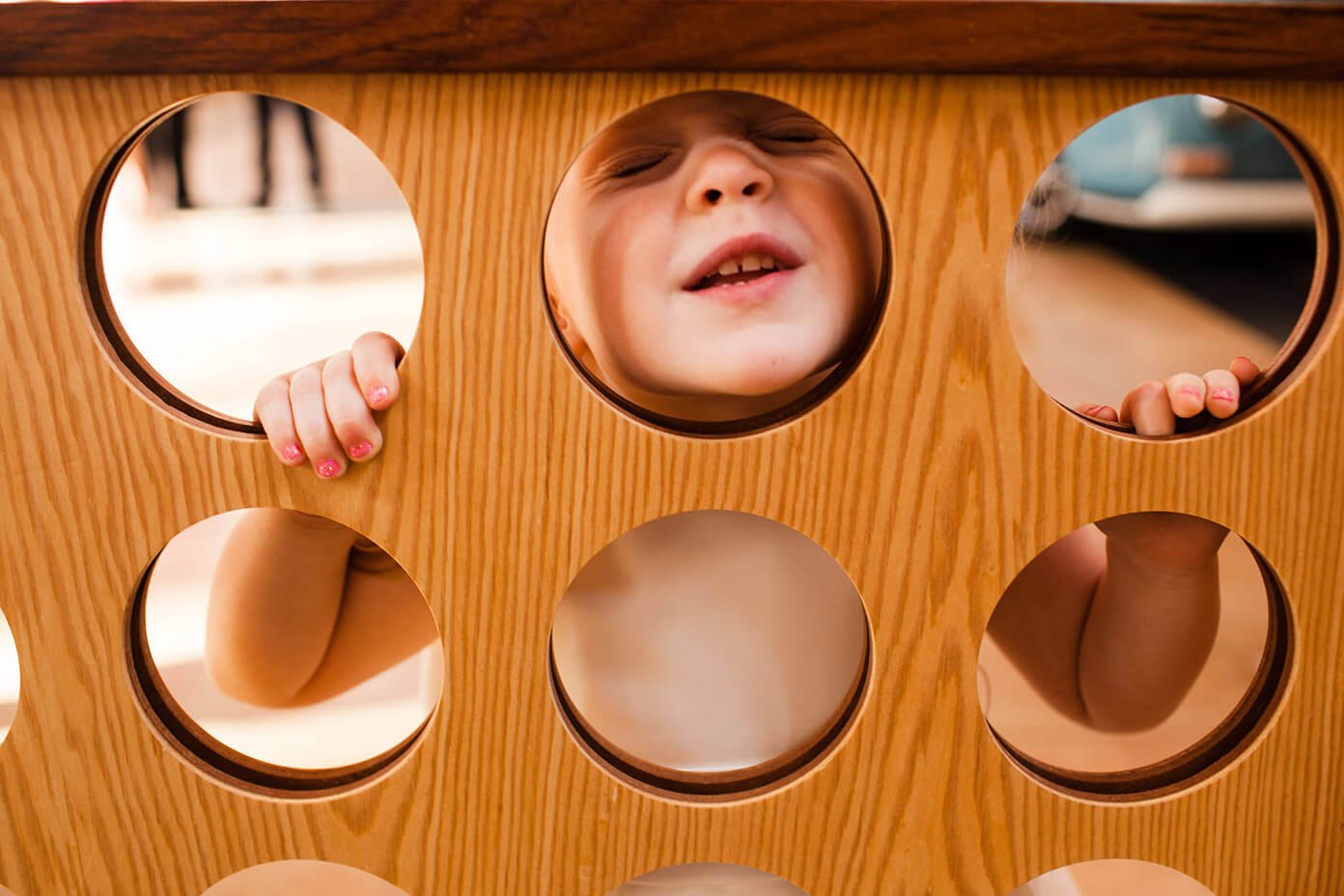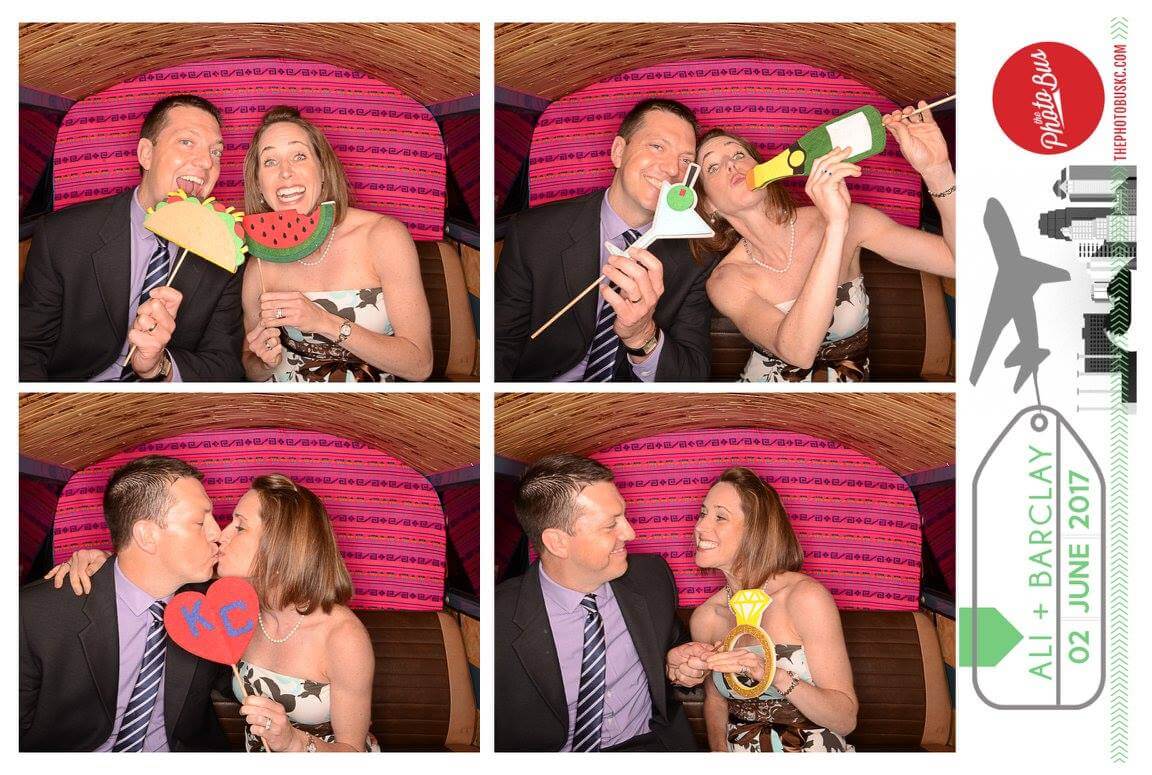 The Photo Bus
Without a doubt, one of the crowd favorites of the reception was The Photo Bus — a retro VW van parked in the corner of the room that had a photo booth inside, run by our dear friends and neighbors (our "freighbors"), John and Cate.
These two were some of the very first people I met when I moved to the River Market years ago, which also happened to be around the time that they first started dating and decided to launch their first photo bus in Kansas City. Over the past five years, I've been so thankful to do life alongside them and watch them grow together as a couple (getting married, buy their first house, welcome their sweet little Rossi). And, it's also been cool to watch them grow their amazing business so quickly (The Photo Bus is now available in ten different cities!!). They've truly made this neighborhood feel like "home" to us, and we're going to miss our morning coffee shop run-ins and spending time with them big-time once we move to Spain. Although they're already planning a trip to come visit, so…fhew. ?
Anyway, needless to say, The Photo Bus is a hit every time it parks at an event in Kansas City. So when John and Cate sat us down and told us that they wanted to bring the bus to our wedding as a gift to us, we were floored by their generosity…and instantly said "YES!" ? As a bonus, they also brought along their new GIF booth for our guests to try out. And oh my goodness, the lines to both were long and full of smiles all throughout the night. And people took so many pictures! ?
Here's a link to The Photo Bus album if you want to take a peek. (Friends, please tag yourselves!).
And here's a link to the GIF Booth album too.
We're totally going to be print a book with everyone's photos soon, and love that we get to have those and all of our friends happy GIFs to serve as another sort of "guest book" as a memento from the wedding. So awesome.
Thank you, thank you, thank you, Cate and John! ?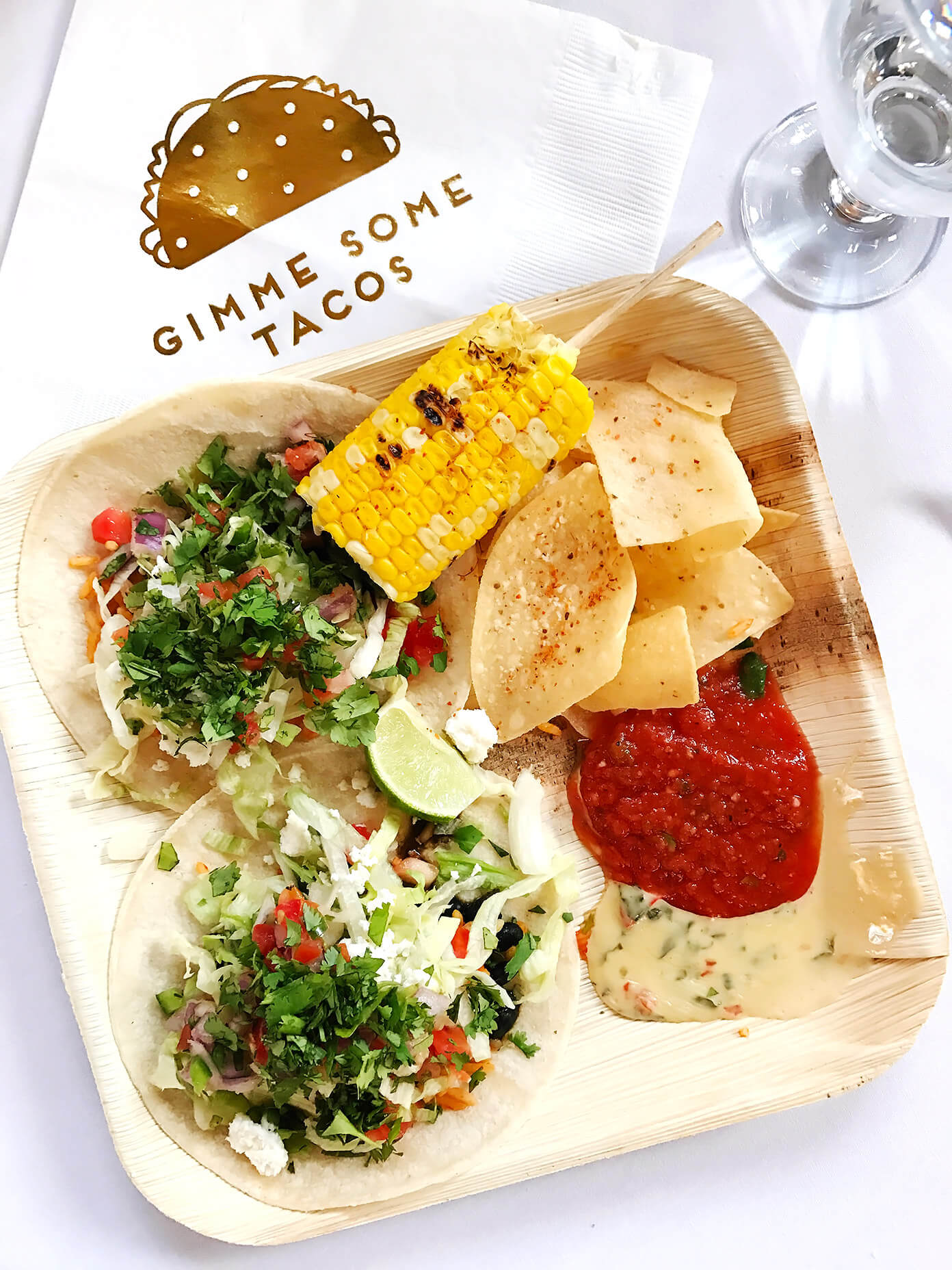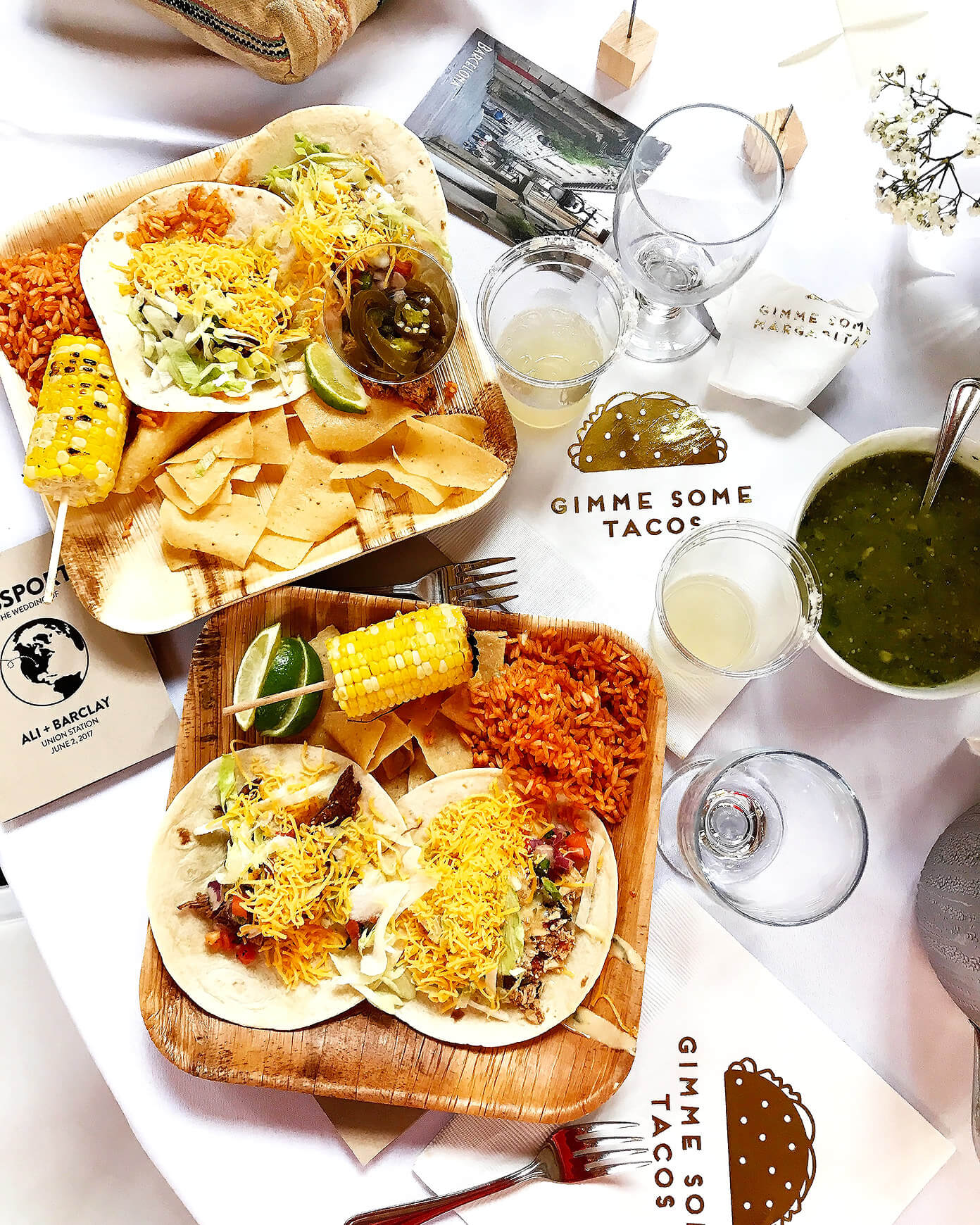 Our Mexican Fiesta Feast
Ha, ok so here is where the grand irony comes in as a food blogger writing this post. In the flurry of everything happening that evening, somehow all of us and our photographers emerged from the wedding with exactly zero photos of the food buffet. Whoops! And…we also would have had zero photos of our amazing Mexican food, had it not been for two of my awesome food blogger friends who happened to be at the wedding.
Hallelujah for my fellow food bloggers who always take pictures of their food!! ? ? ?
Seriously, the meal was a special part of this night for Barclay and me, so thanks to Heidi (from Foodie Crush) and Maria (from Two Peas & Their Pod) for snapping the above pics.
We had the all of the food and drinks catered by Brancato's Catering, who was one of the official caterers for Union Station. And I will be the first to admit — I was worried when we found out that we had to go through an "approved caterer", and wouldn't be able to choose between our favorite Mexican restaurants for the wedding. (I might be a bit picky about good Mexican food.)  But as it turns out, Brancato's was awesome and worked with us to come up with a delicious Mexican street fair-inspired menu for the evening. And they totally nailed it. ?
For starters, we had chips and two kinds of salsa ready and waiting on the tables the second that the ceremony let out. Which was important to us because:
chips and salsa are everything ?
I get a little hangry at weddings when you have to wait too long for the food ?
the margarita bars also opened up immediately after the ceremony, and we all know what goes well with a margarita ?
Soon after the ceremony ended, we also went ahead and opened up the lines to the dinner buffet, where guests had their choice of making their own nachos or tacos, filled with steak, chicken or veggies and all the fixin's. We also had rice and beans for sides, and spinach queso for extra dipping. And our favorite extra touch?
A little DIY street corn bar at the end of the buffet! Guests could choose between either corn-on-the-cob or corn-in-a-cup, and then top it with their choice of chipotle mayo, queso fresco, cilantro, lime wedges, and/or chili pepper. Muy delicioso.
We also had Pacifico beers, New Zealand wines, soft drinks, and margaritas available all night. And interestingly, everyone commented asking us where the margs were from. It's our favorite secret to tell margarita lovers — Costco!! If you're ever there, do yourself a favor and pick up a bottle of pre-mixed Kirkland margs. They are only $10 a bottle, include 17 servings, they're made with fresh lime juice, and they are my favorite shortcut when I'm not making my favorite homemade margarita recipe. Trust us — they're legit. ?
Sadly, Barclay and I totally did "that thing" where we were so busy talking the entire night that we literally only ate a few bites of food. But we heard reviews from everyone else that the food was tops. So thank you, Brancato's, for making our Mexican street food dreams come true!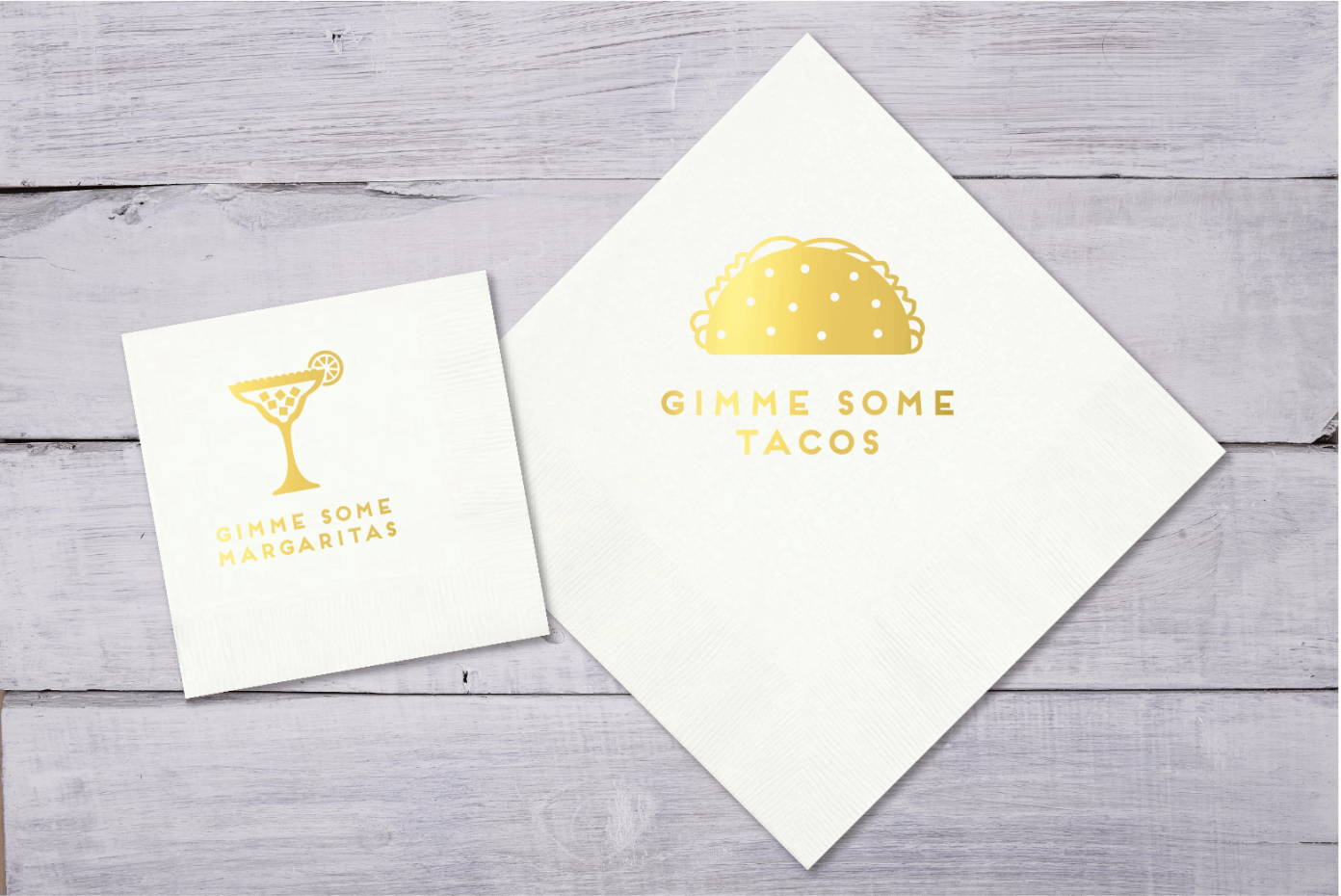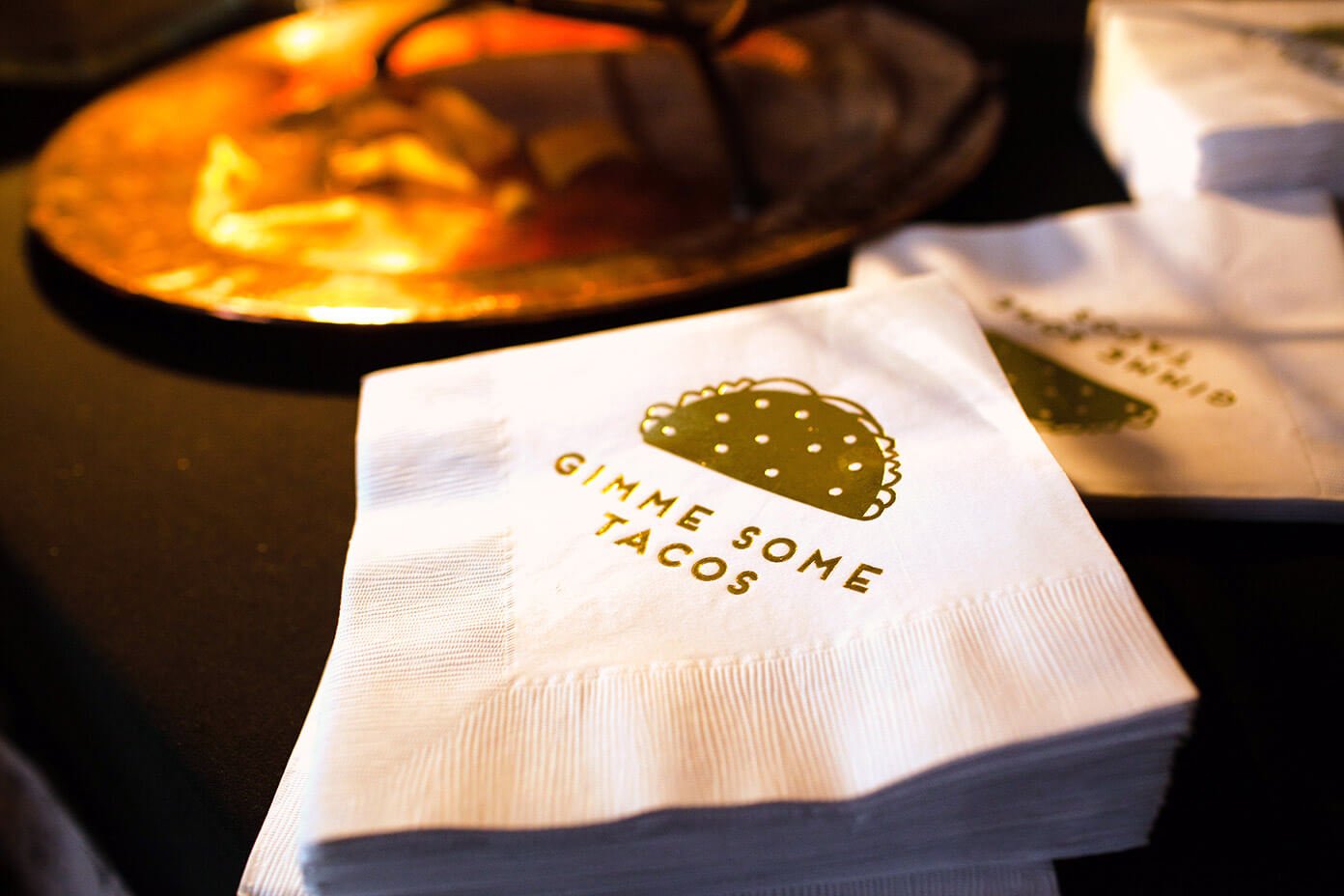 Our Napkins
Speaking of dreams come true, a few months before the wedding, I received a surprise email from a longtime reader of the blog who runs a custom party supply store on Etsy called Sprinkle Social. She had heard about our engagement and upcoming wedding, and asked if she might be able to send us some custom napkins as a wedding gift. The second I looked at the link she sent, I totally freaked out.
She had made some "Gimme Some" napkins! Both for tacos and margaritas!!!
I immediately texted Barclay a picture of them, accompanied by all the freaking-out emojis, and he also couldn't believe how perfect they were. So Ashley and I worked together to choose the napkin sizes (we went with dinner napkins for "Gimme Some Tacos", and cocktail napkins for "Gimme Some Margaritas") and colors (we immediately opted for white and gold, which looked even cooler in person). And then just like that…we suddenly had a new detail for the wedding that made our dinner feel even more fun and special and personal.
And our guests absolutely loved them.
Seriously, we had so many comments on them throughout the night. And we told them to google Sprinkle Social to order some for their next event! They already have tons of great options in the shop for everything from weddings to birthdays to showers to bachelorette parties and any other reason to celebrate (check out the taco section alone ??), plus can also do rush orders if you're a fellow last-minute planner like me.
And as an extra wedding present, she's also offering a coupon code to all of you readers. Just type GIMMESOMEOVEN for 10% off your order before August 31, 2017. Thank you so much, Ashley!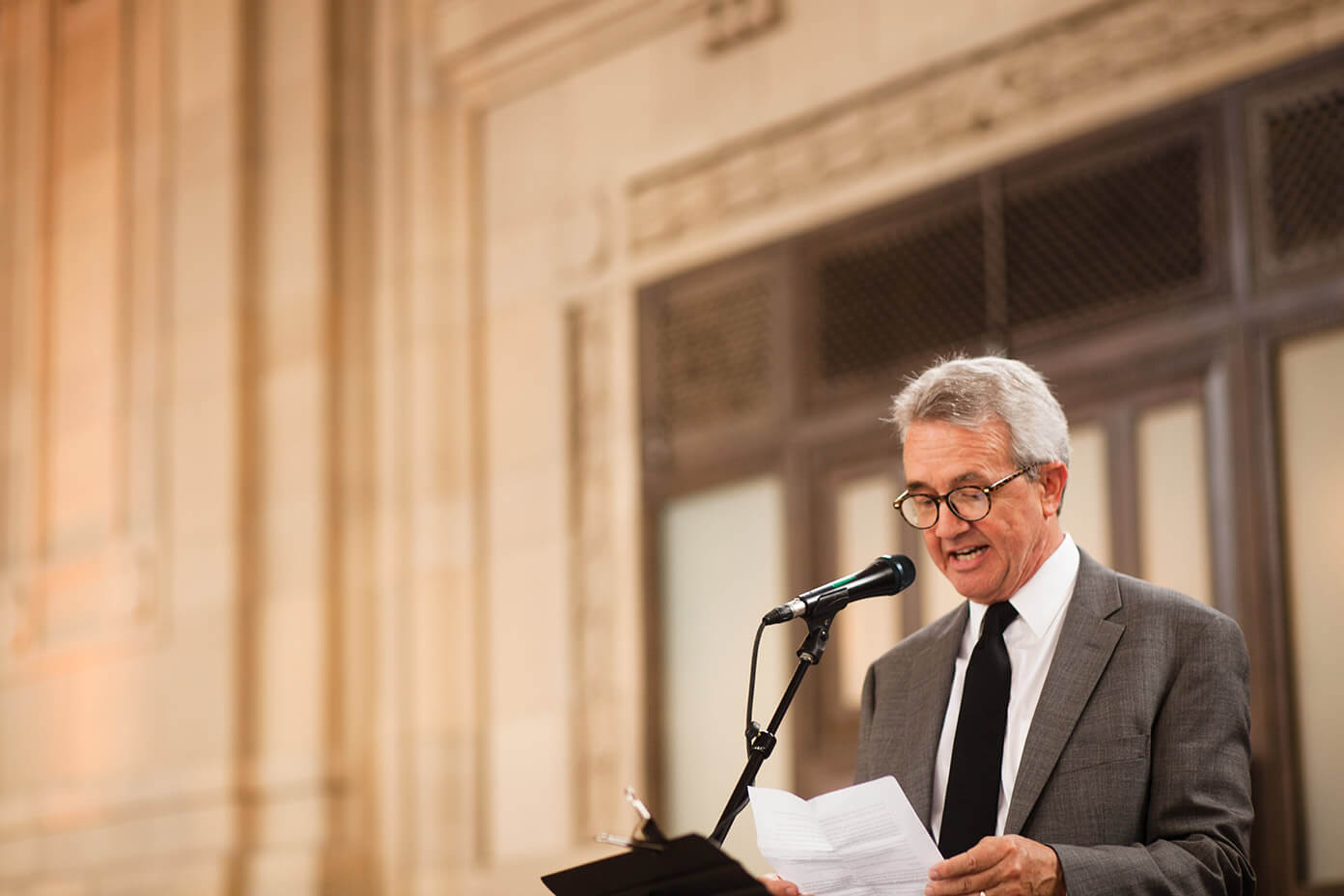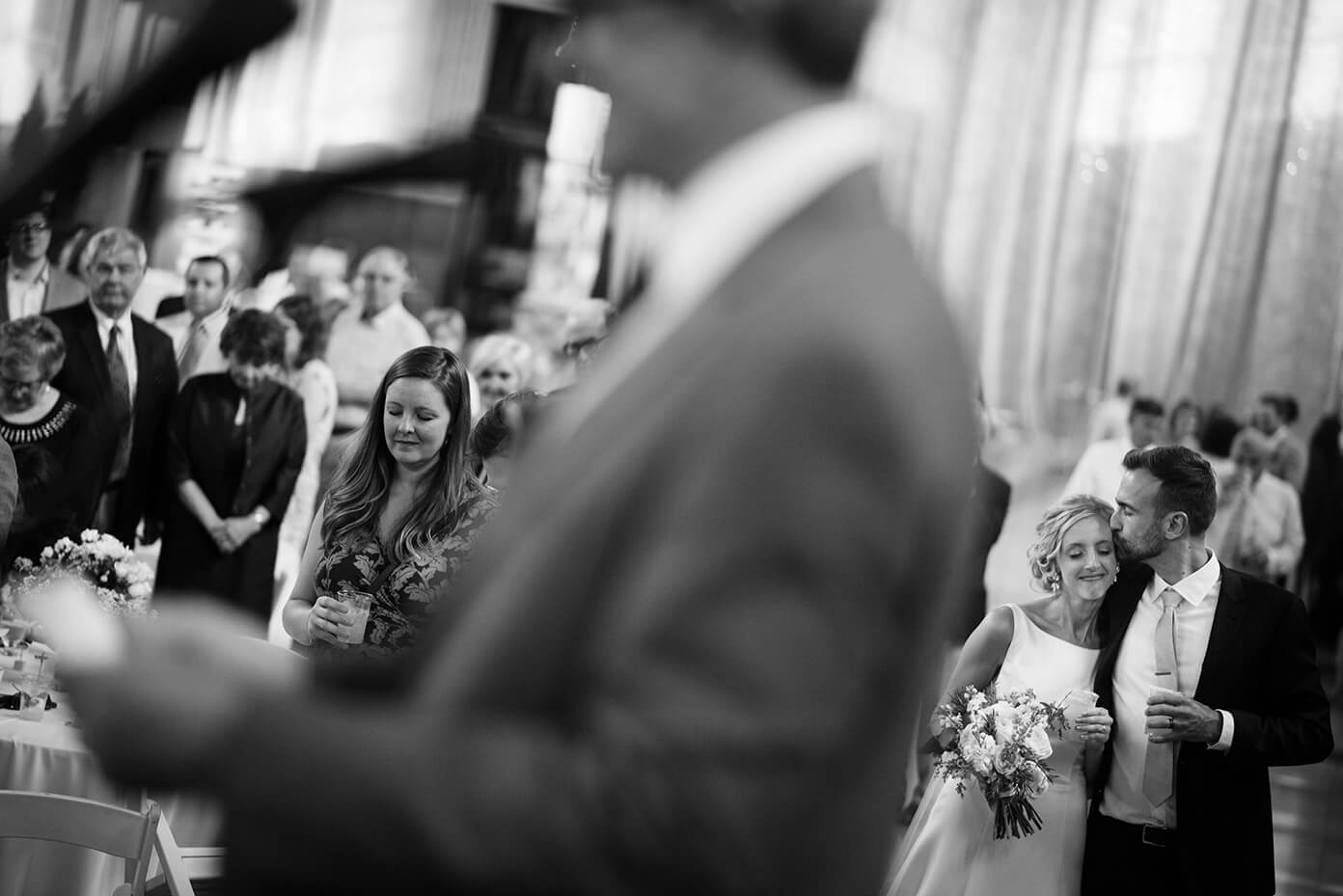 The Blessing
Alright, moving on to party time. My dad kicked the dinner off by giving a sweet toast and blessing.
Then…surprise! He and my sister, Sarah, took a turn on the mic to sing a duet together!
I'll confess — we had all of our other friends choose their own songs for our live music time, but I did put in a special song request for these two. When we were little girls growing up, Dad used to sing us to sleep each night, and always ended with…
"You just call out my name
And you know wherever I am
I'll come runnin' to see you again
Winter, spring, summer or fall
All you've got to do is call
And I'll be there, yes I will, you've got a friend."
So there, in front of all our friends and family, we had a little James Taylor serenade once again. And it was so great. ? Thanks, Dad and Sis.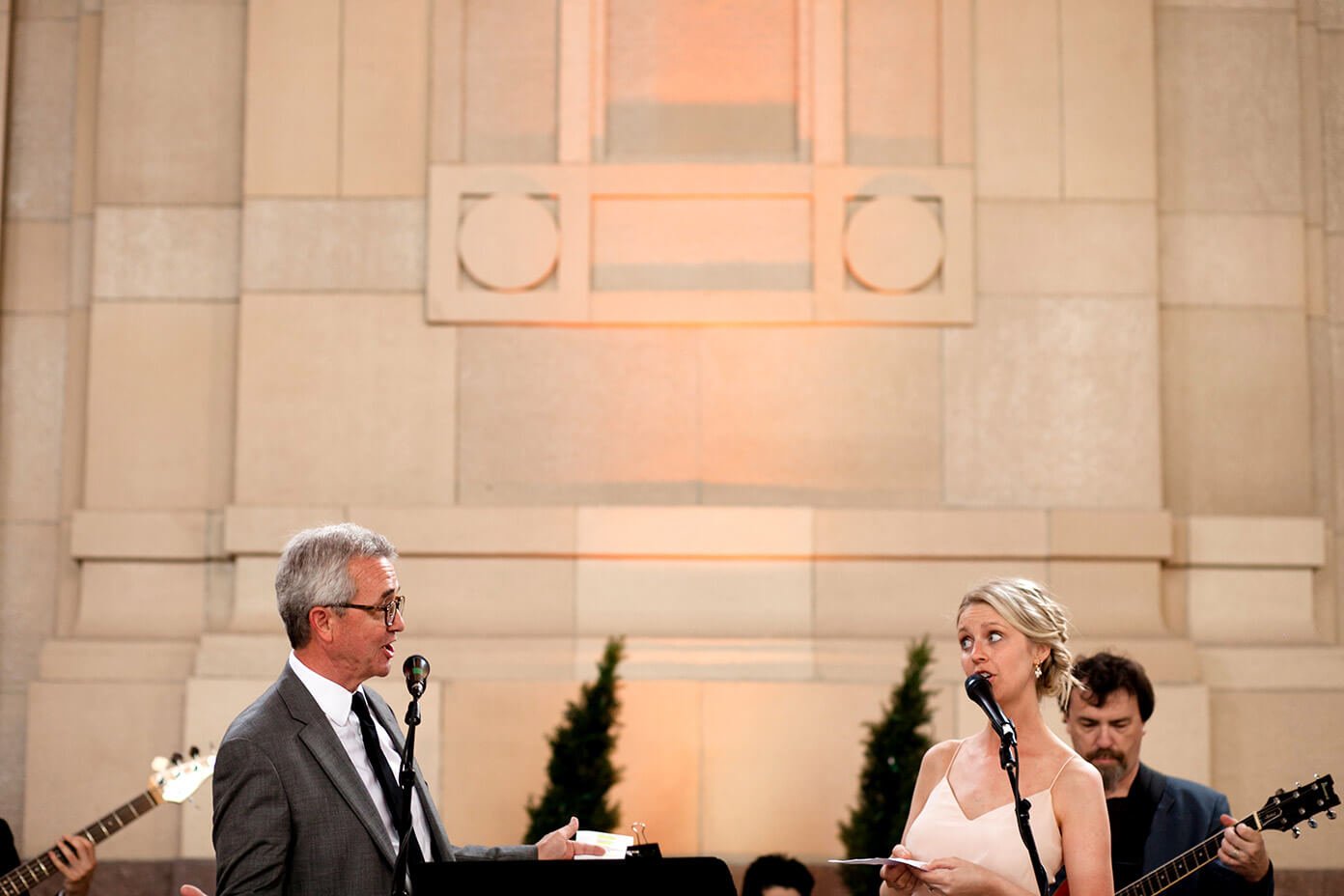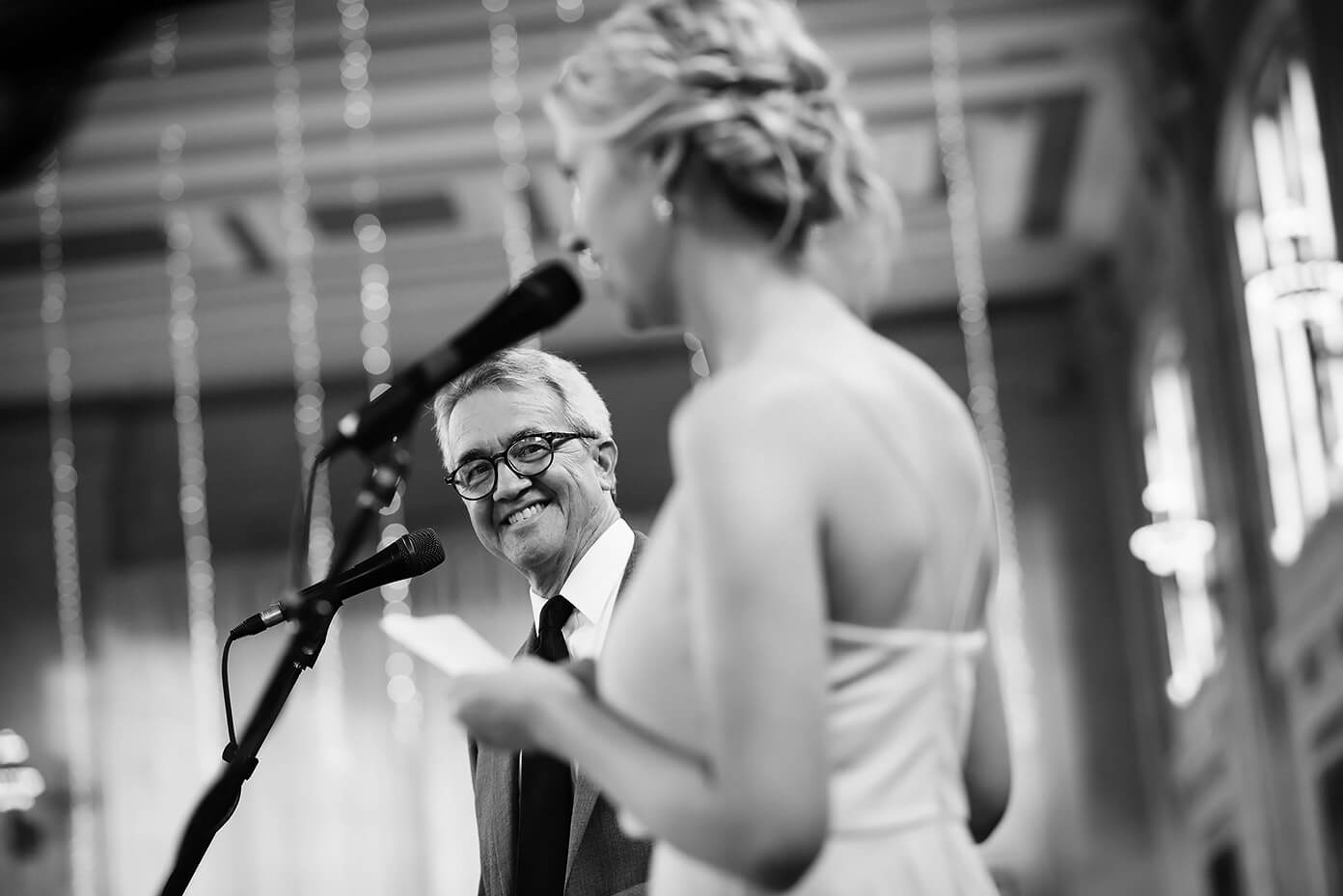 The Hugs and Hellos
These were in abundance all night long, which was especially a dream come true for my husband who loves nothing better than a good hug (or three) anytime he sees someone. But we quickly learned that the only bummer about having 350 amazing loved ones come to your wedding…is not getting to spend time with all 350. ? We were so thankful for every person we got to greet in person. But for those we missed, all our thanks for being there, and we'll take a rain check on that wedding hug again soon!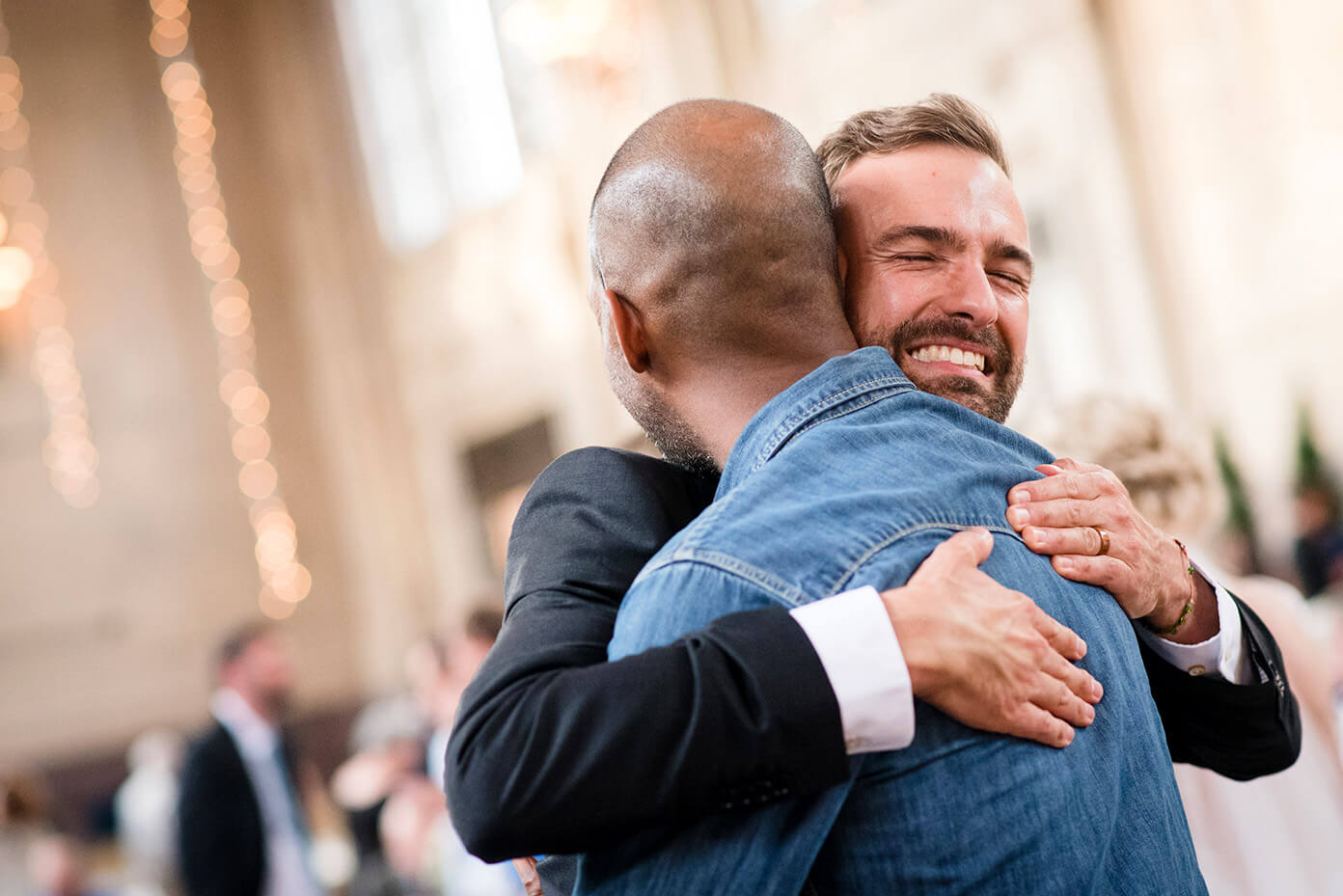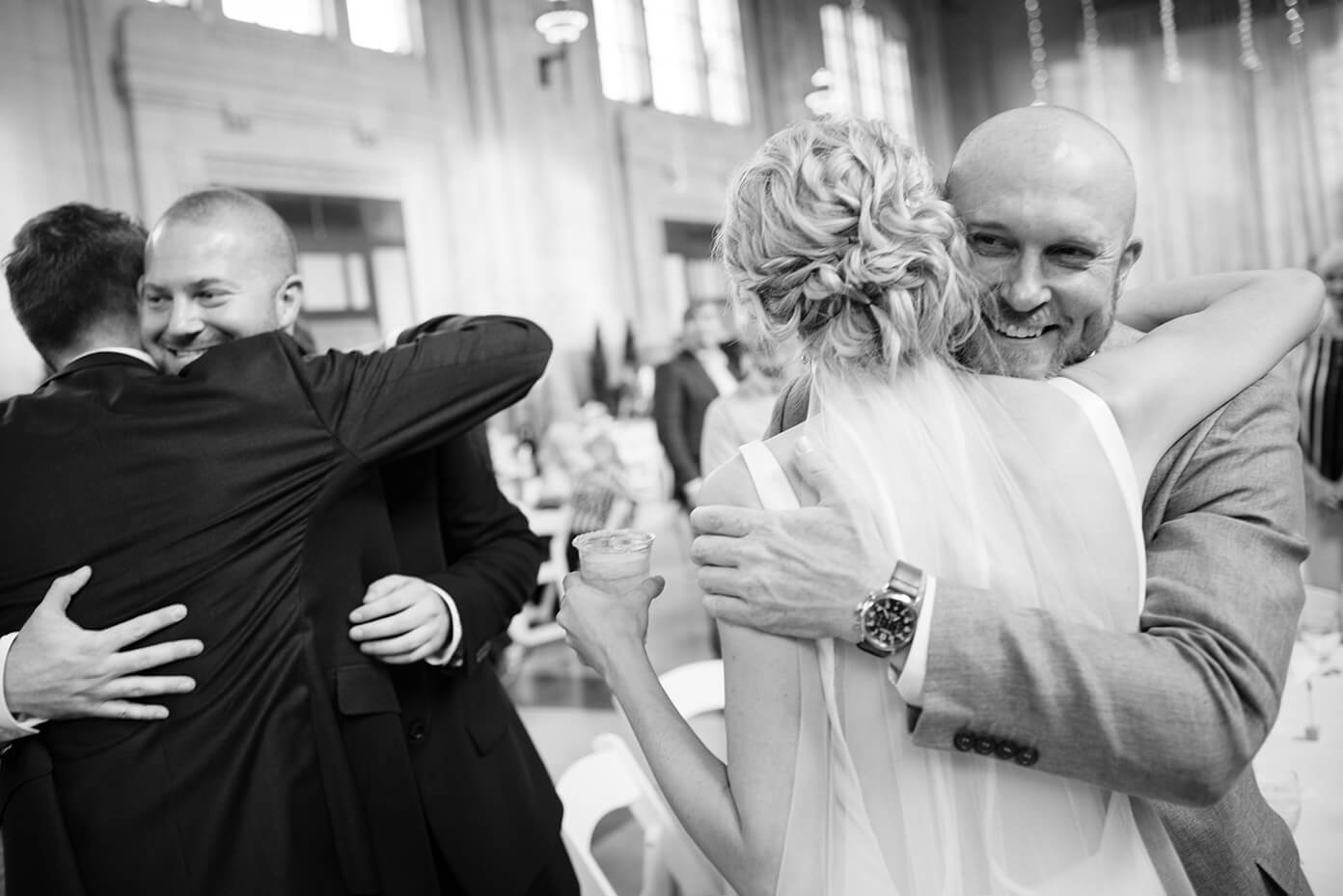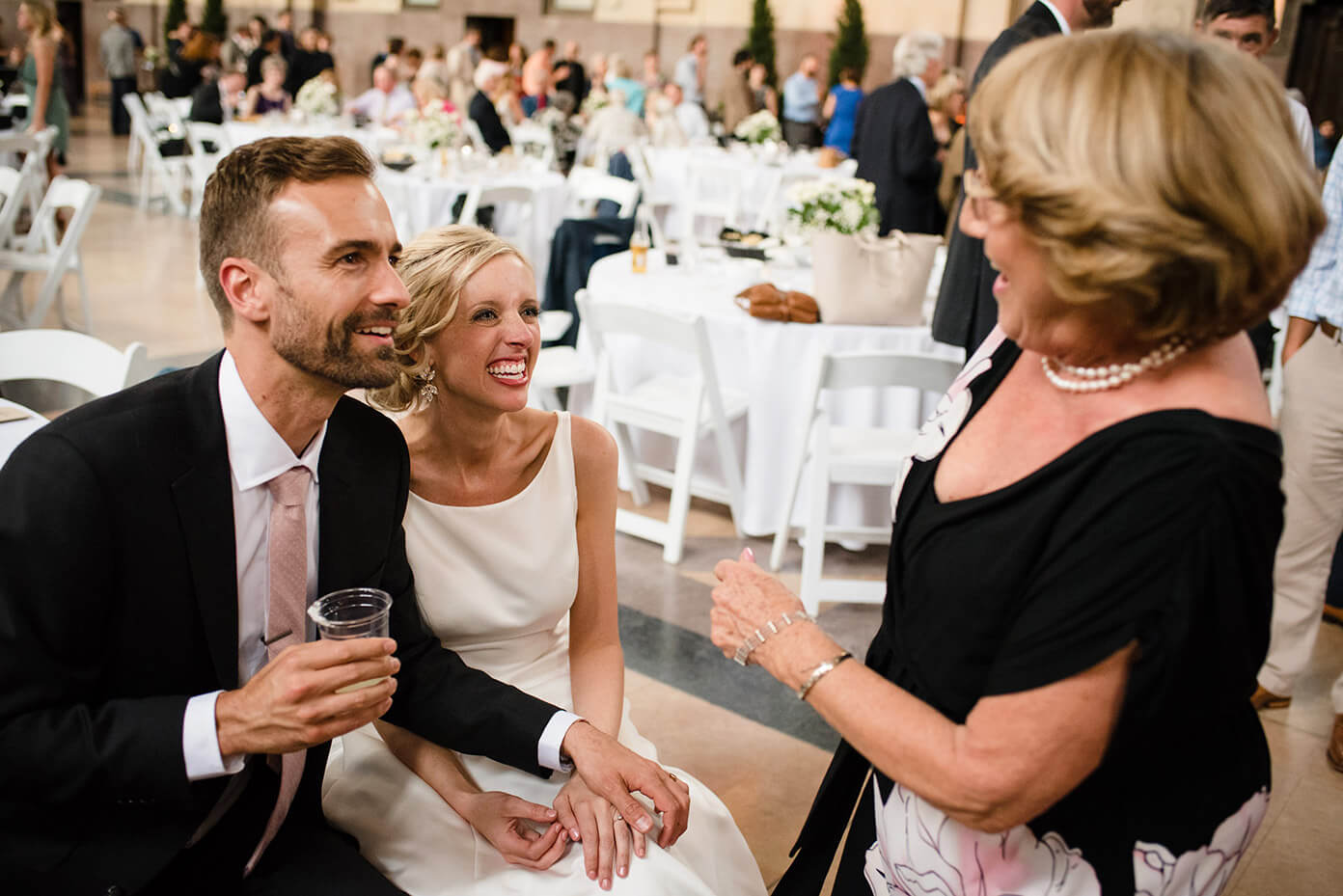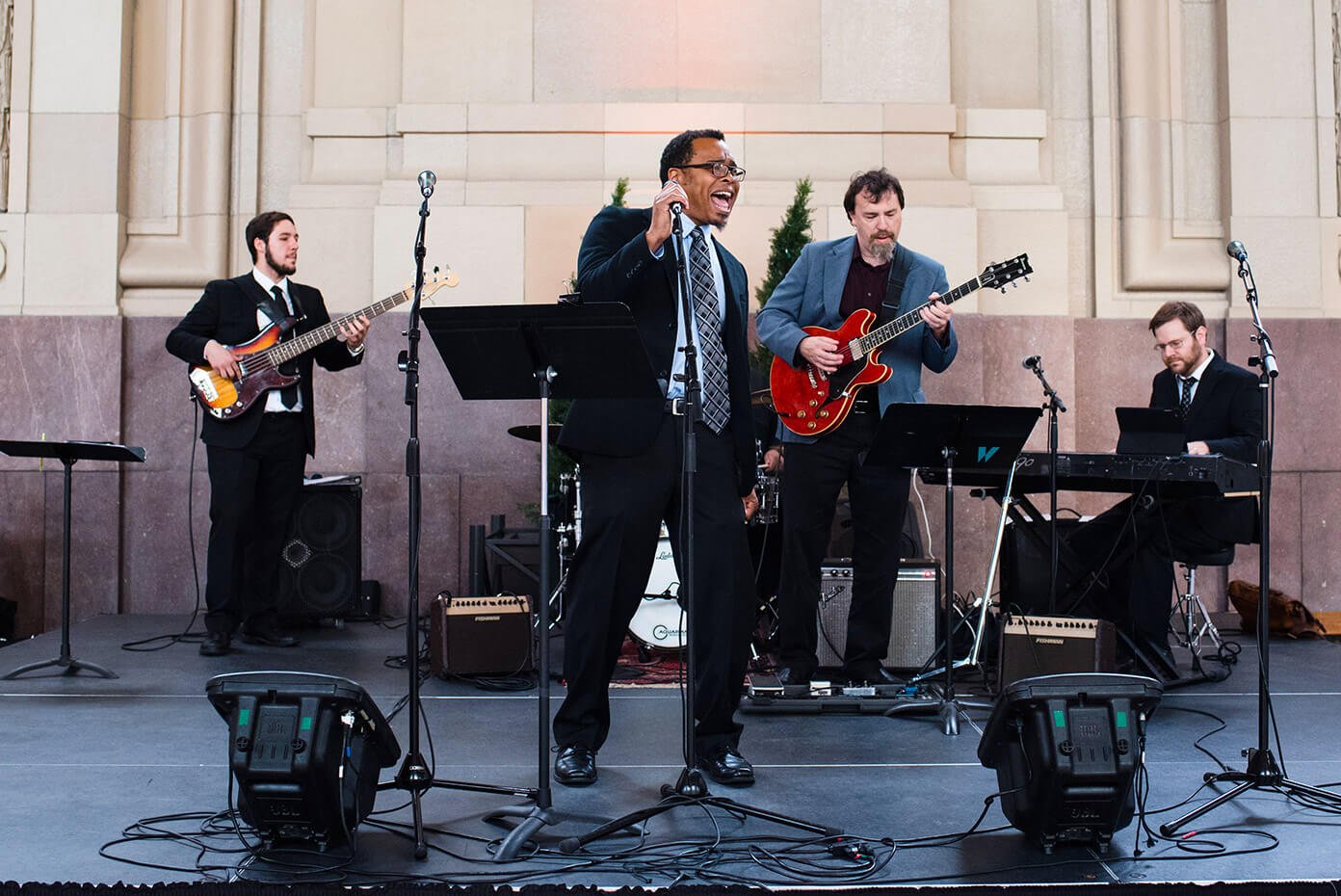 THE MUSIC!!
As I mentioned in yesterday's post, music was a Very Big Deal to us for our wedding. We have so many talented musician friends in our lives who we really wanted to incorporate into this special day. But the question with so many was…how??
Barclay's idea:
Let's invite them ALL to play!
Ha, so we did! Barclay helped organize a house band to back everyone up. Then we invited a few dozen of our closest musician friends to each pick a song (any song!) that they would like to play or sing. And oh my goodness, it was SO GREAT.
Our friends all chose a wonderfully diverse collection of songs, from Ella to Rhianna to The Beatles to The Beach Boys to Chopin to Amos Lee and beyond. And even better, they got totally into it and teamed up to back each other up on different songs. And the result was a talented-friends show that we will never forget. ? We also had a few surprises thrown in there — with one friend writing an original song for the two of us (including an ode to chips and salsa), and Barclay's band surprising him by playing one of his originals on their own. And somehow it flew by so quickly…but was so awesome every second of the way.
You can find all of the details about their songs and all of our other wedding music here. I wish we had all of the recordings to share with you, but here are a few photos of their smooth jams below.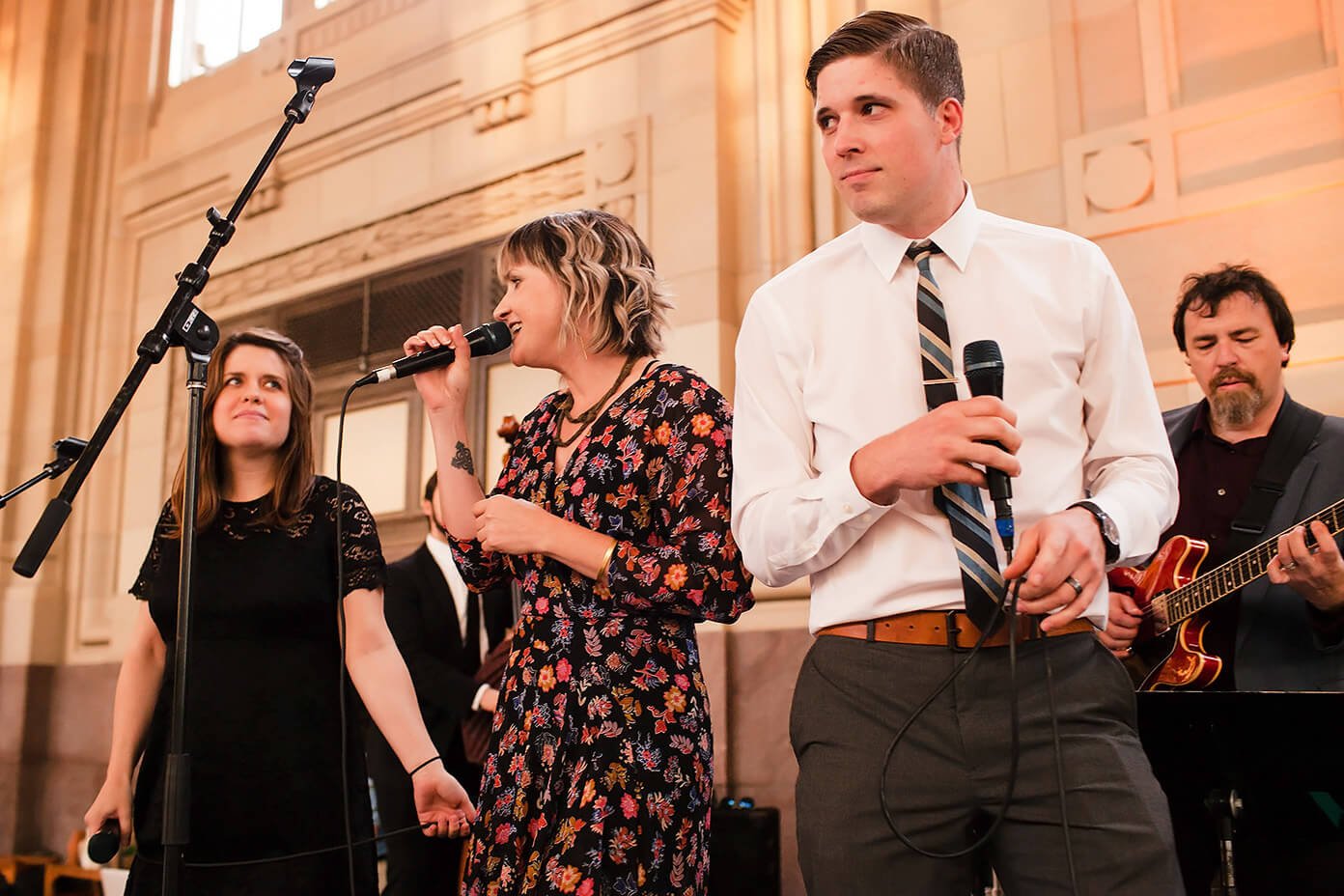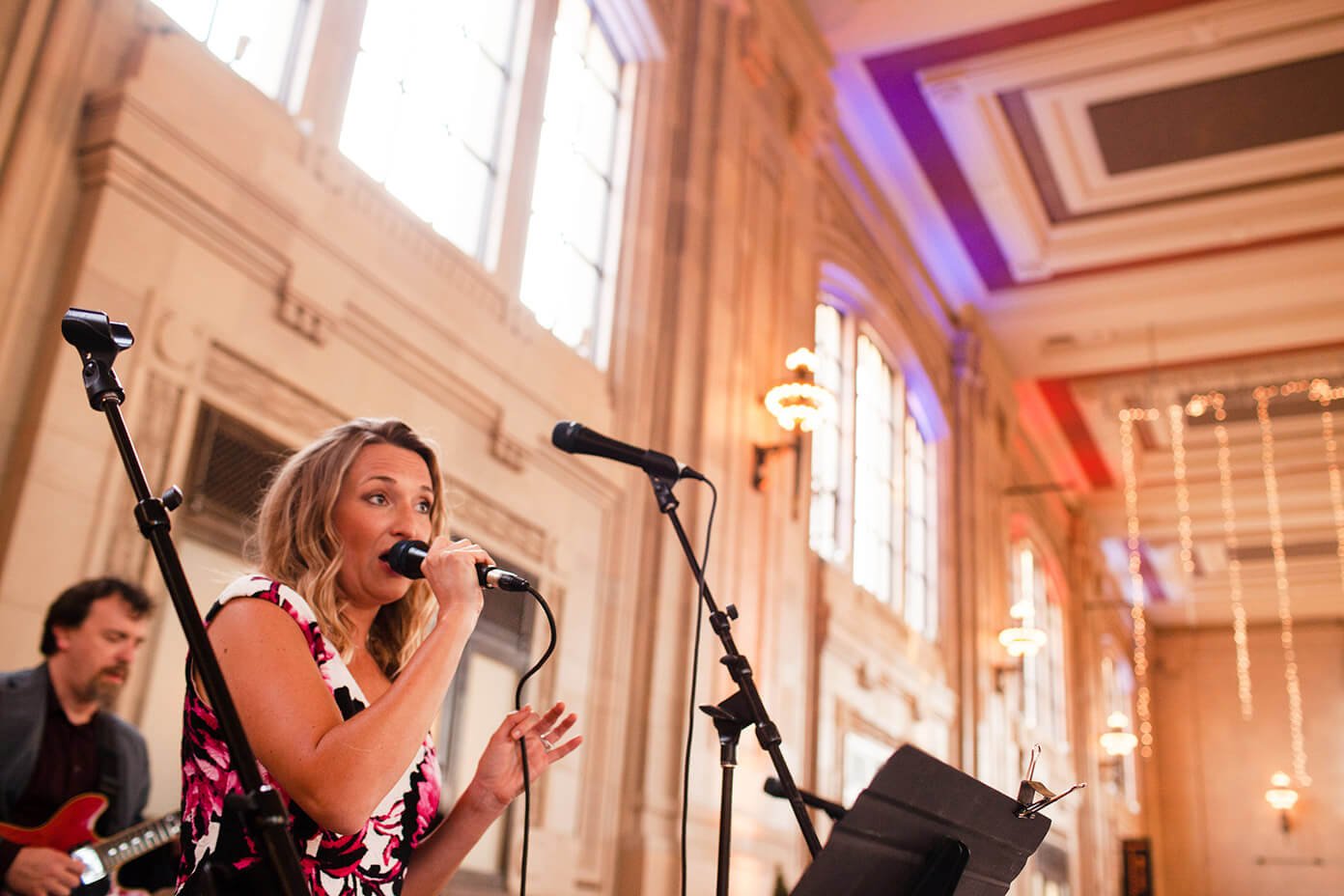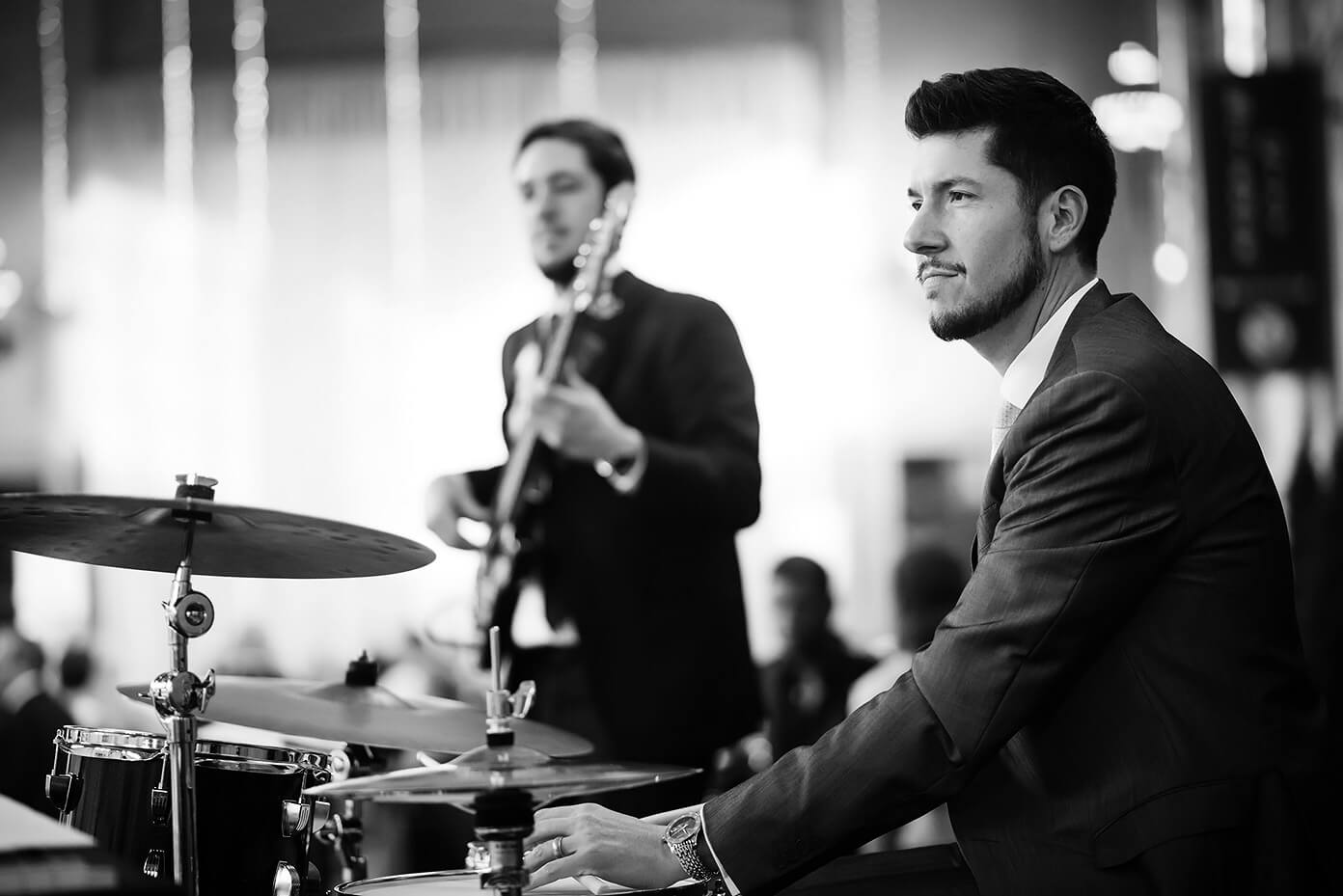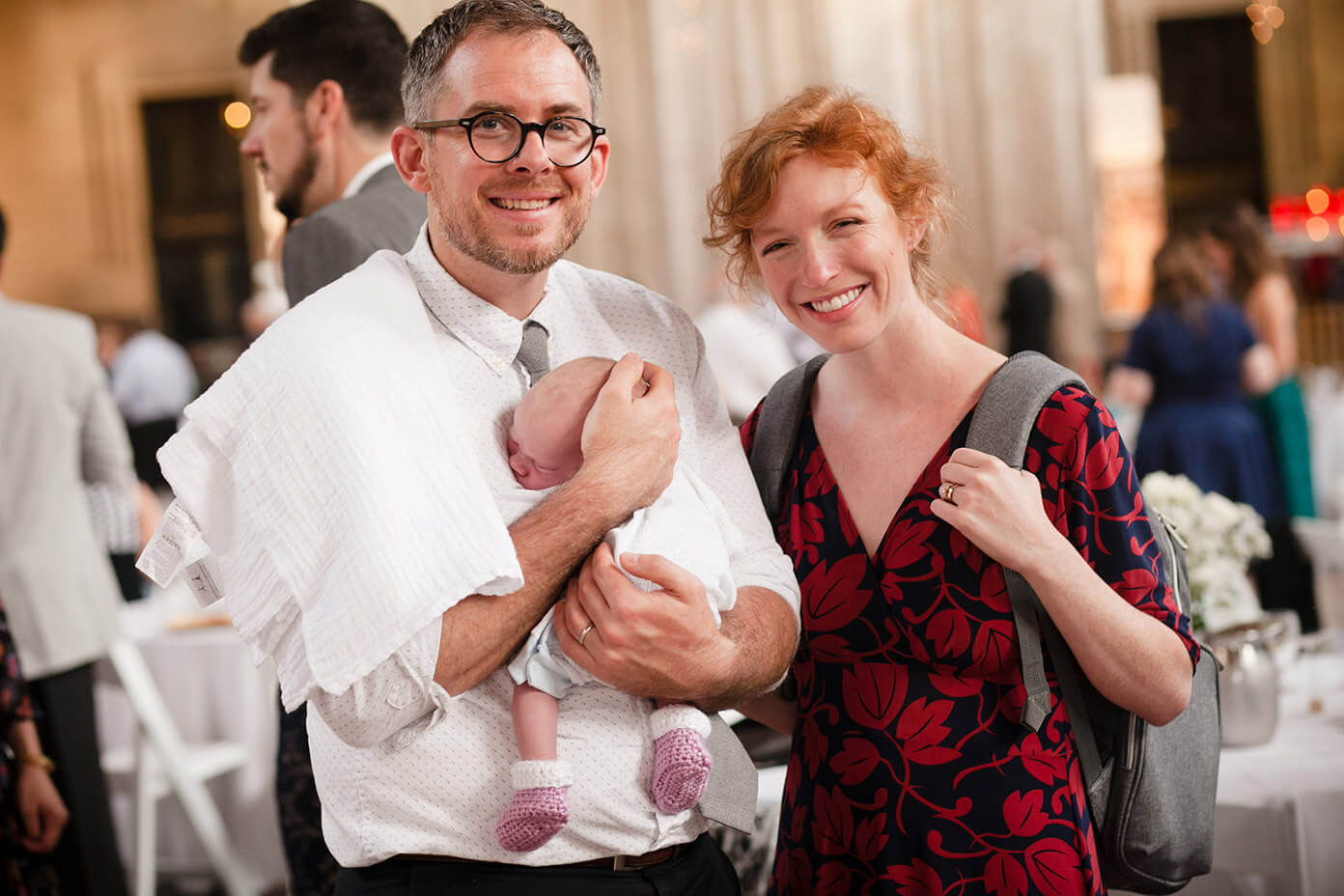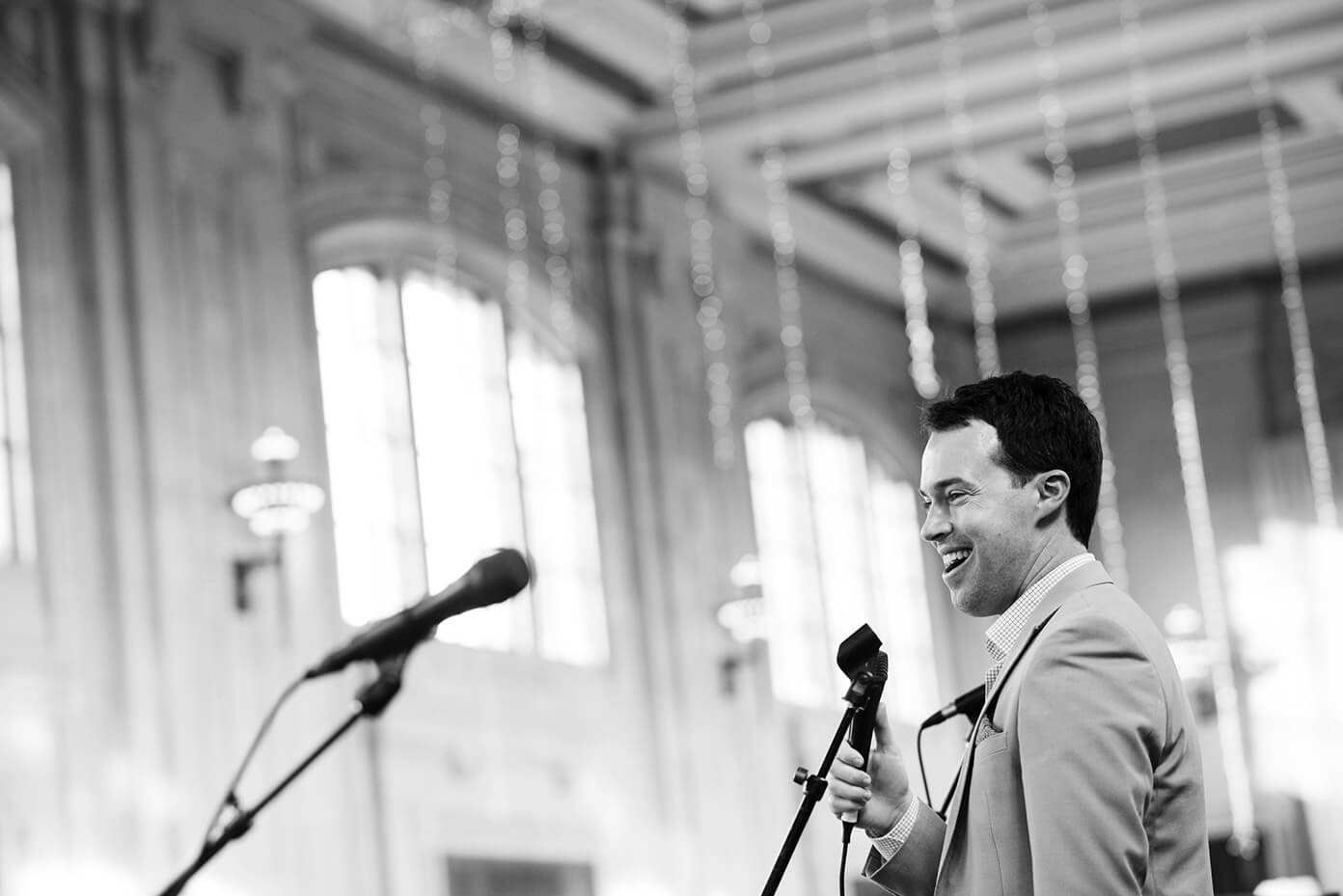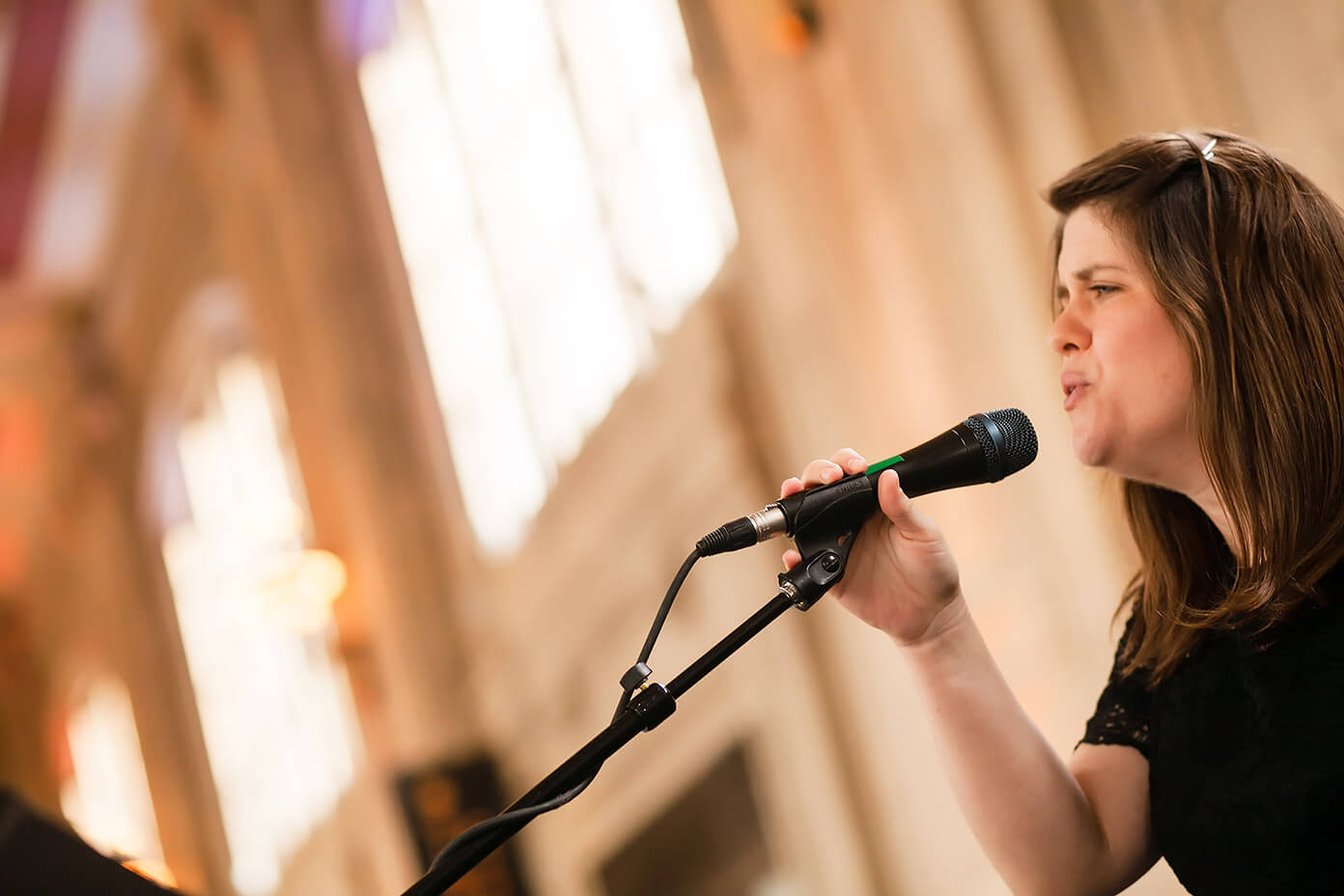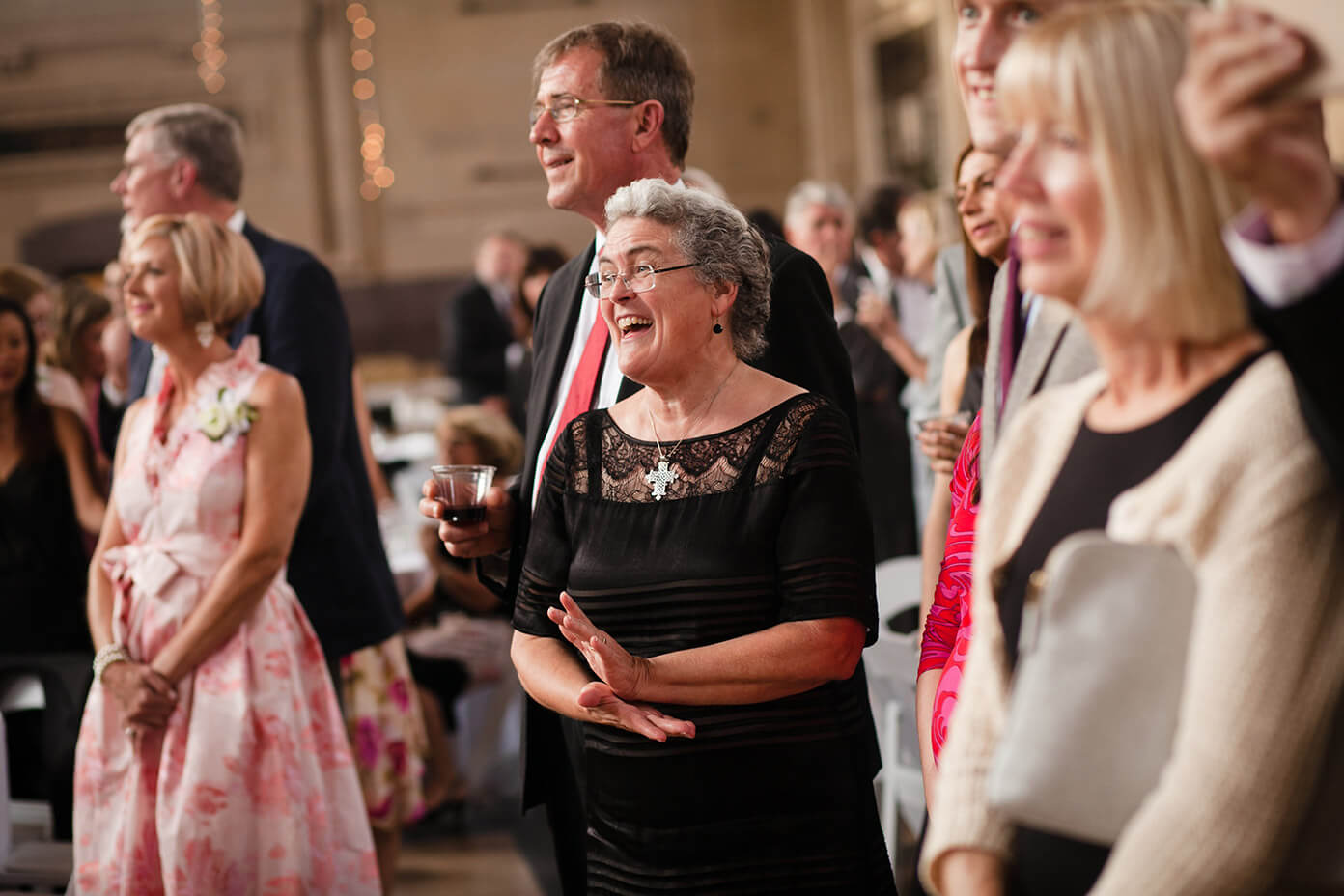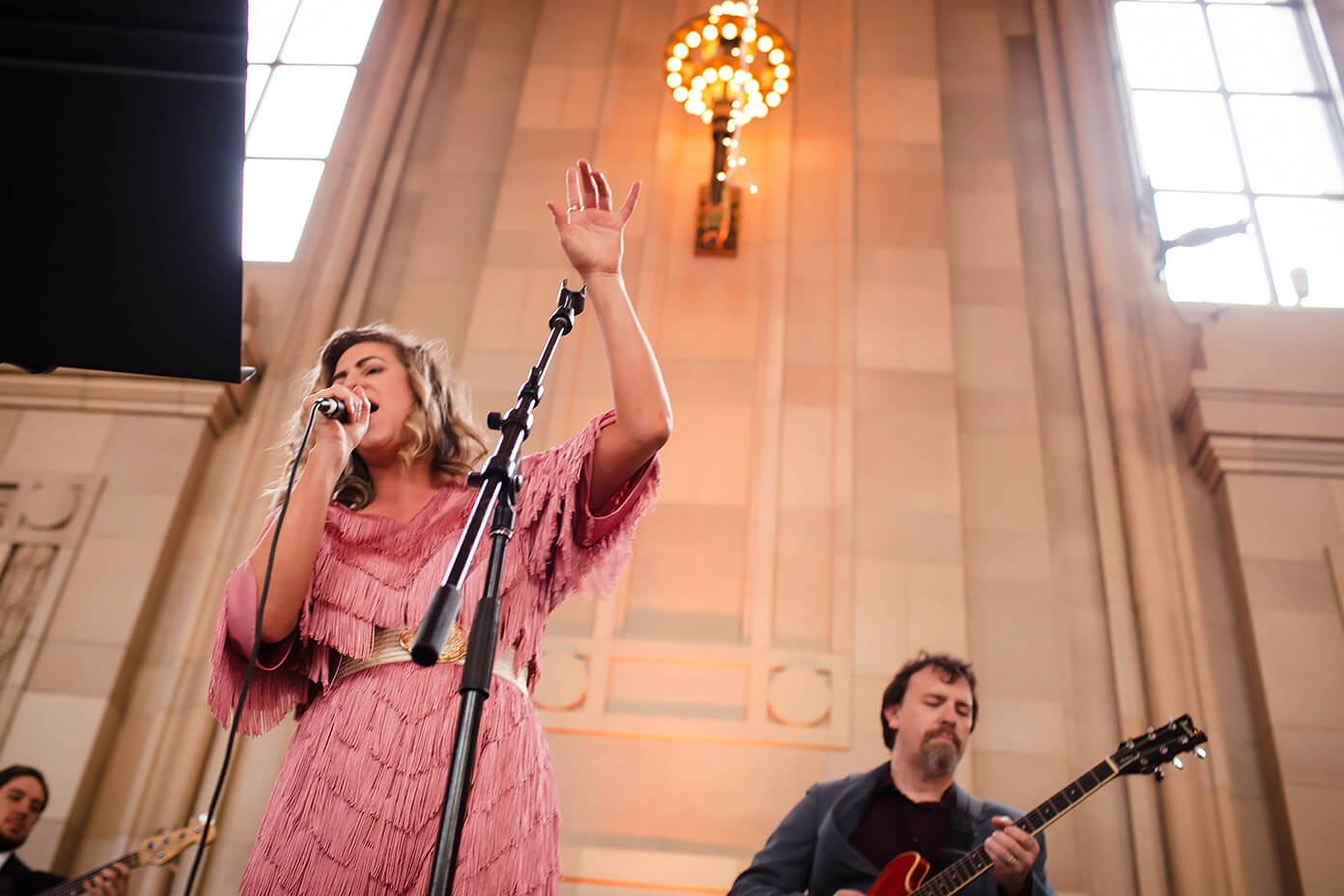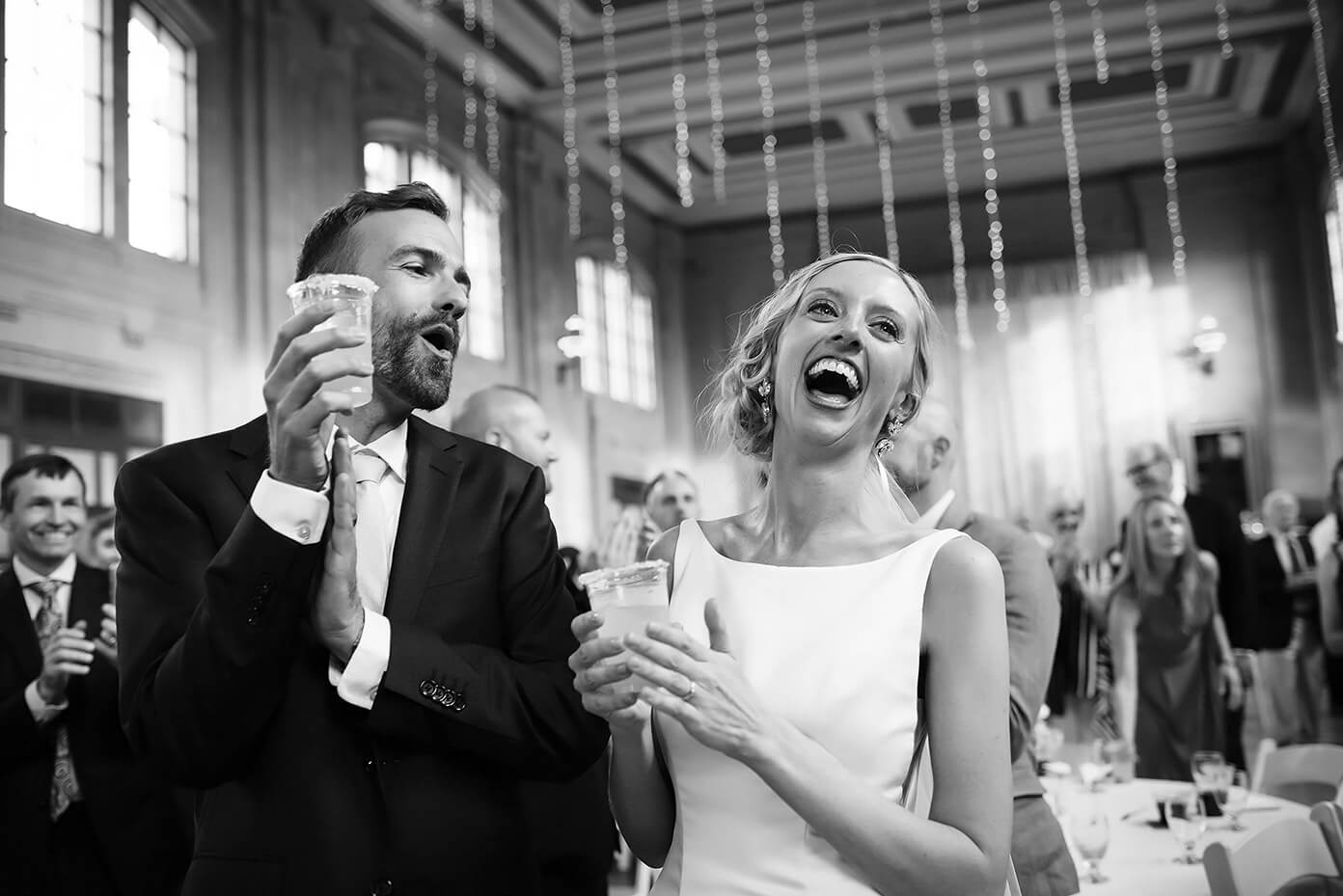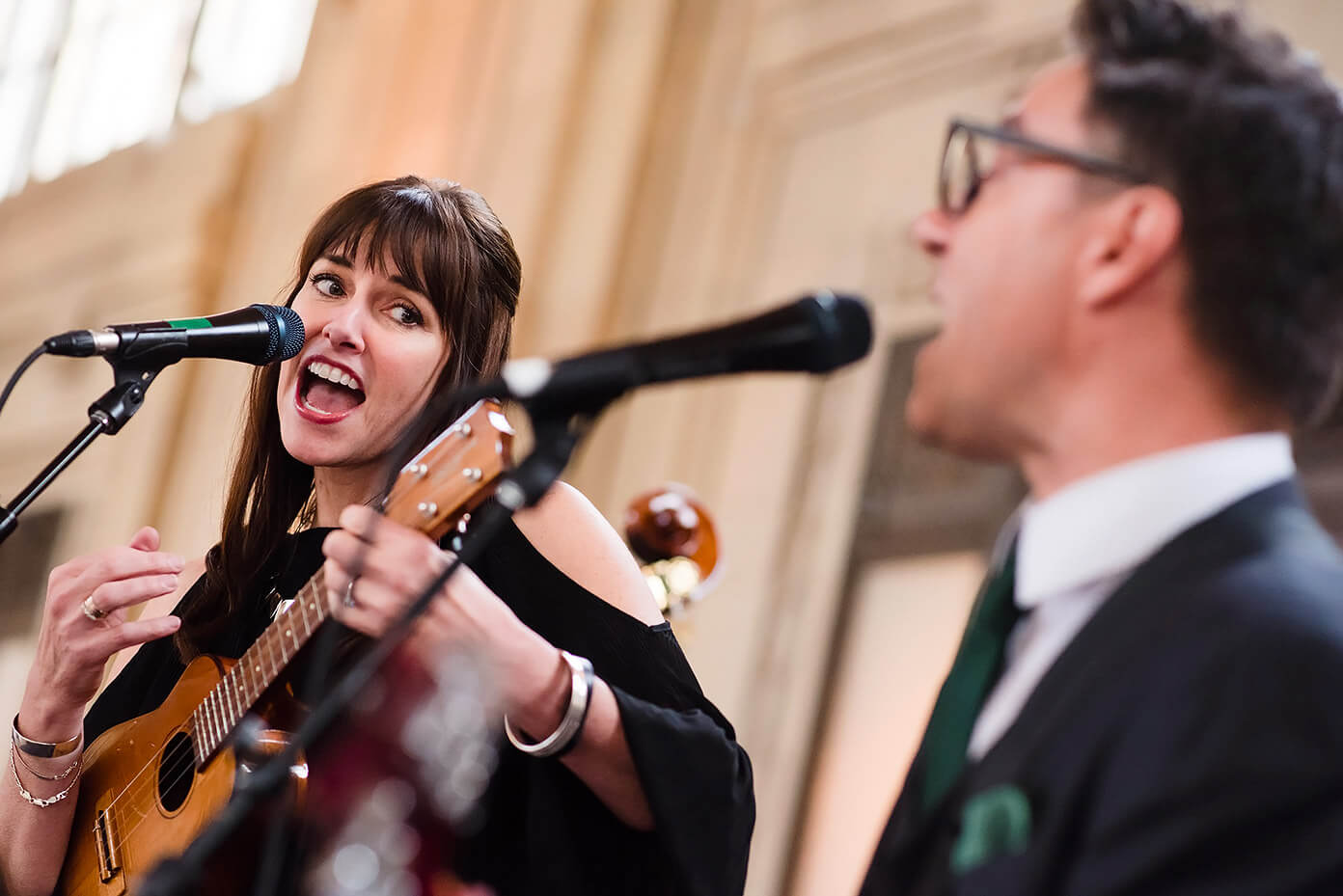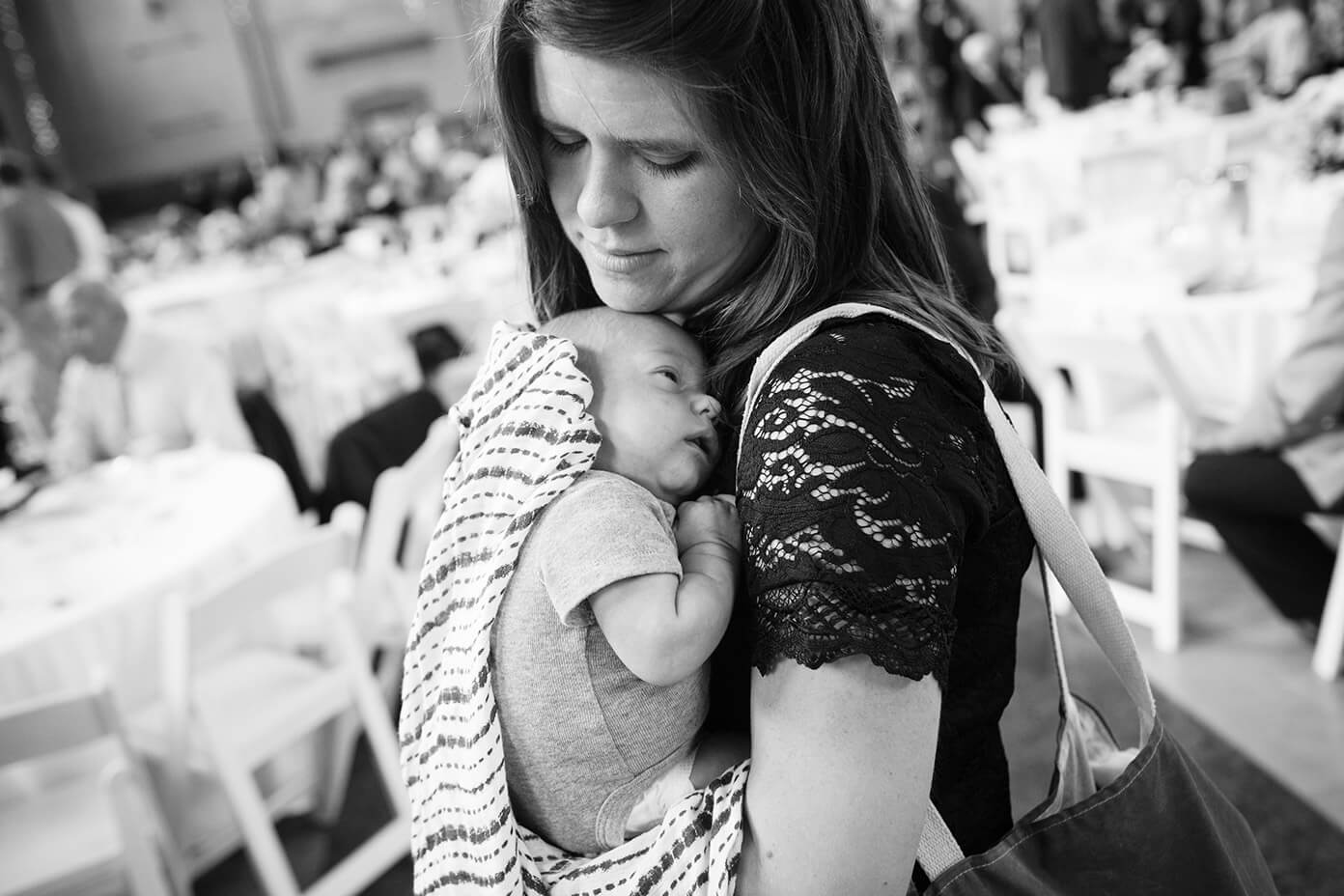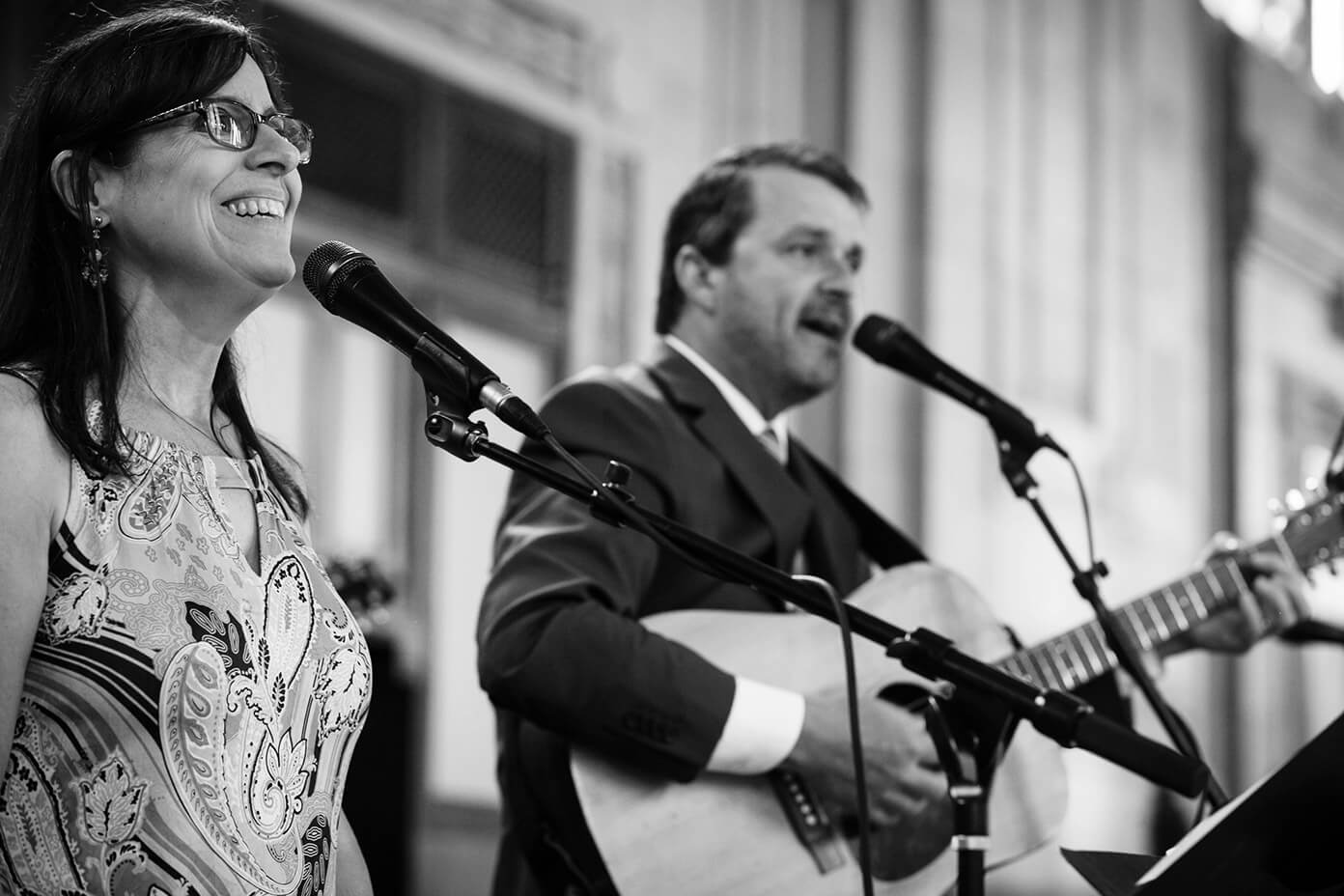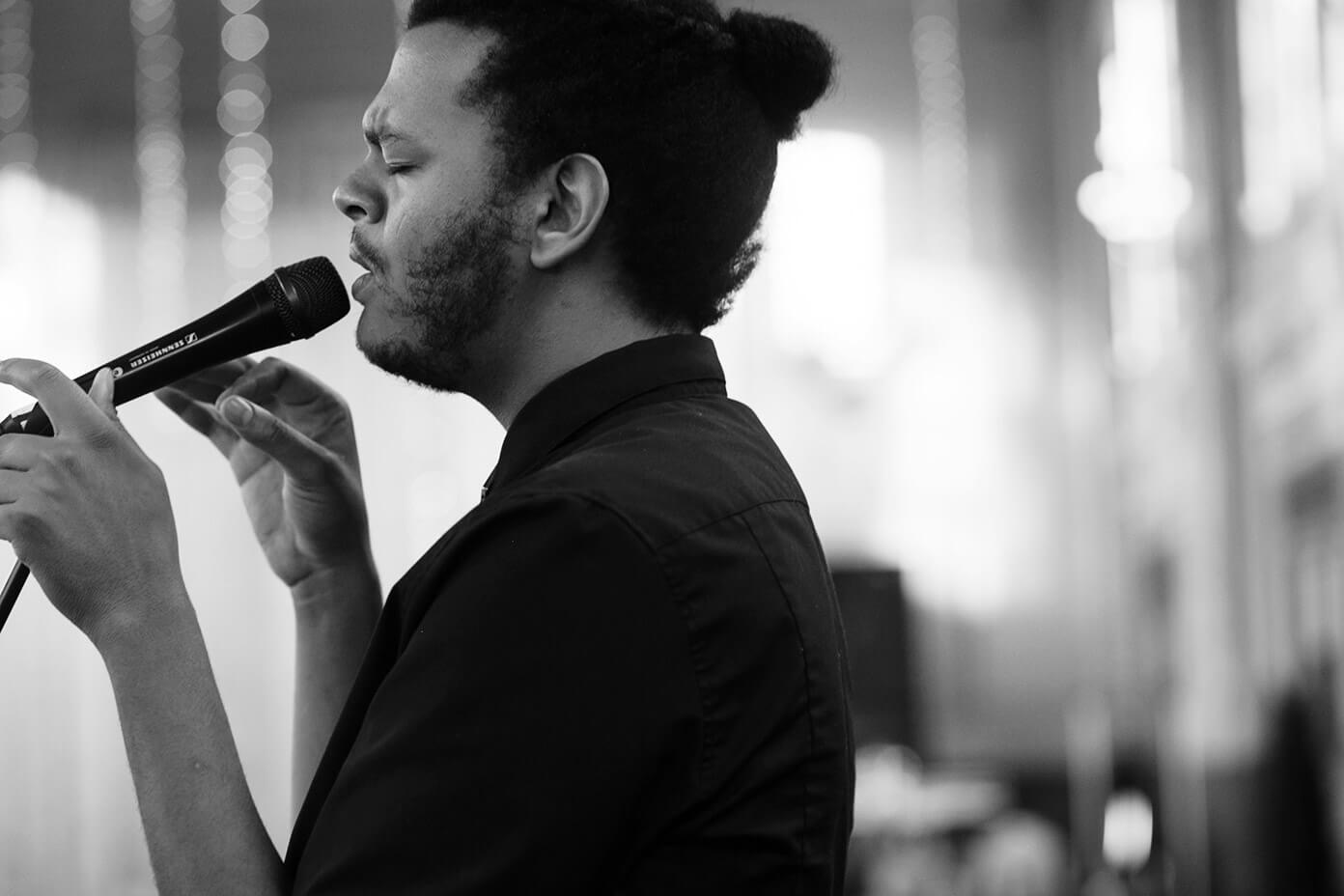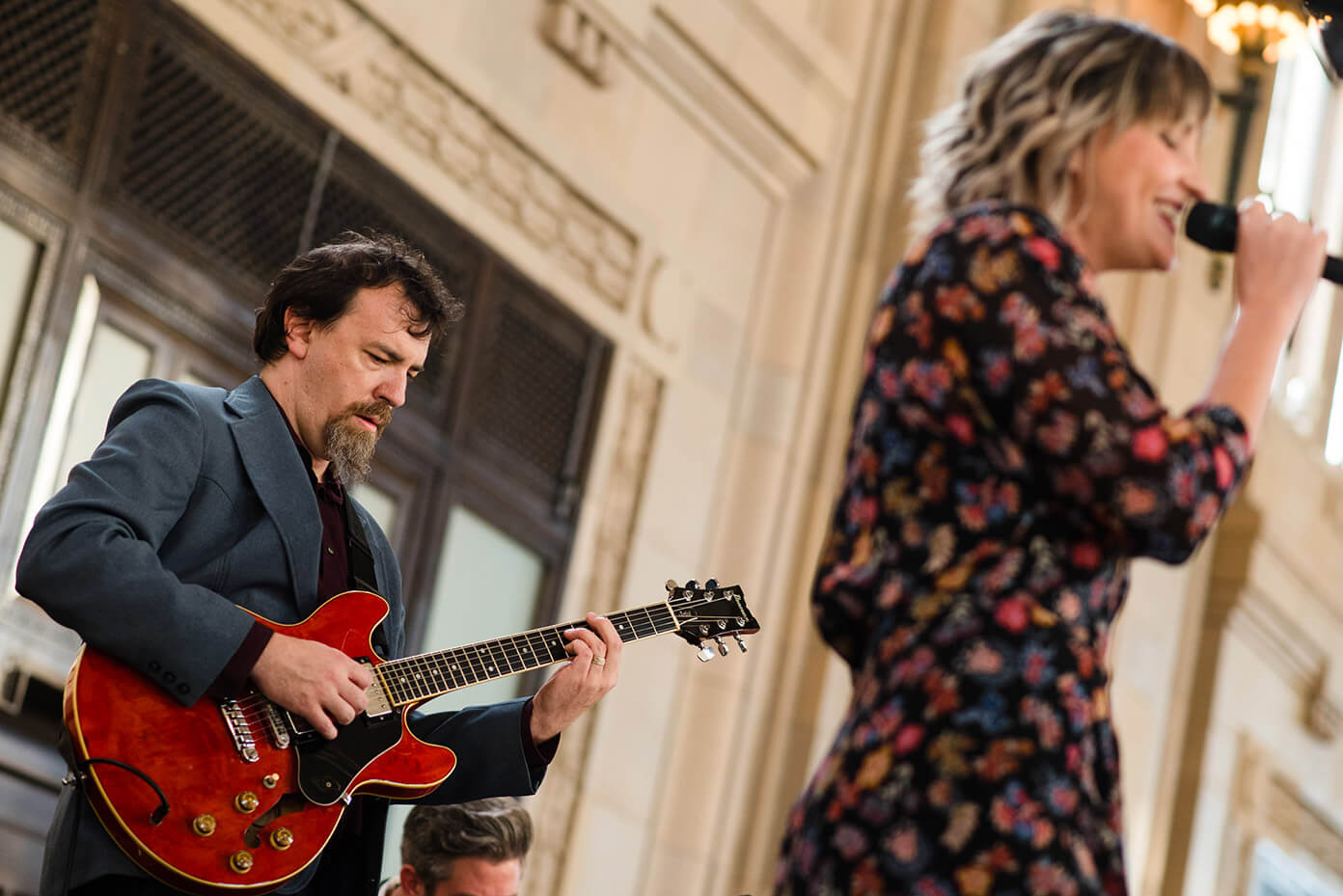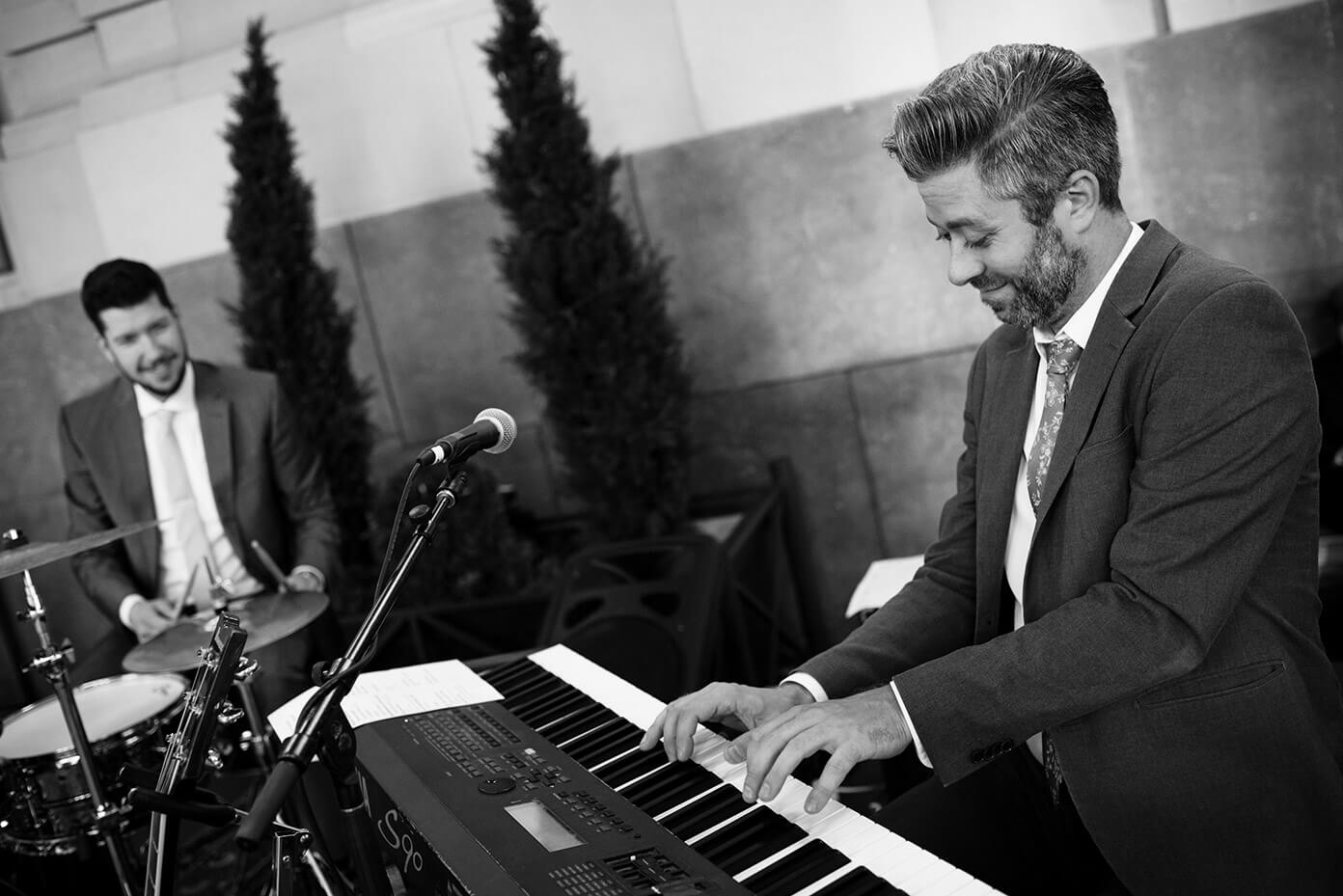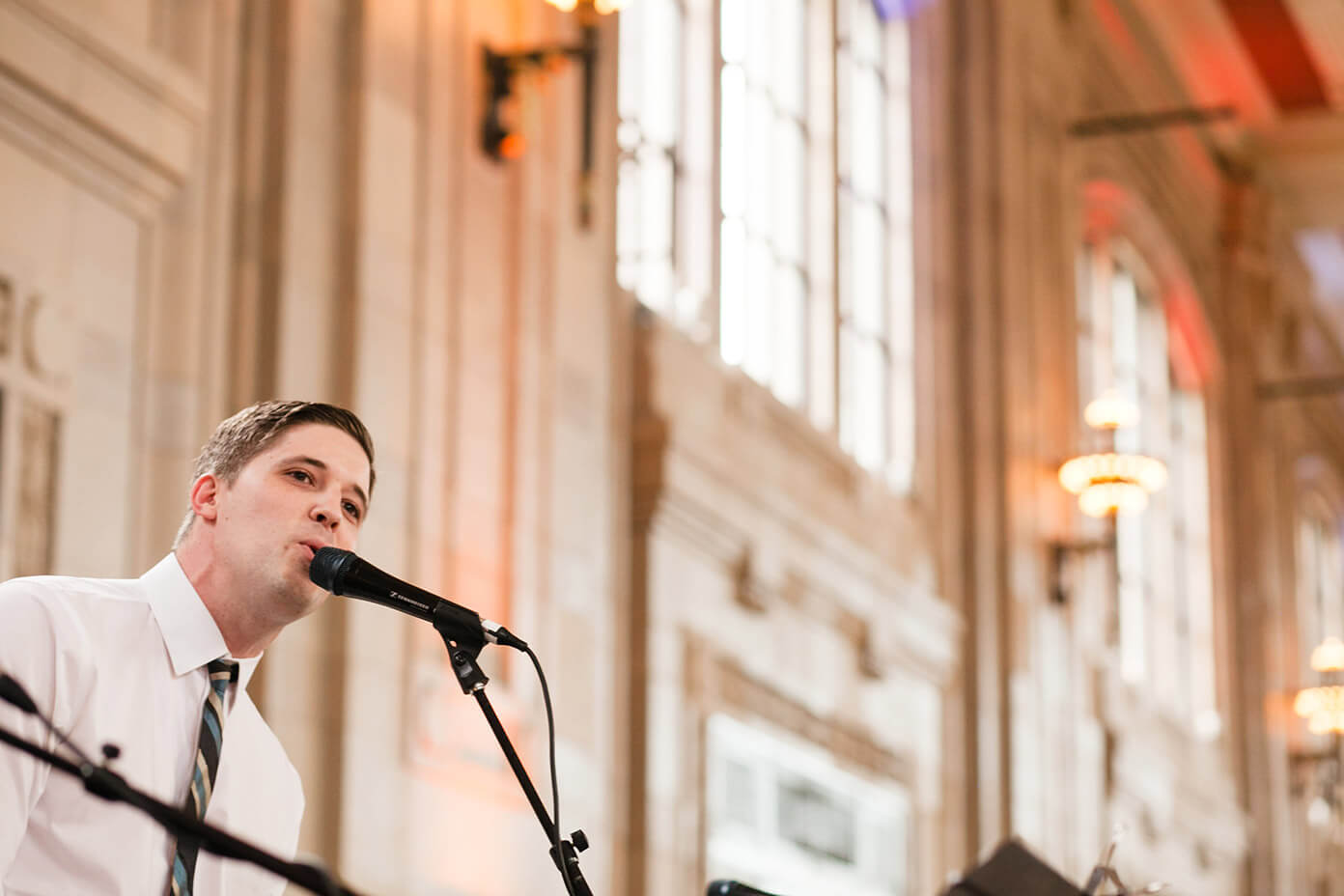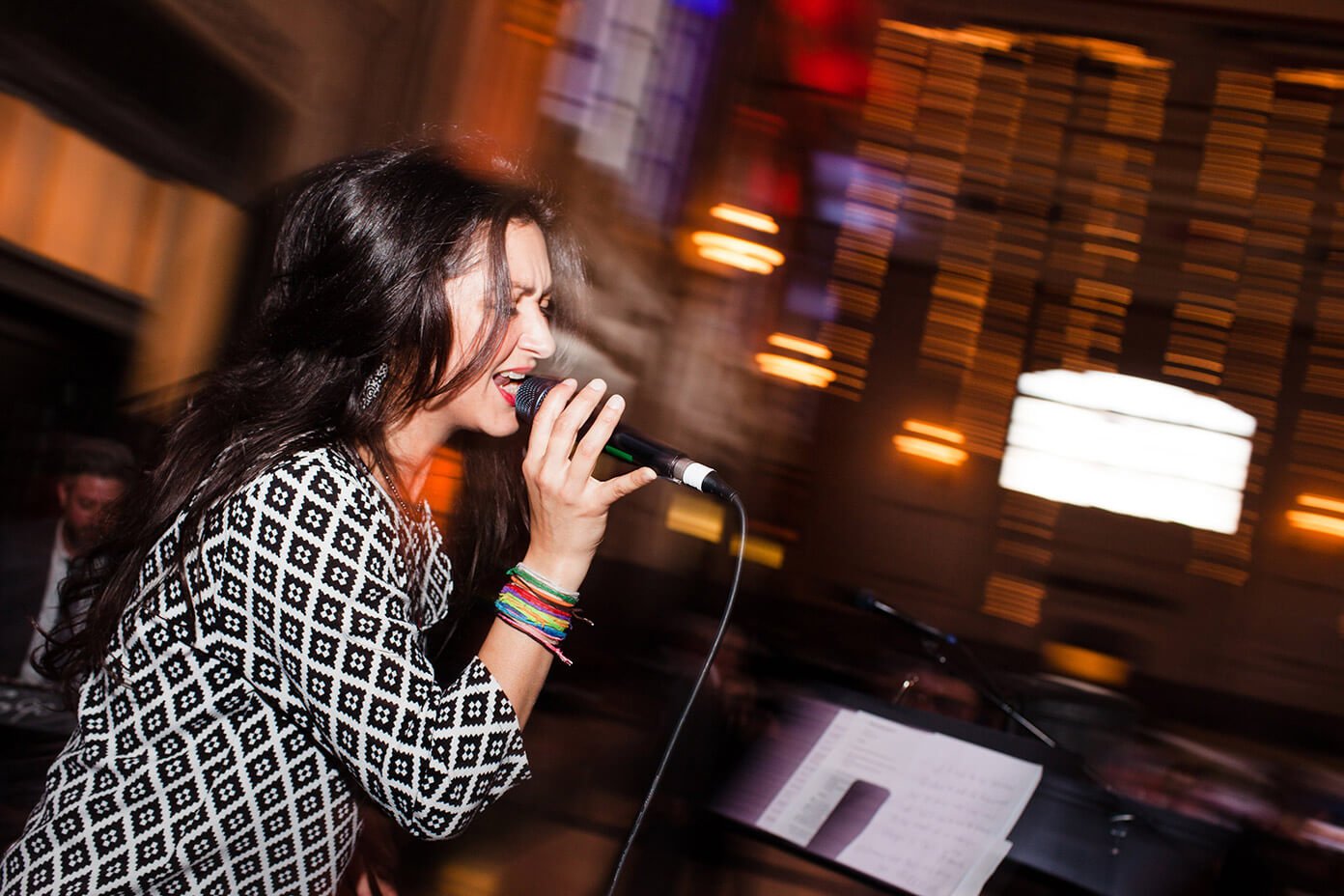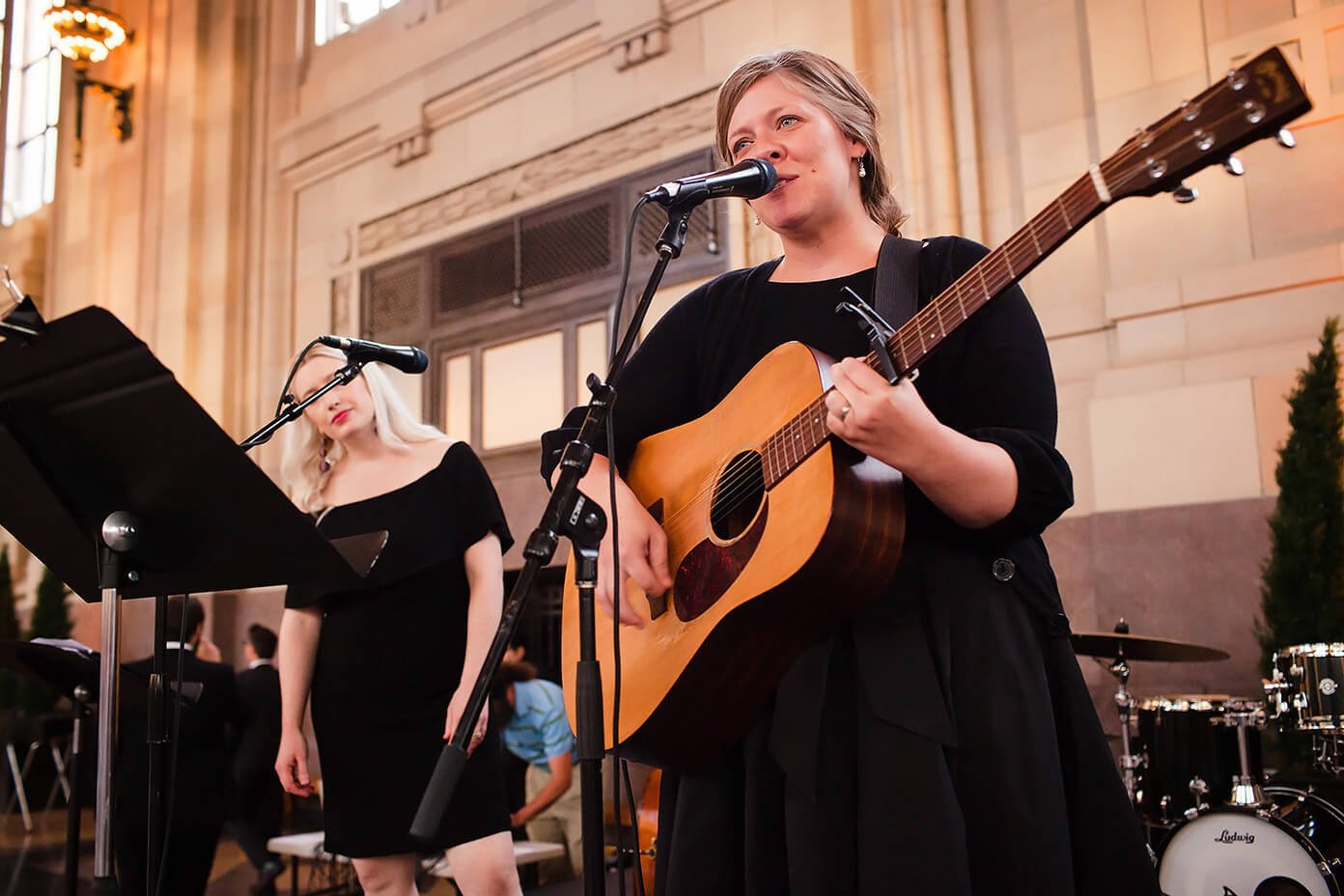 Our First Dance
Ok, actually there was one other song request that we made for the live music portion of the evening, and that was for our dear friend Sara Swenson to sing her song, "Always and Everywhere", for our first dance.
As a bit of a backstory, Sara was one of the three matchmakers who set Barclay and I up two years ago. She has been a longtime friend of both of ours, and has now turned into one of our greatest sources of encouragement and support in our relationship together. And she also happens to be an incredible songwriter, whose music we both love and admire.
So when it came to thinking of songs for a first dance, this one was a given. ? I hope you take a listen, but here are the lyrics:
I will hold you when everything is new
I will hold you as you figure out what's true
When you're finding your stride, I'll be there by your side
I'll hold you always and everywhere
I will hold you when you're lost and confused
I will hold you down those shadowed avenues
When you're tired of the race, when you've neither time nor space
I'll hold you always and everywhere
Not the rain crashing down, not the snow piled on the ground
Not the desert or the ocean can keep me bound
Yes, I will be there, I will keep you in my care
Always and everywhere
I will hold you when you've broken what's been built
I will hold you when you're tangled up in guilt
When you're breaking down in pieces, and your sanity decreases
I'll hold you always and everywhere
I will hold when there are joys to be told
And I will hold you when all you see is gold
All your happiness and days when the goodness comes and stays
I'll hold you always and everywhere
Not the rain crashing down, not the snow piled on the ground
Not the desert or the ocean can keep me bound
Yes, I will be there, I will keep you in my care
Always and everywhere
No plans, no distance, no changes, no time will keep me from you
No plans, no distance, no changes, no time
I will hold you when you can't recall my name
And I will hold you and I will love you all the same
I will hold you when the dark does a number on your heart
I'll hold you always and everywhere
Not the rain crashing down, not the snow piled on the ground
Not the desert or the ocean can keep me bound
Yes, I will be there, I will keep you in my care
Always and everywhere
I love that we now get to think of this song as "ours". Thank you for writing and performing it so beautifully, Sara. We love you. ?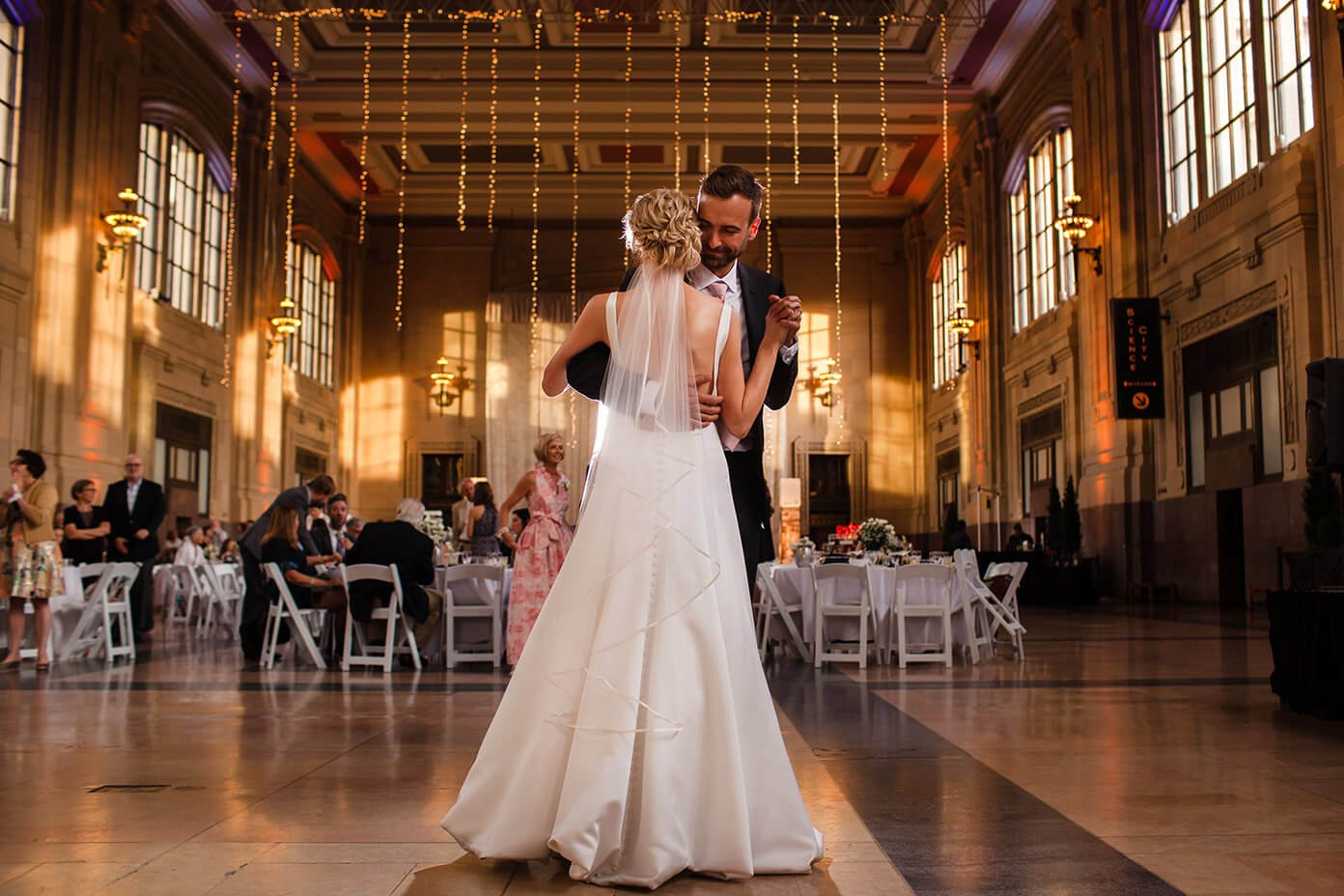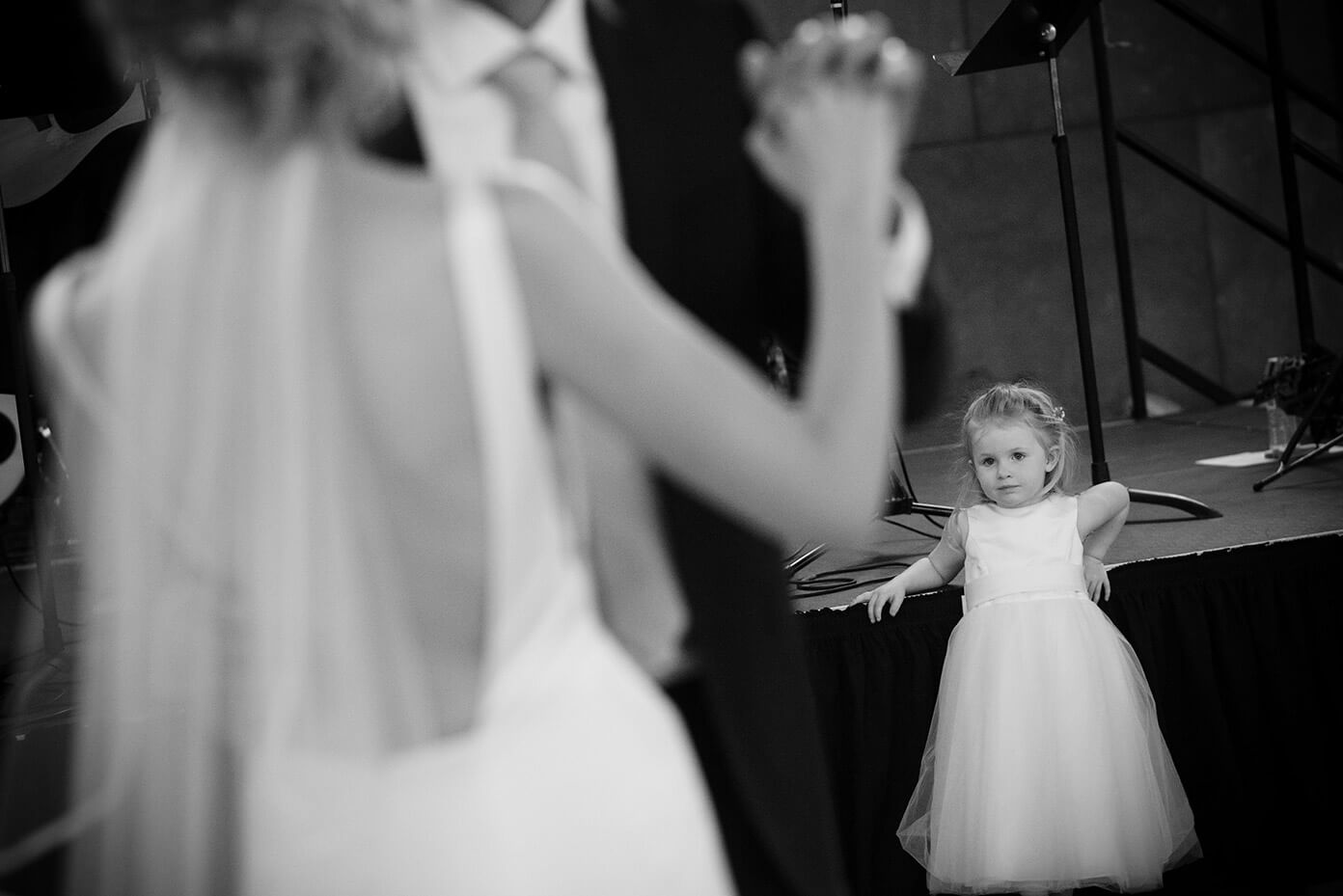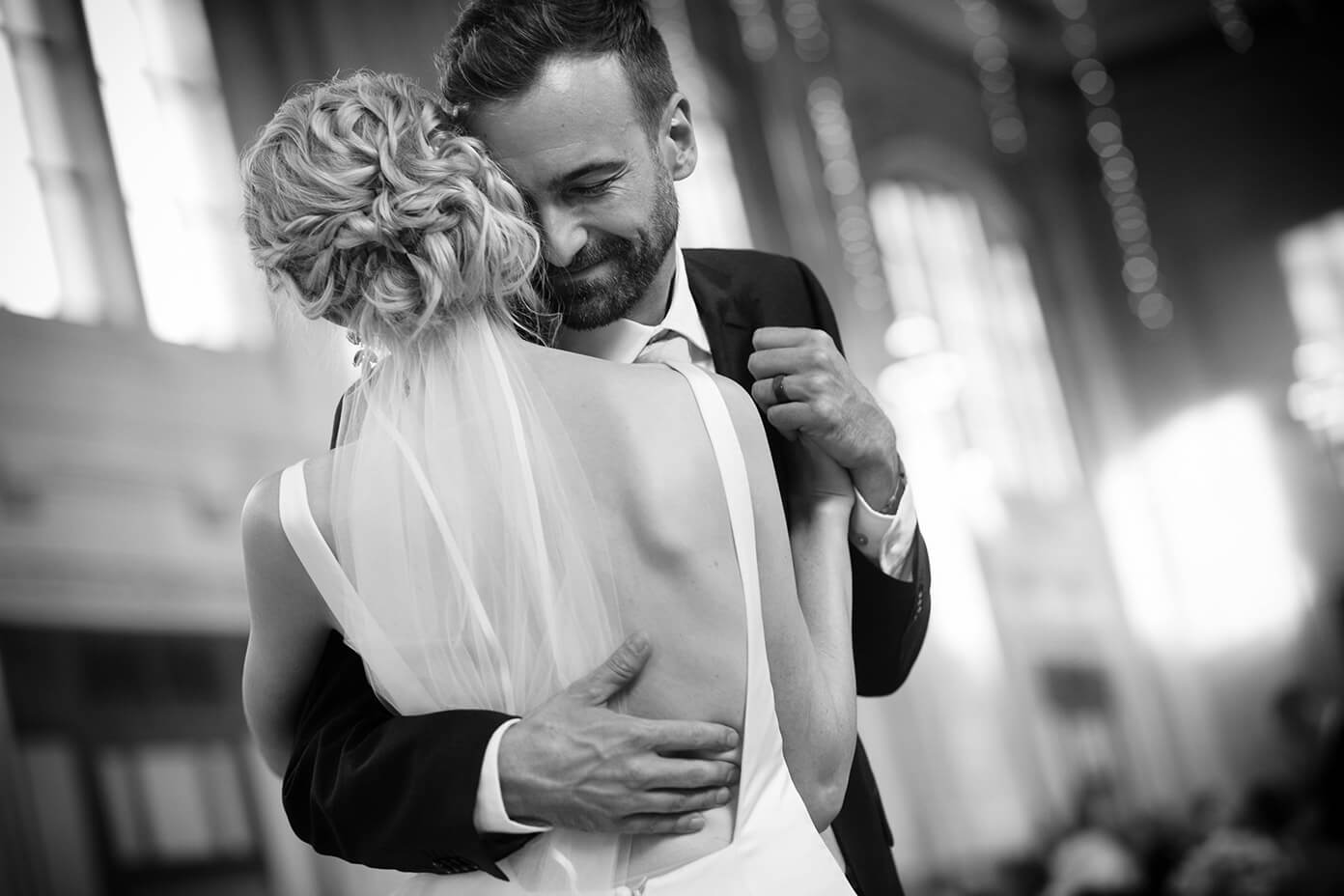 Surprise Dessert!
On a food note, the other little "surprise" of the evening came cycling in after dinner, and totally made my night.
The paletas man came to our wedding! ?
Oh my gosh, these ended up being so fun. Neither Barclay or I are really into cake, but we wanted some sort of yummy dessert for our guests. So our friend Erin had the bright idea one night when we were trying to decide what to do — Mexican popsicles!! It was perfect! We both totally love paletas, and they went with our Mexican food dinner, and they were the perfect cool treat for a summertime wedding. So we immediately called Tropicana — our favorite paletas place in Kansas City — to see if they catered weddings. Turns out, not only did they cater, but they offered us our choice of as many flavors as we would like (we chose eight!), and they offered to bring their popsicle bicycle along so that they pedal around Union Station to deliver them.
Loved. It.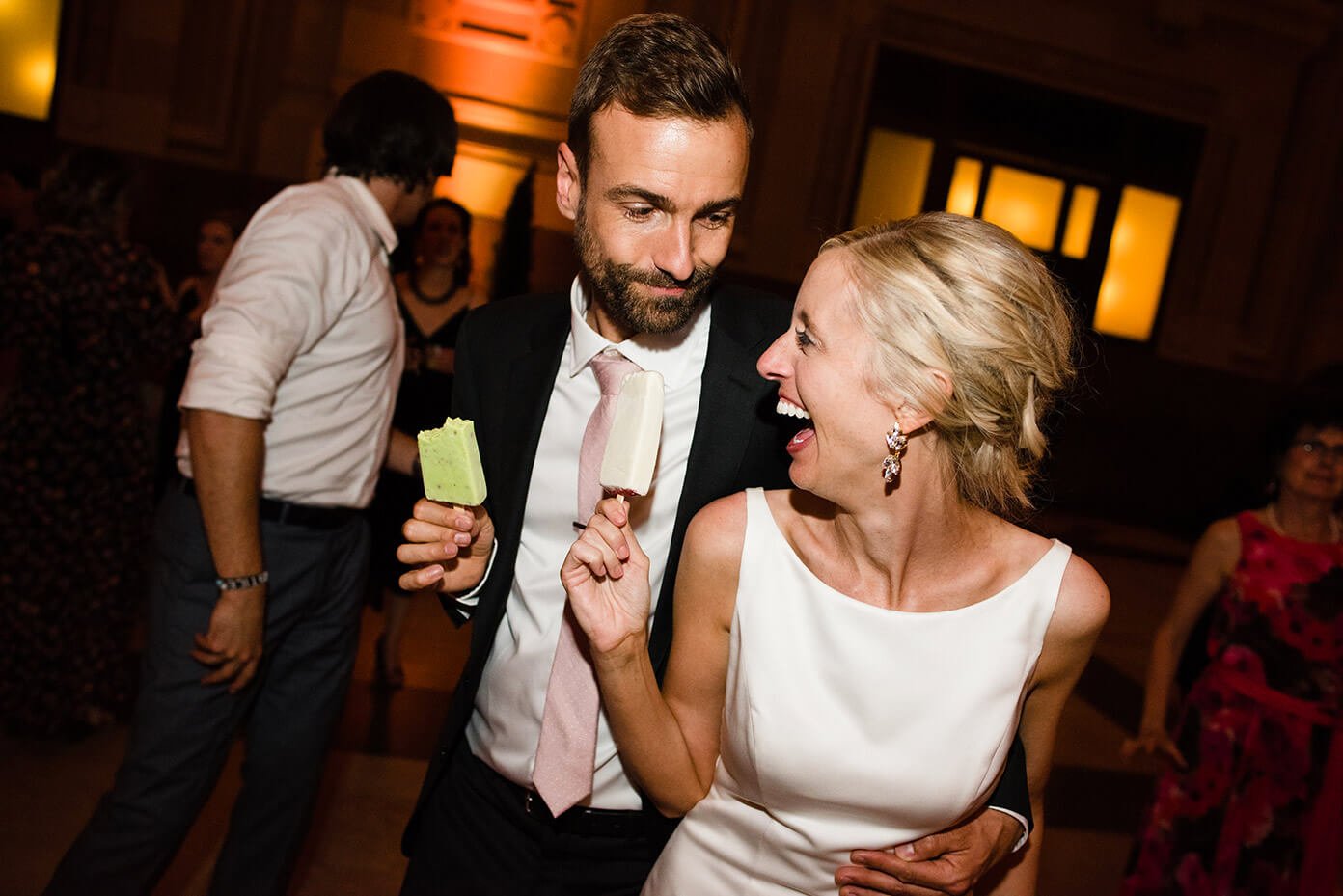 Dance Party!
Once the live music part of the night concluded, our talented DJ/comedian/musician friend, Albert (below), took the mic to DJ our final portion of the evening.
A full-on dance dance REVOLUTION.
Man, I just wish people had gotten into it… ?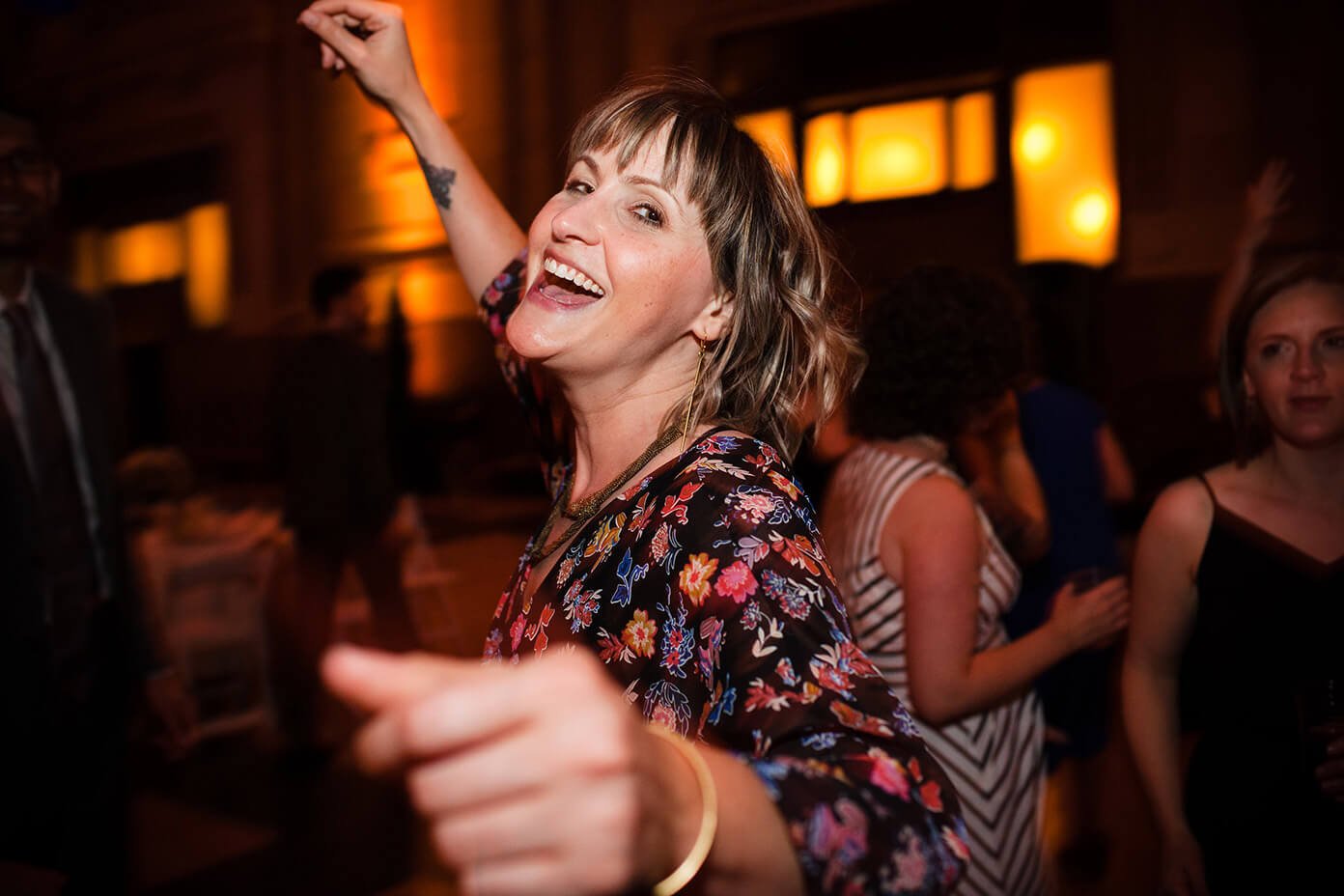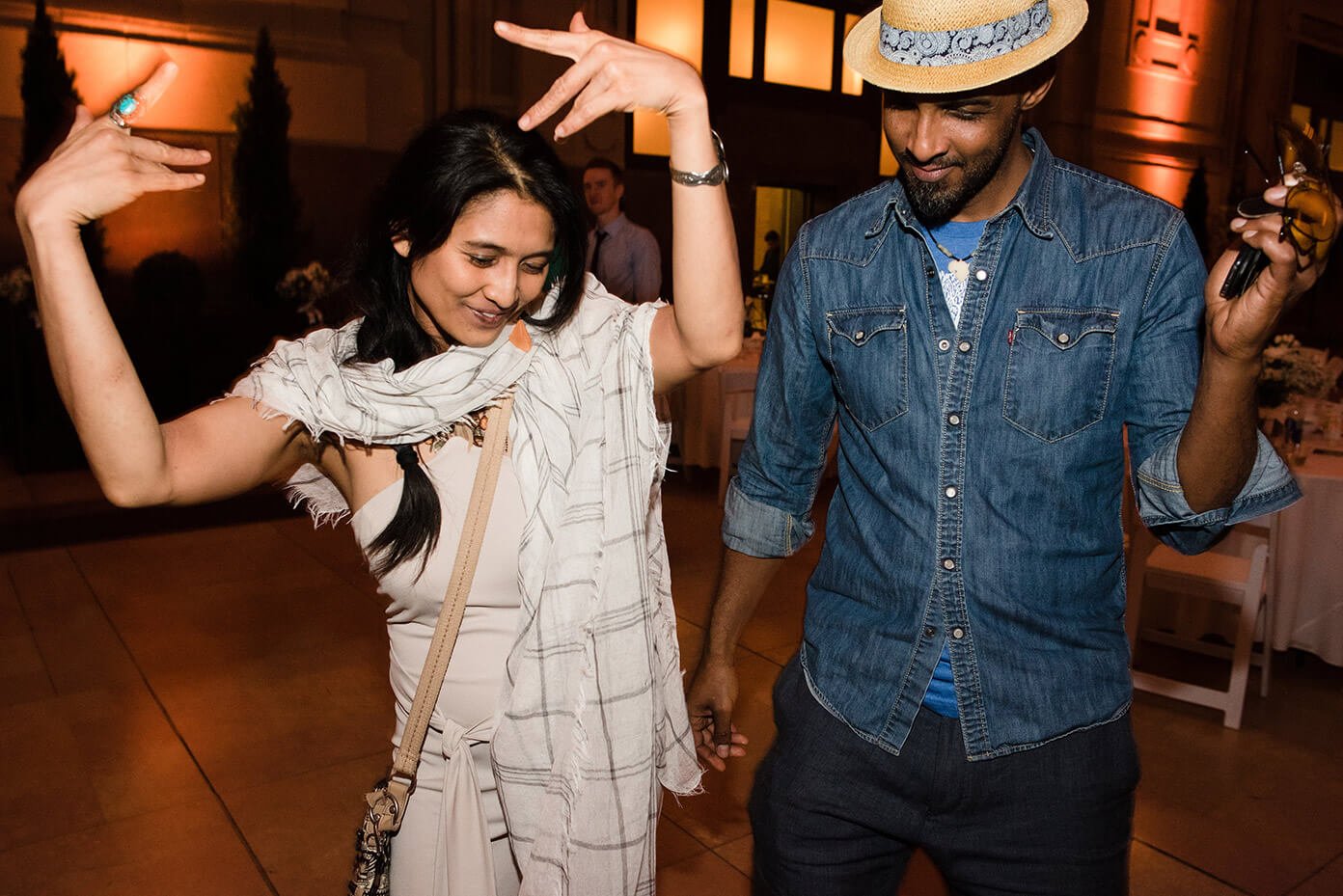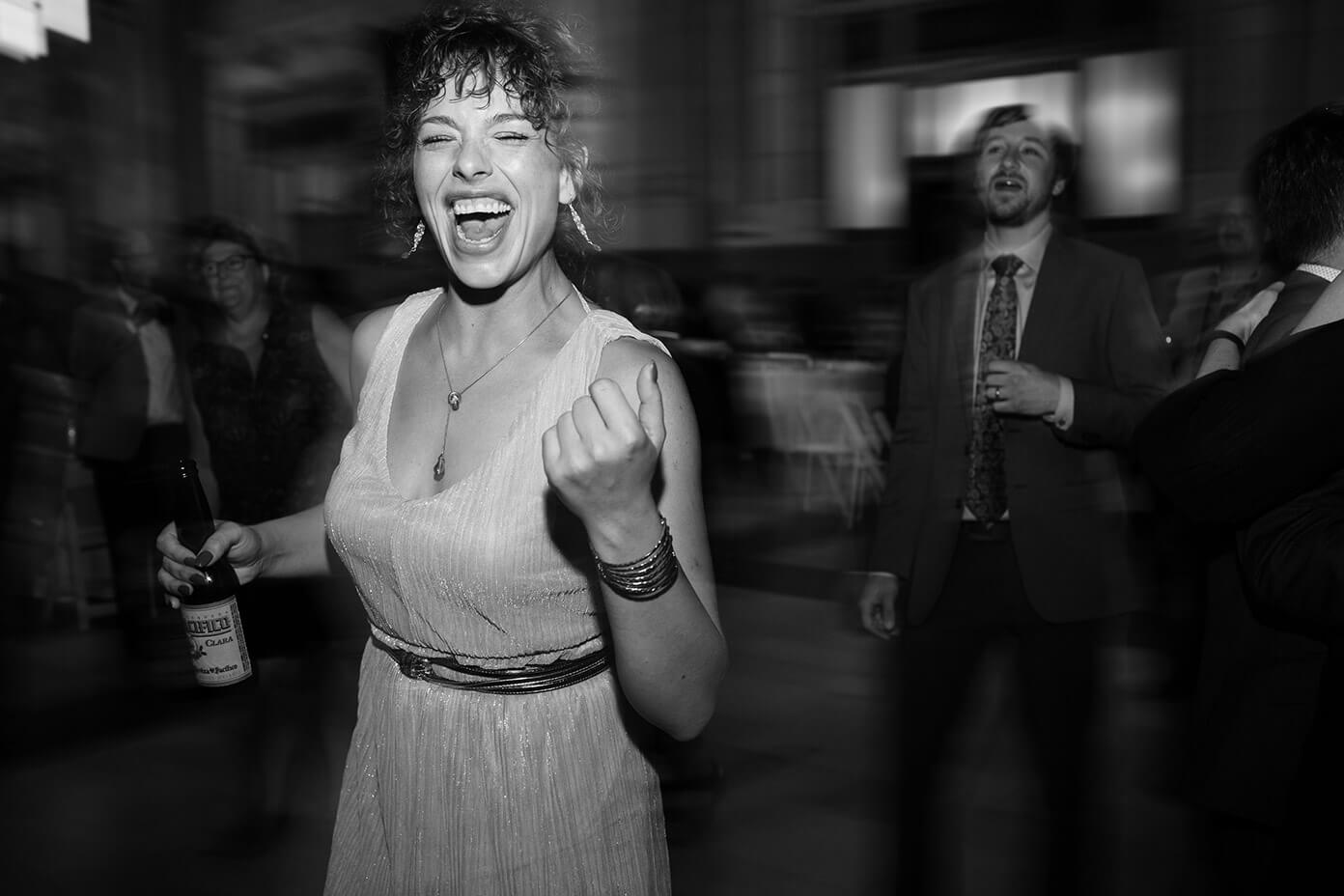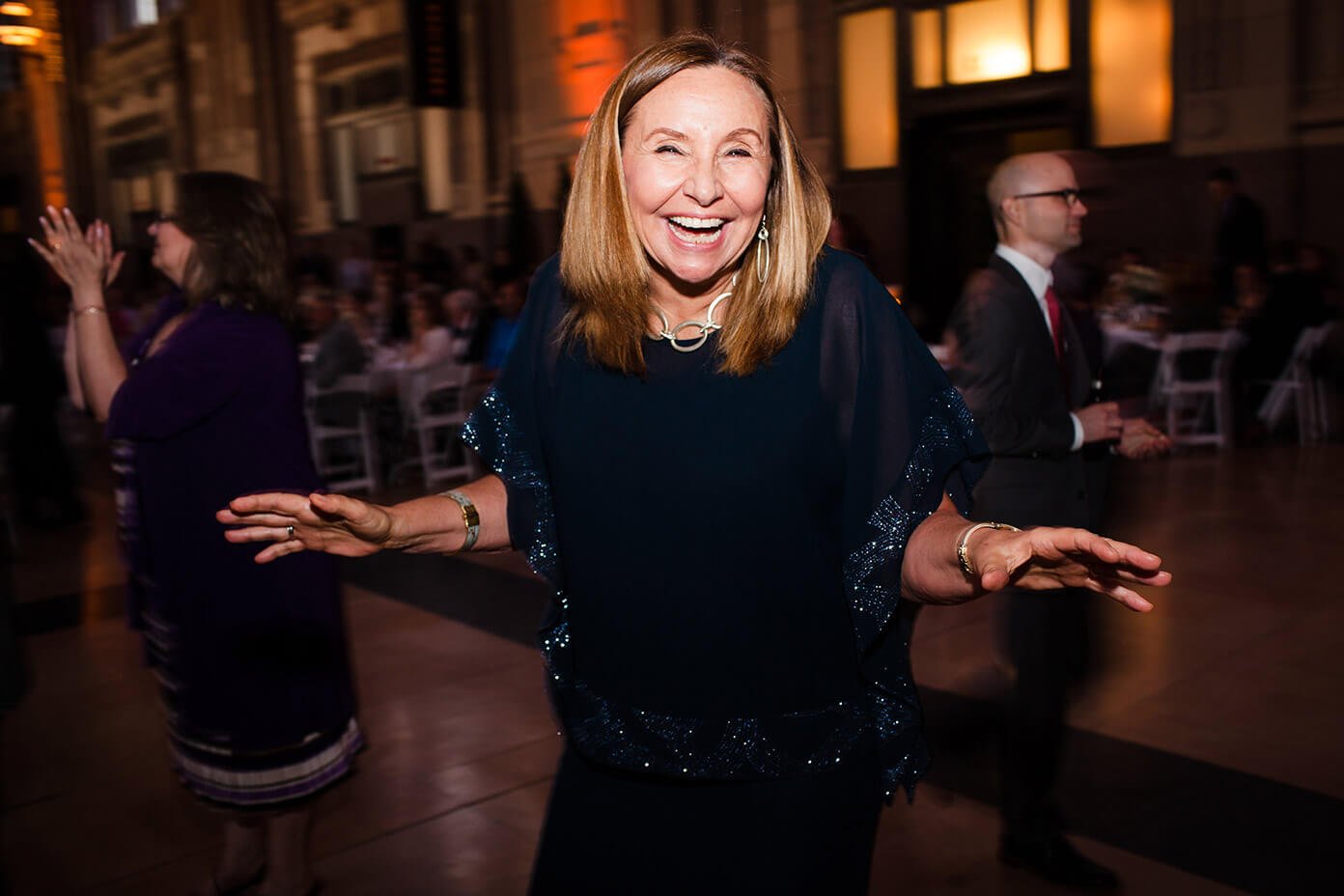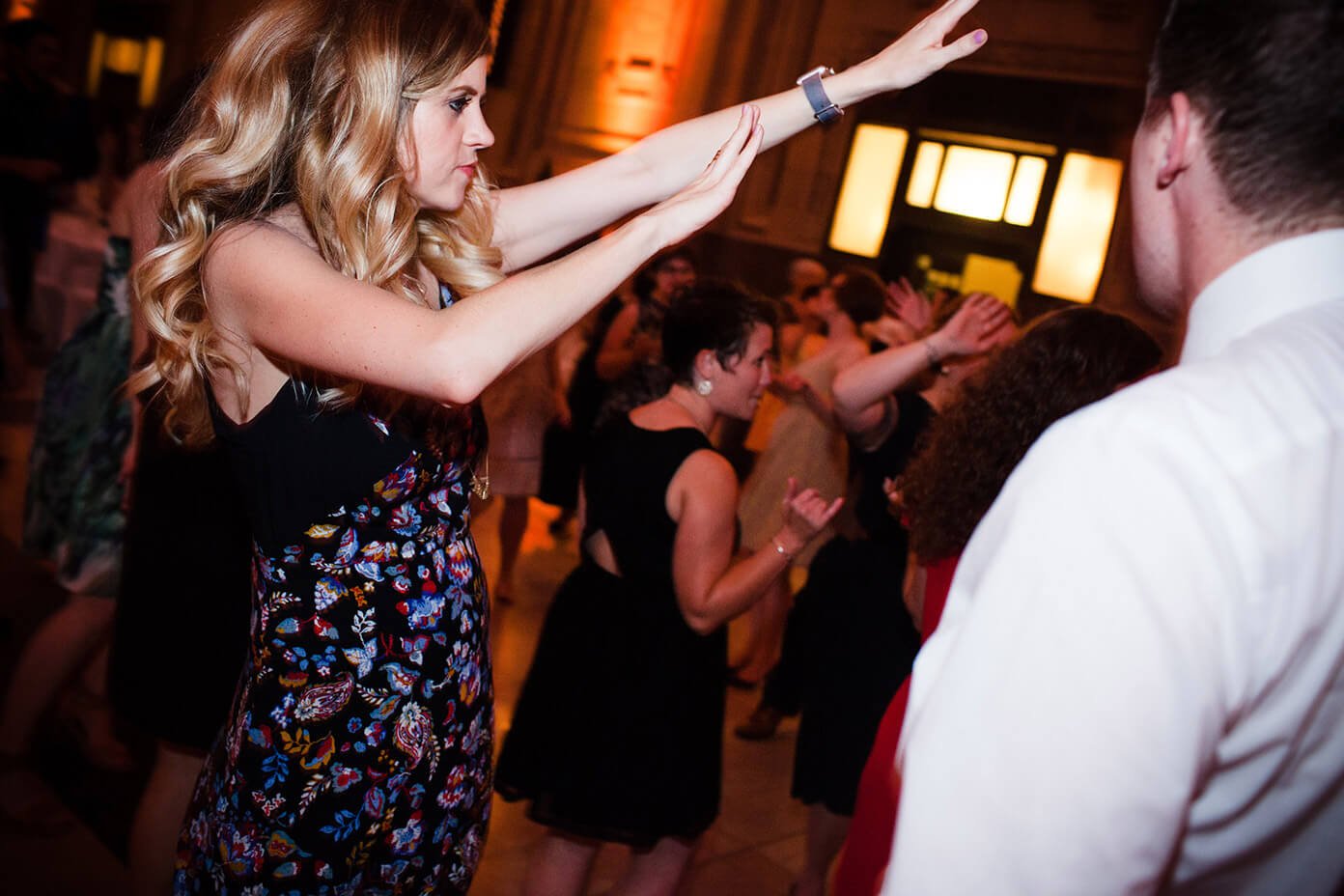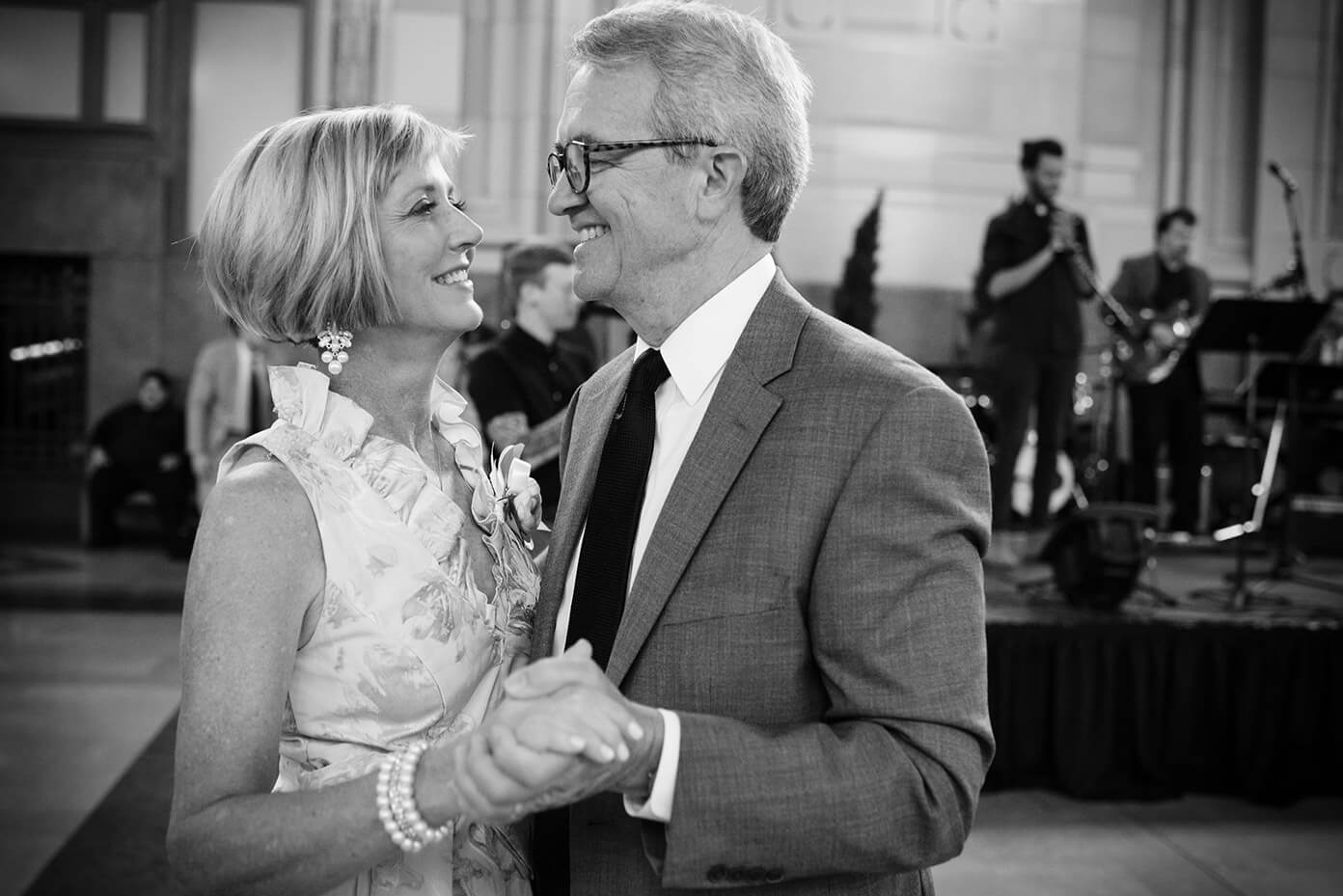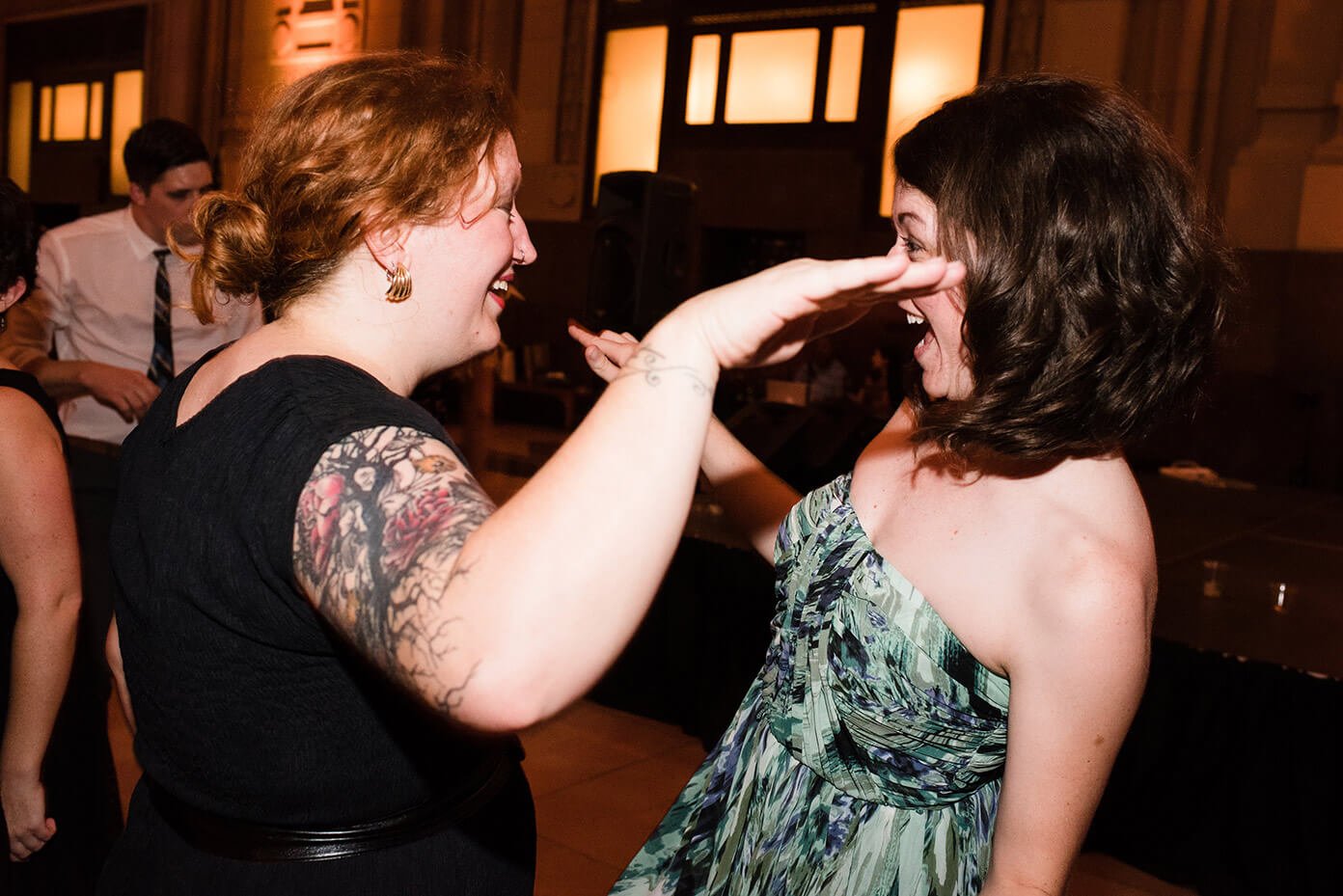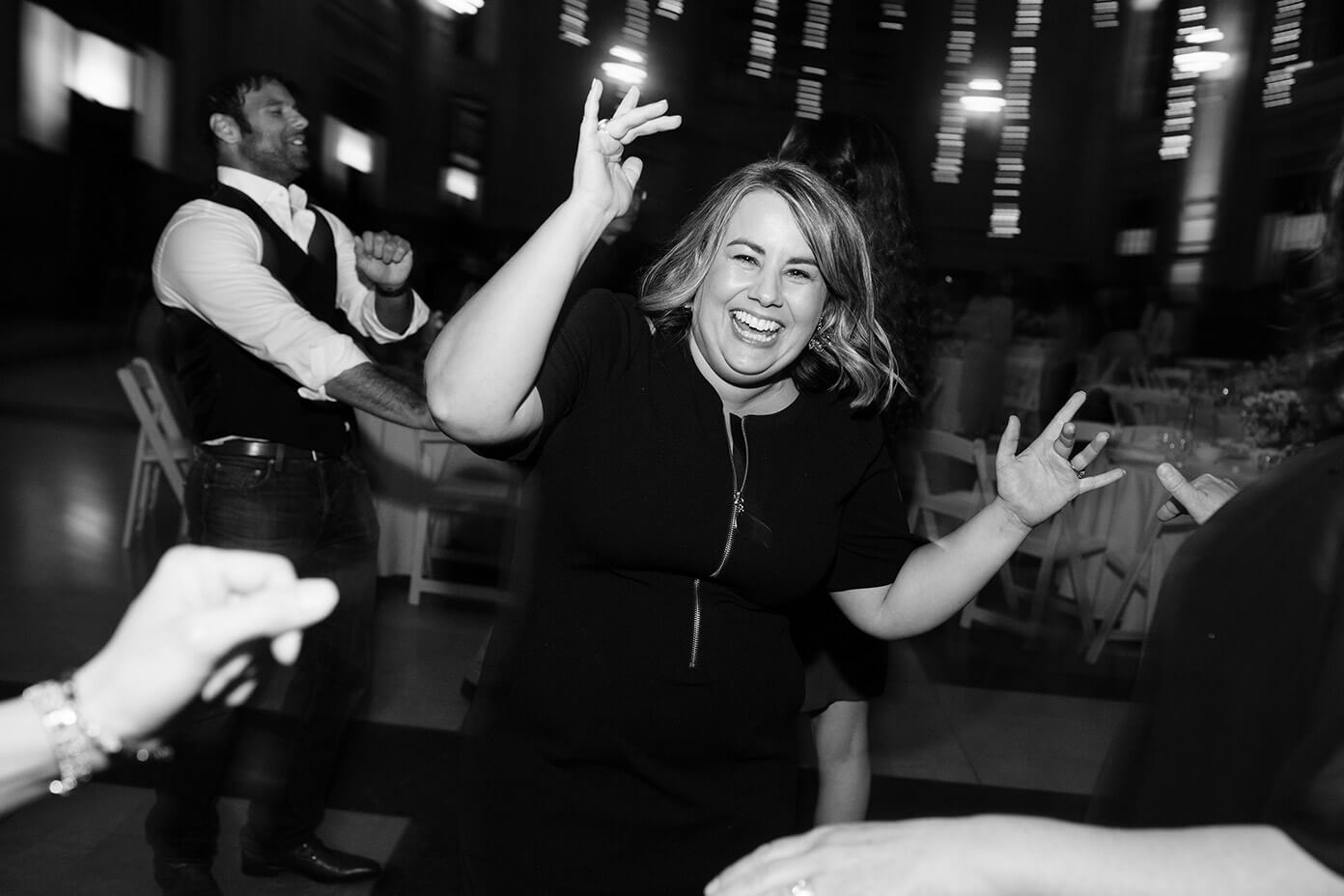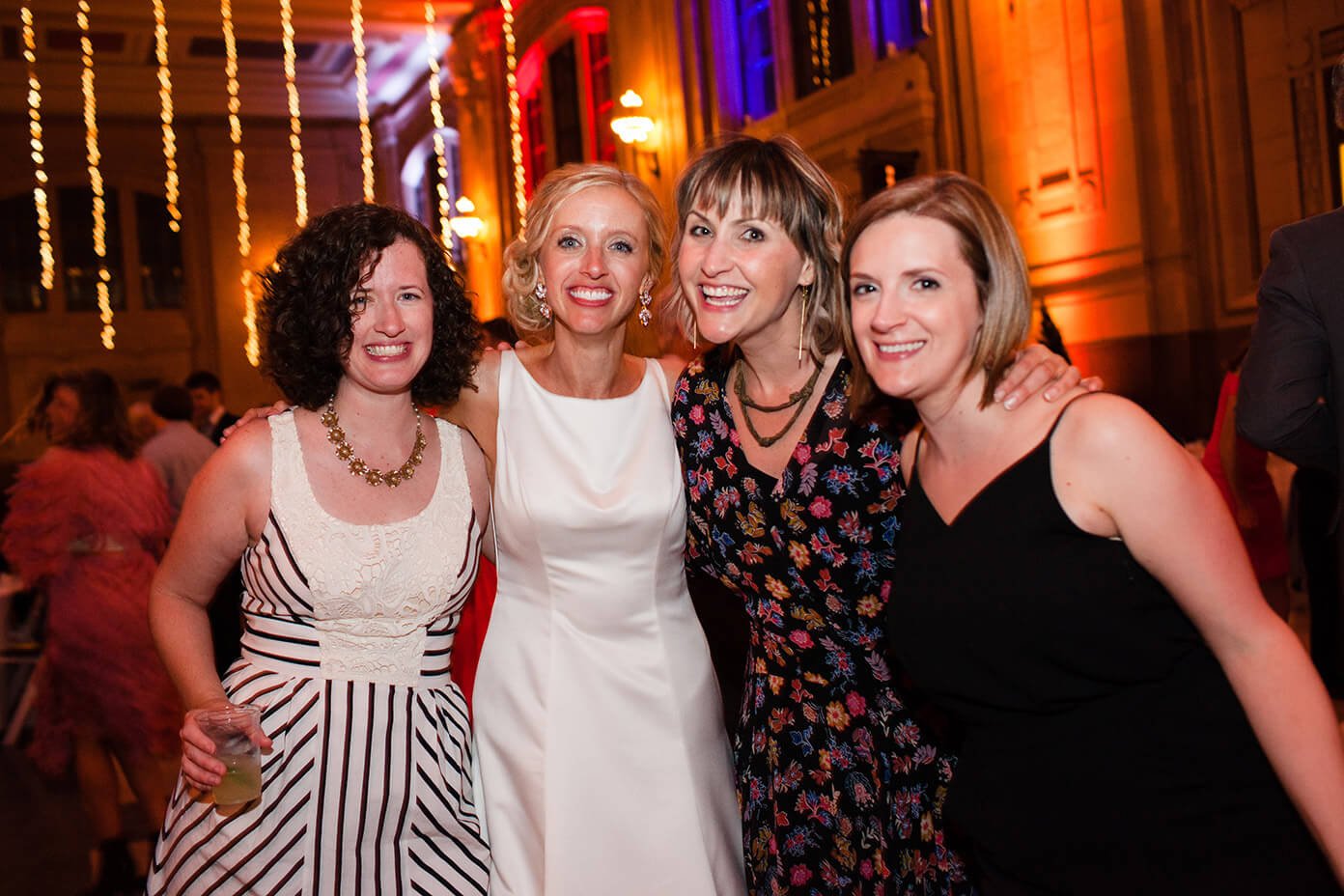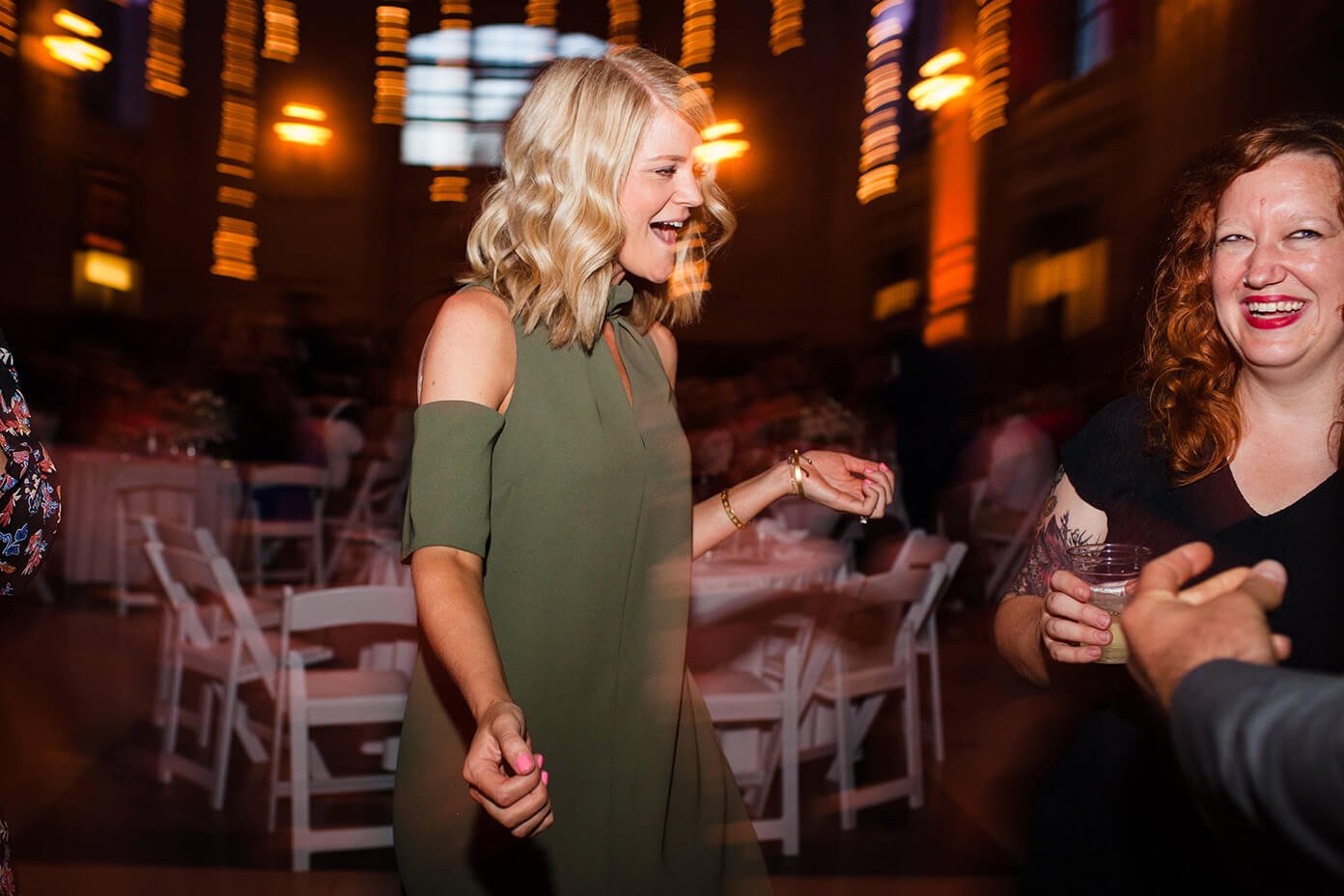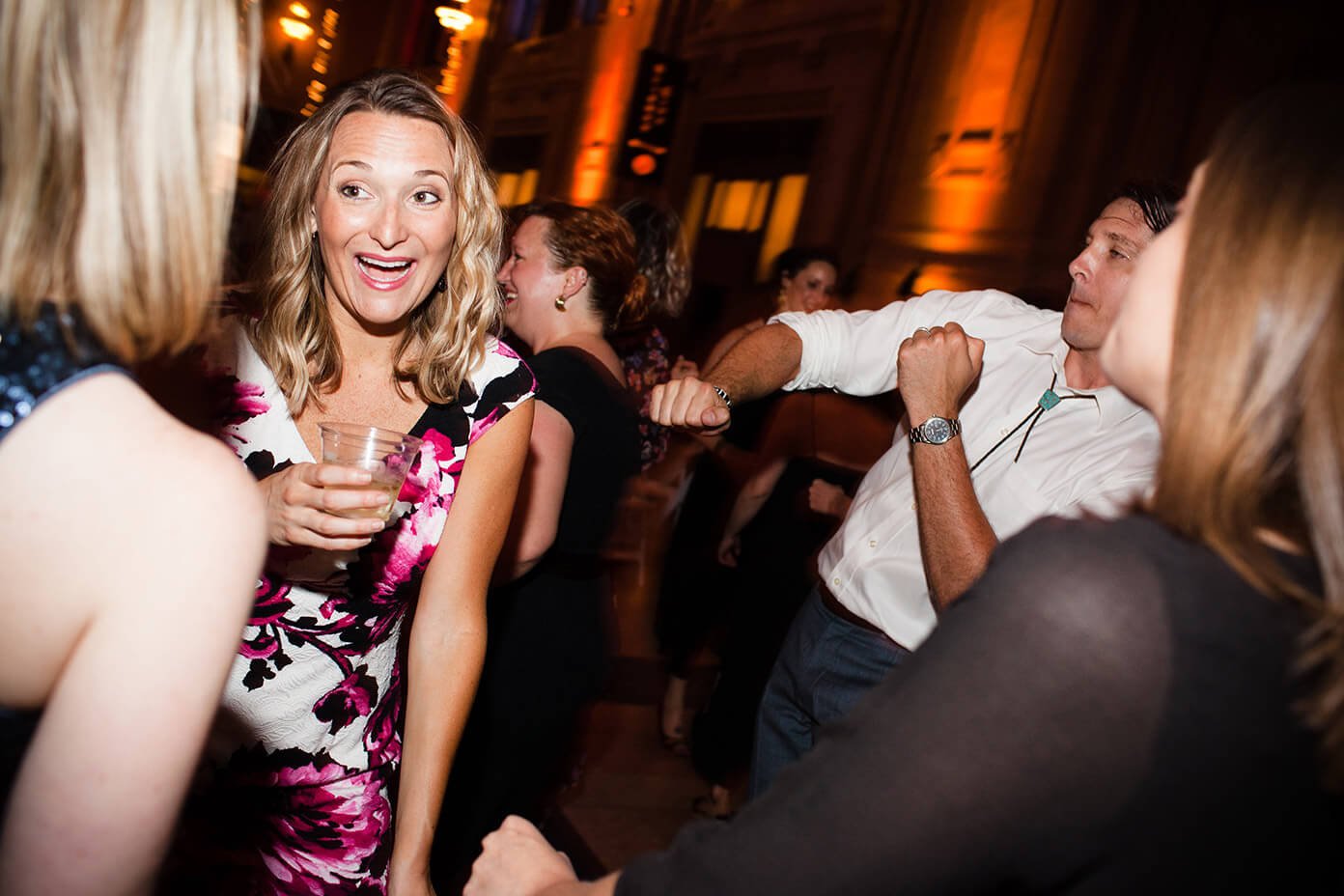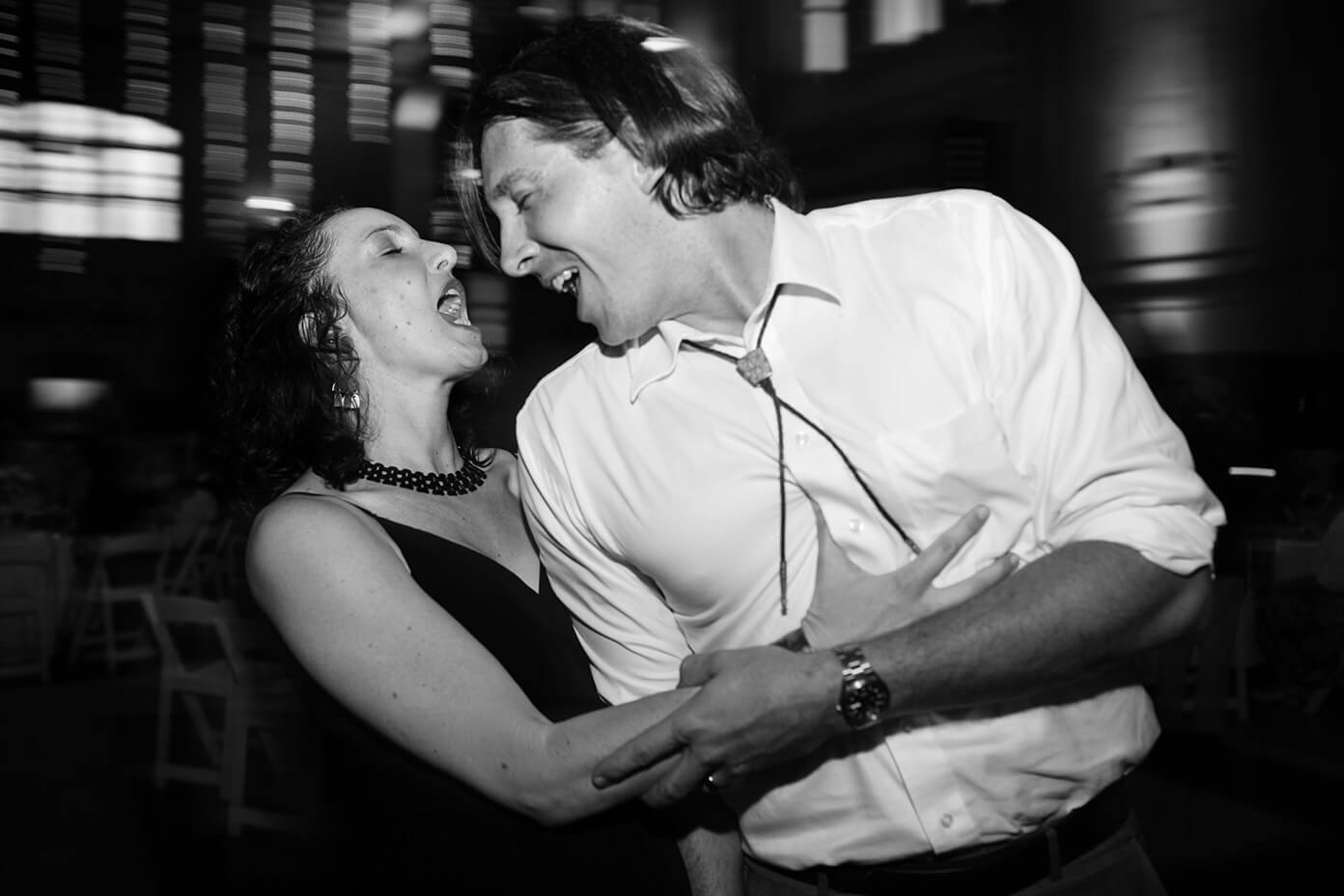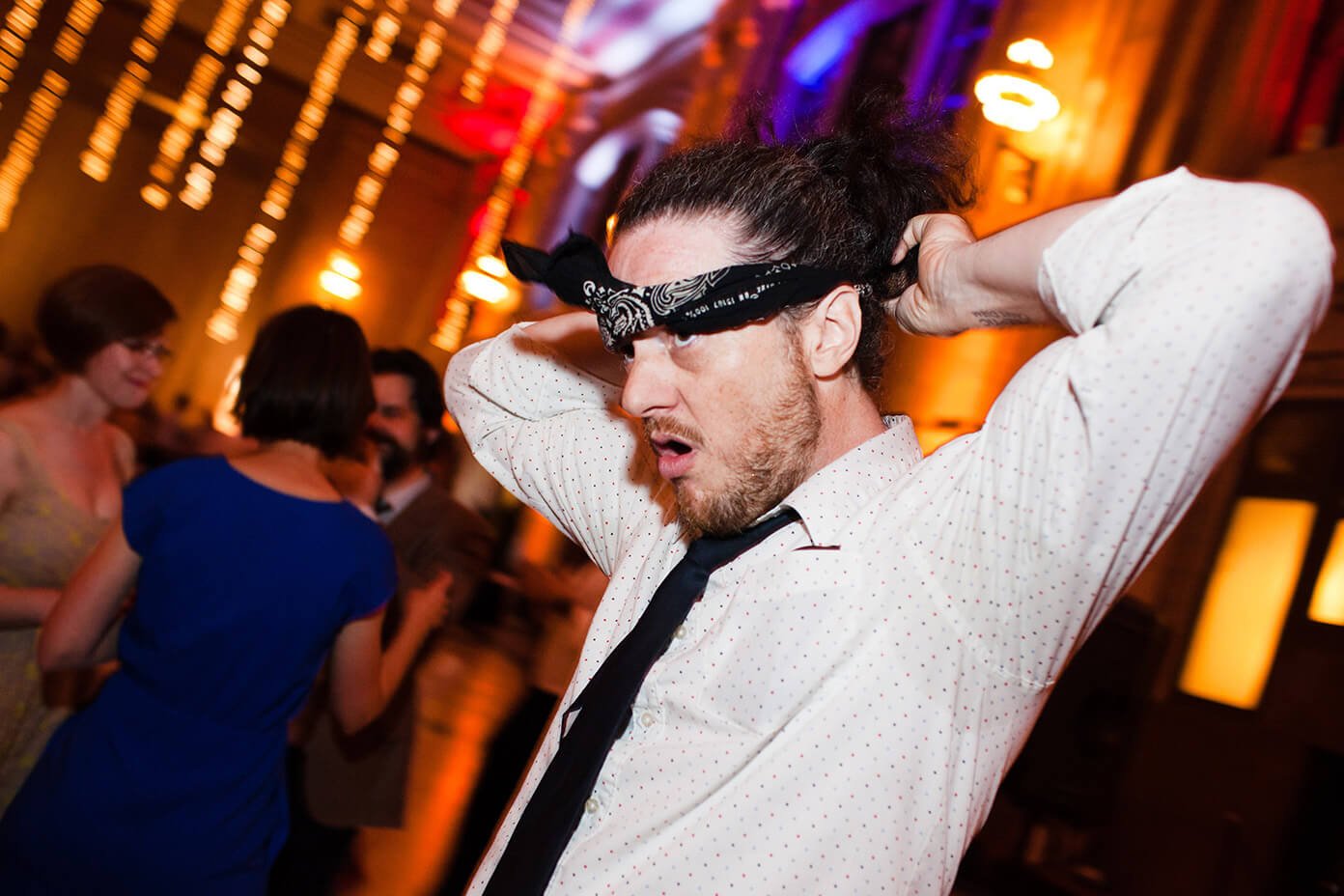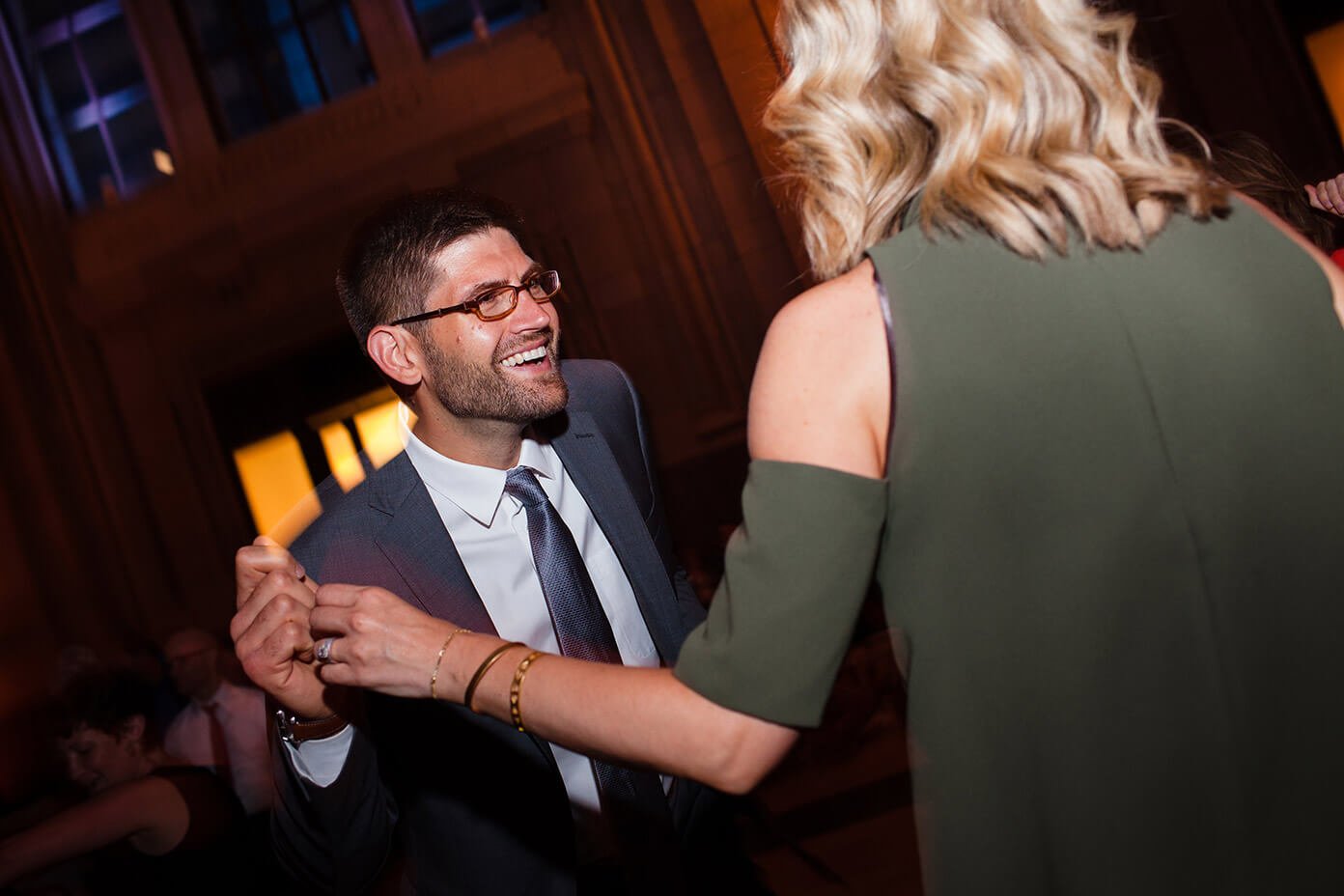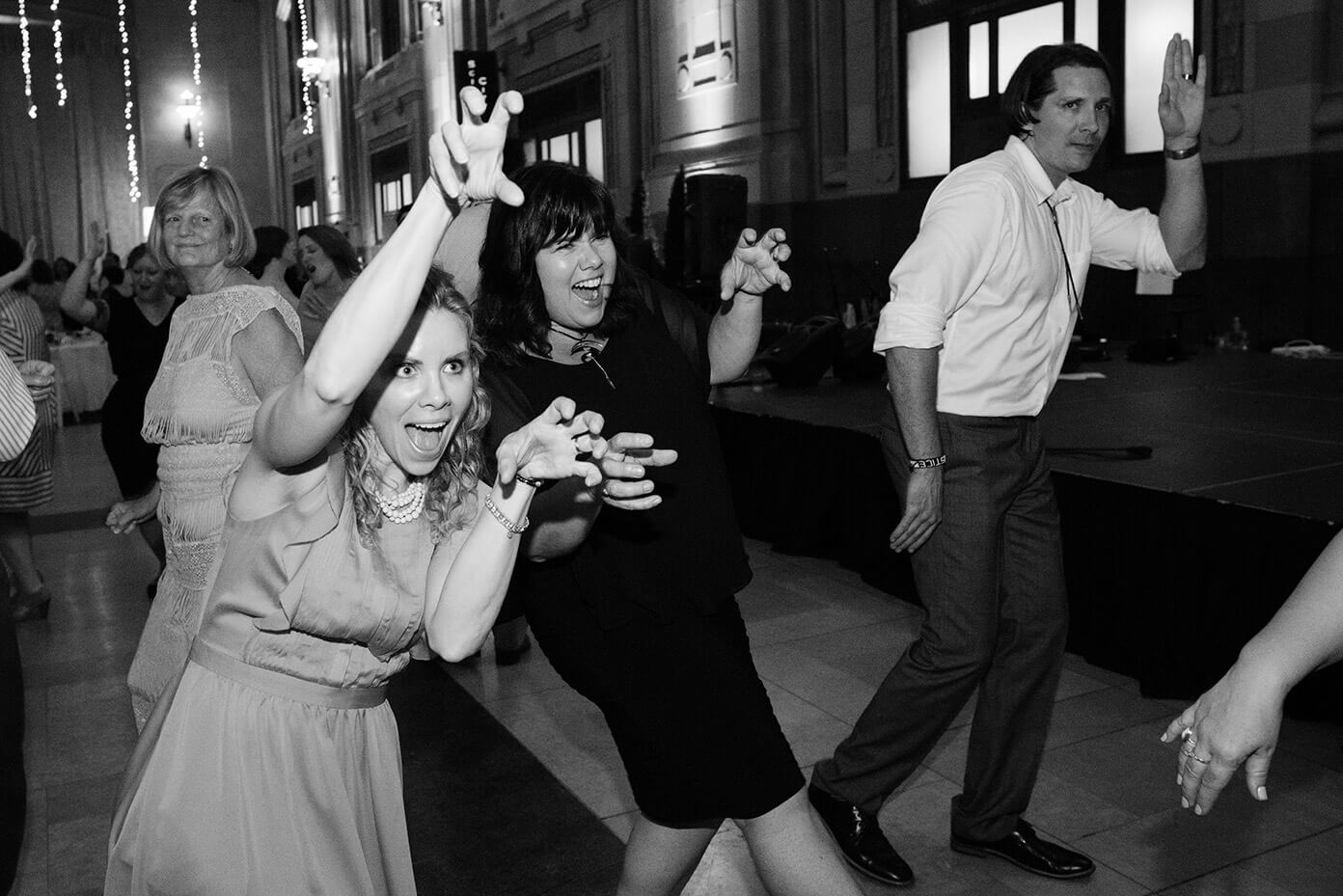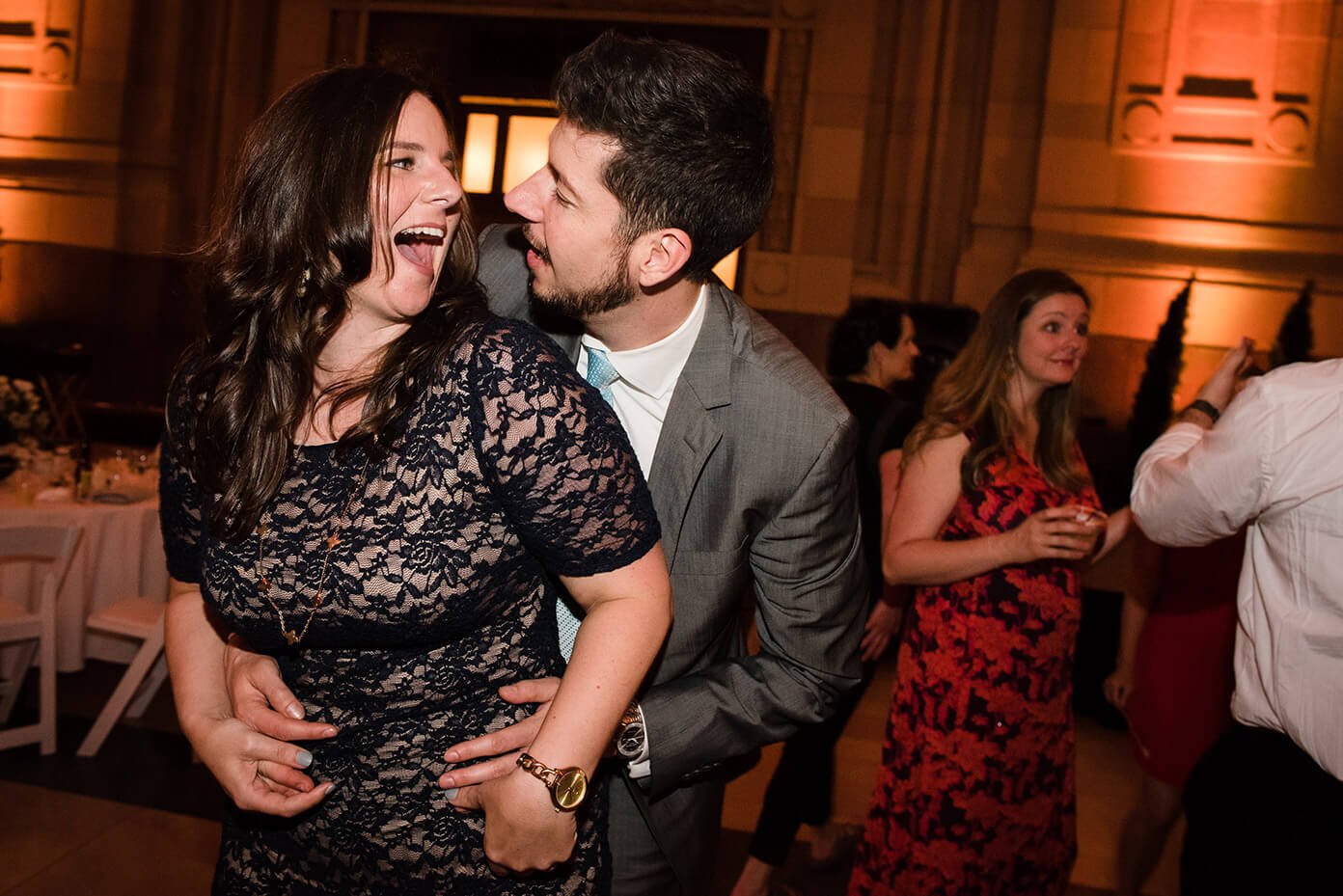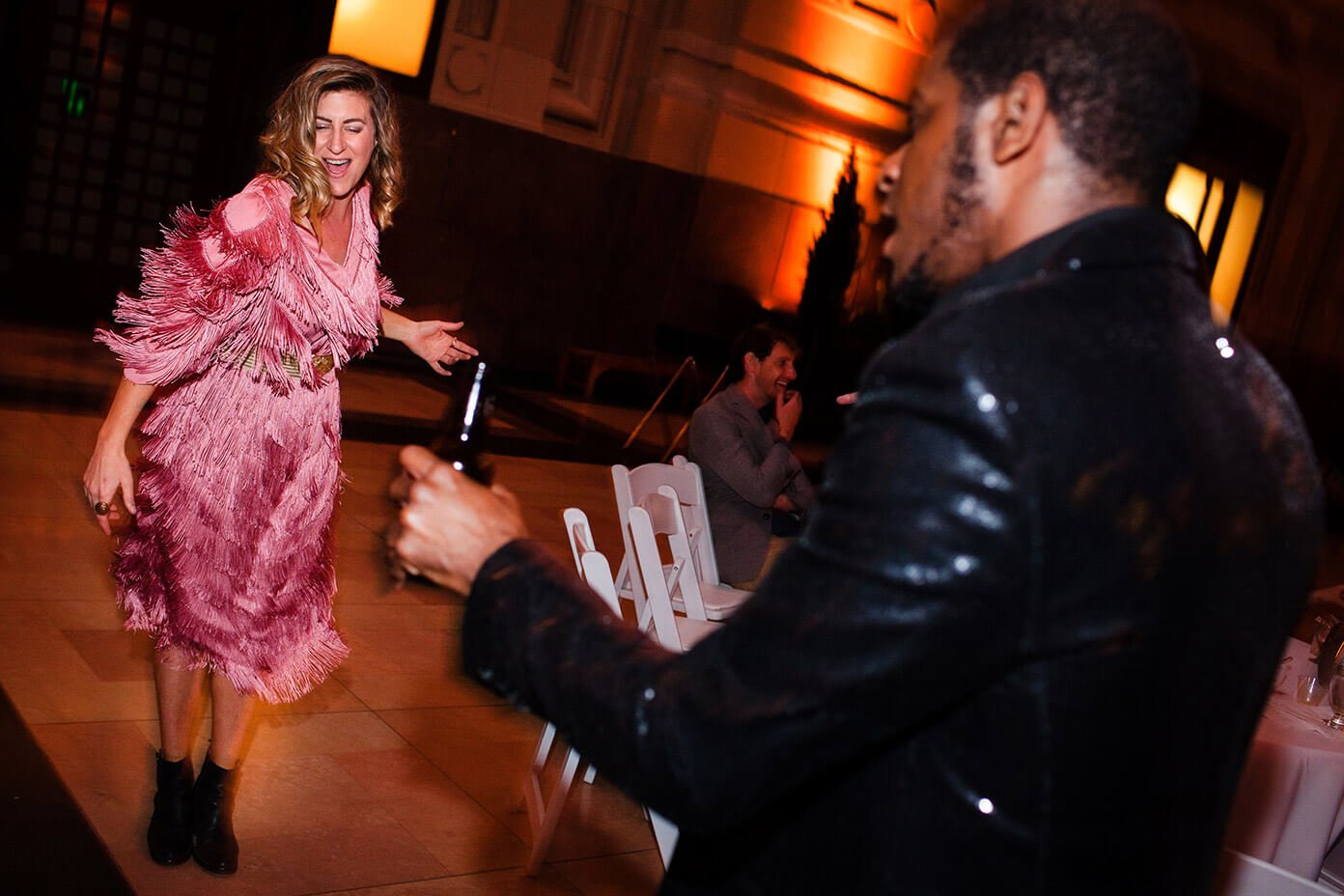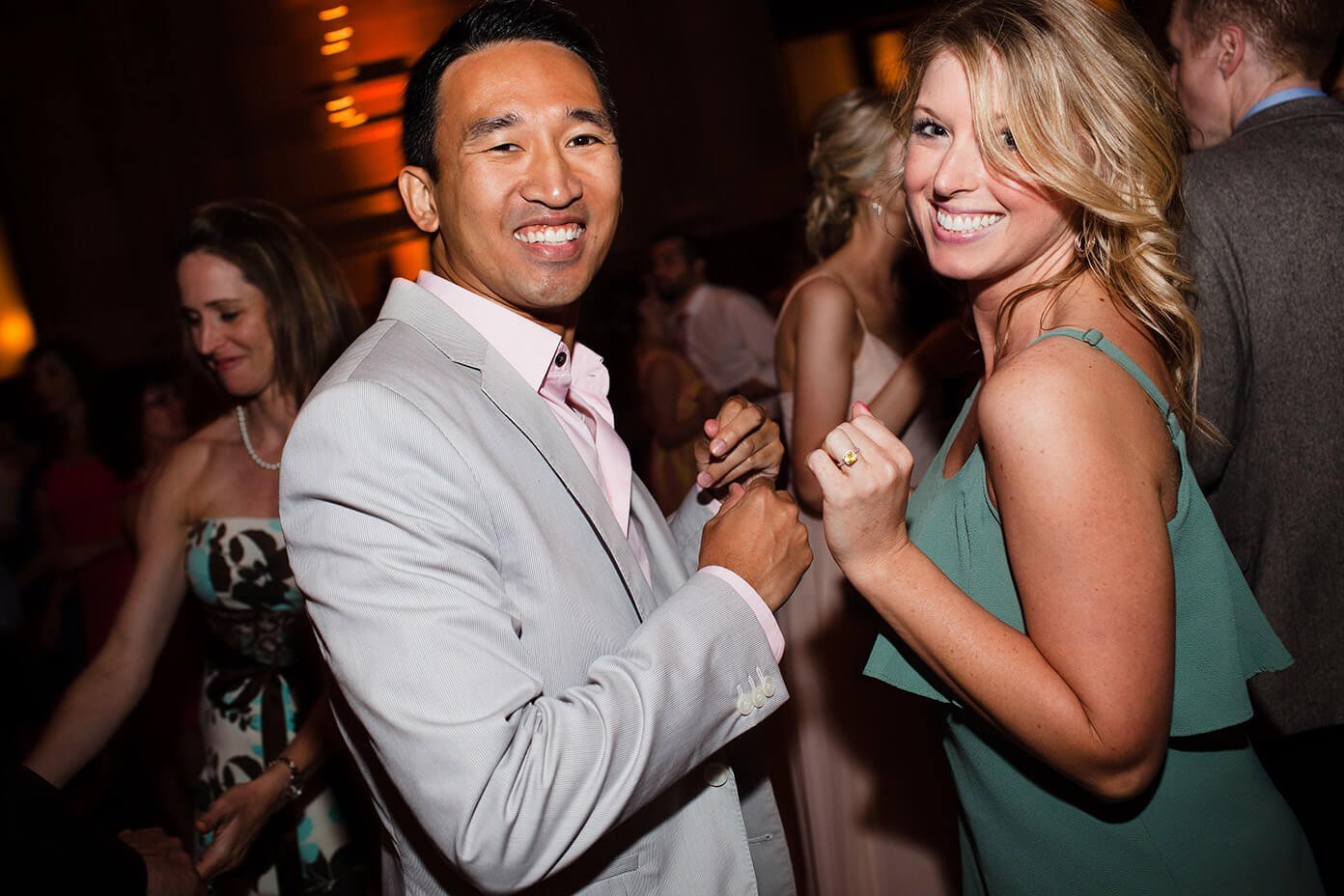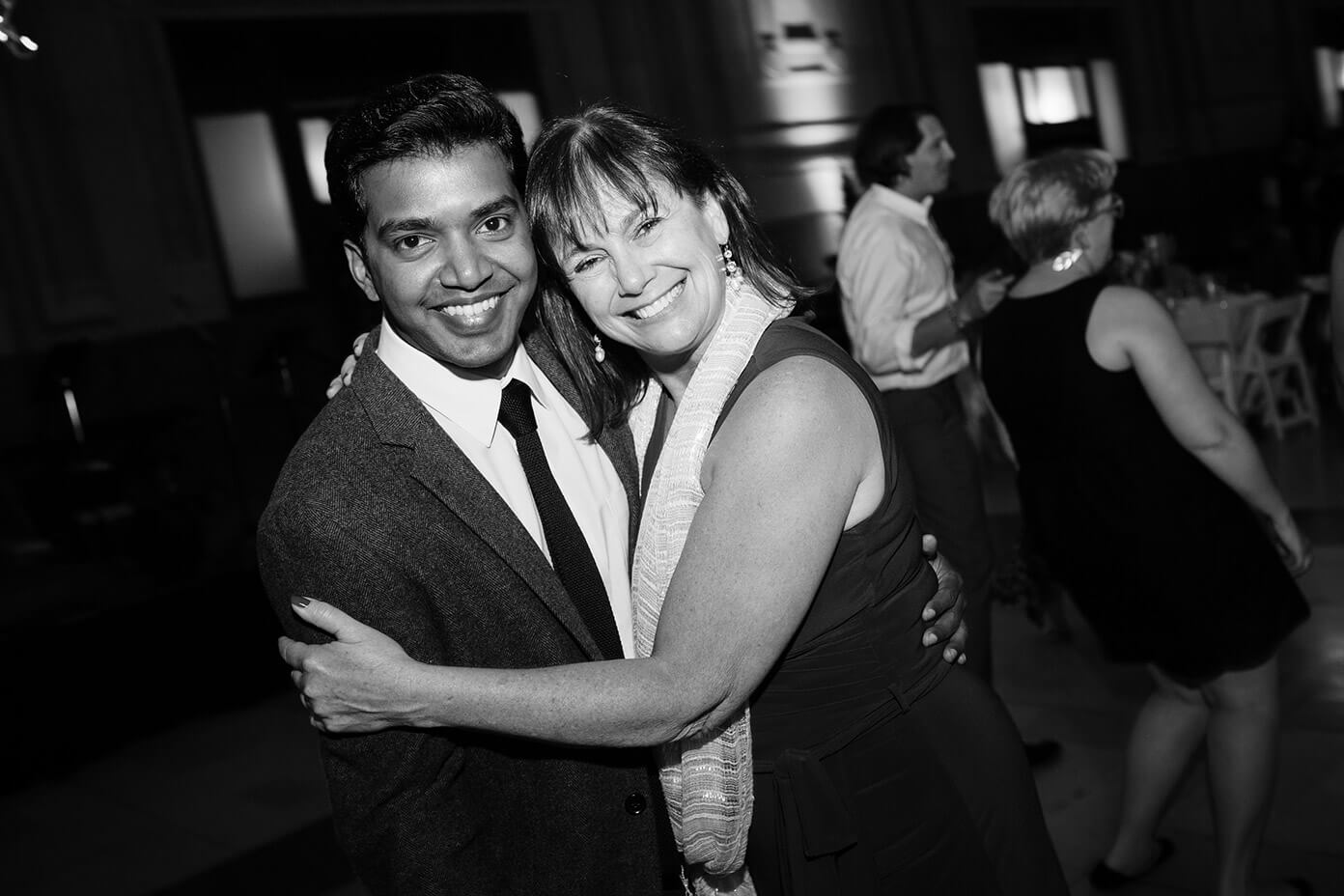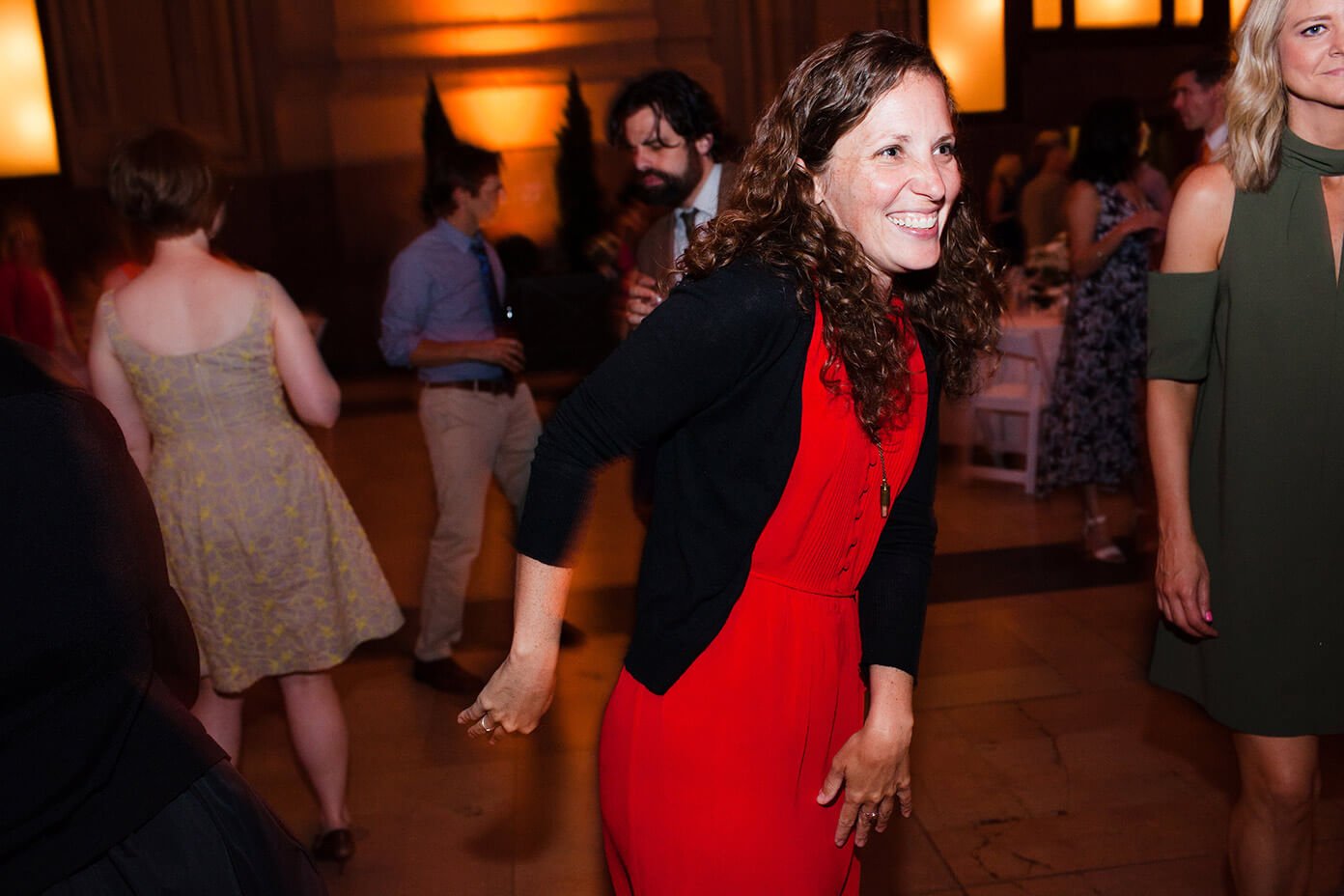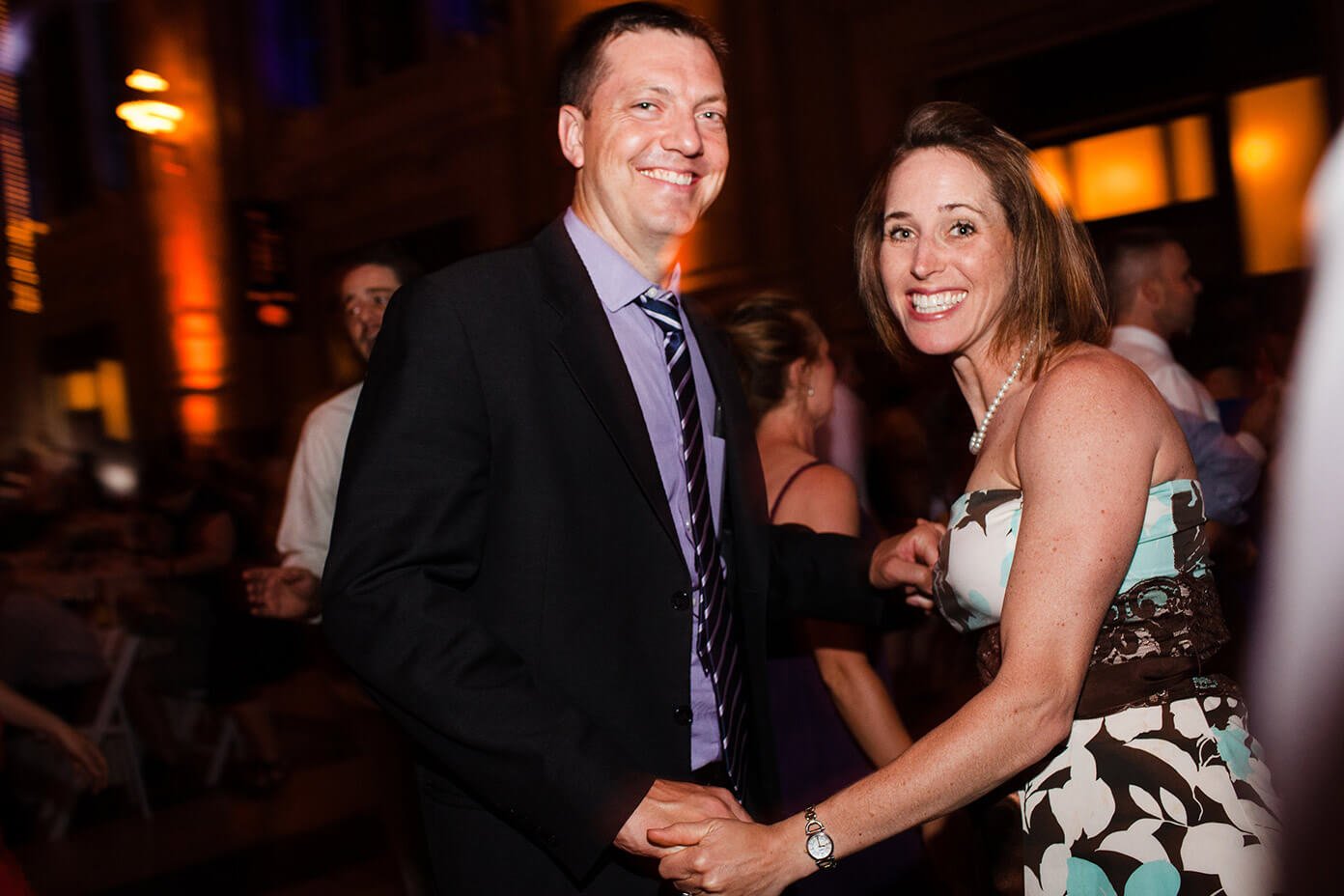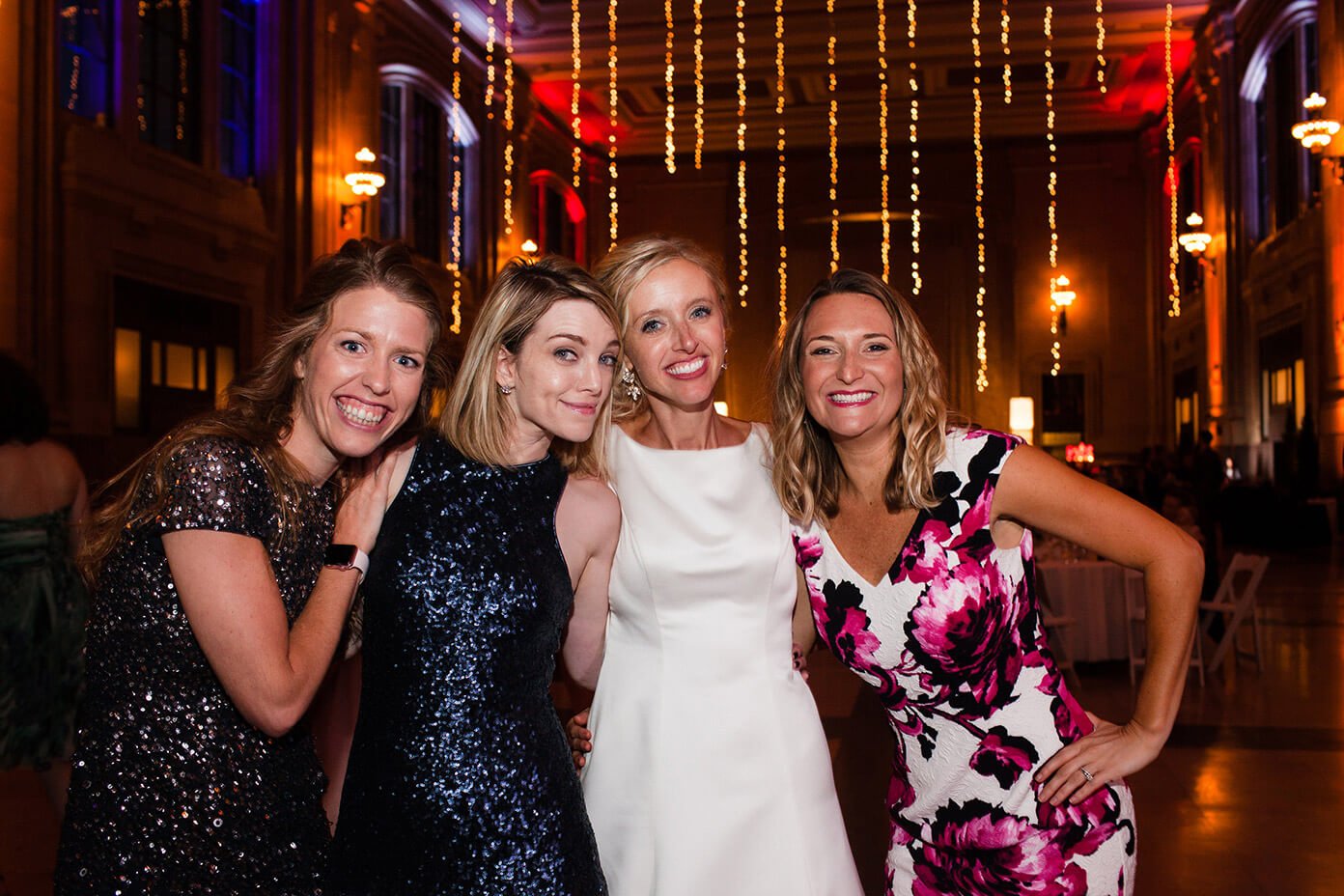 We also took the opportunity while everyone was up on the dance floor to snag a few group pics.
Up above are my "freighbors"…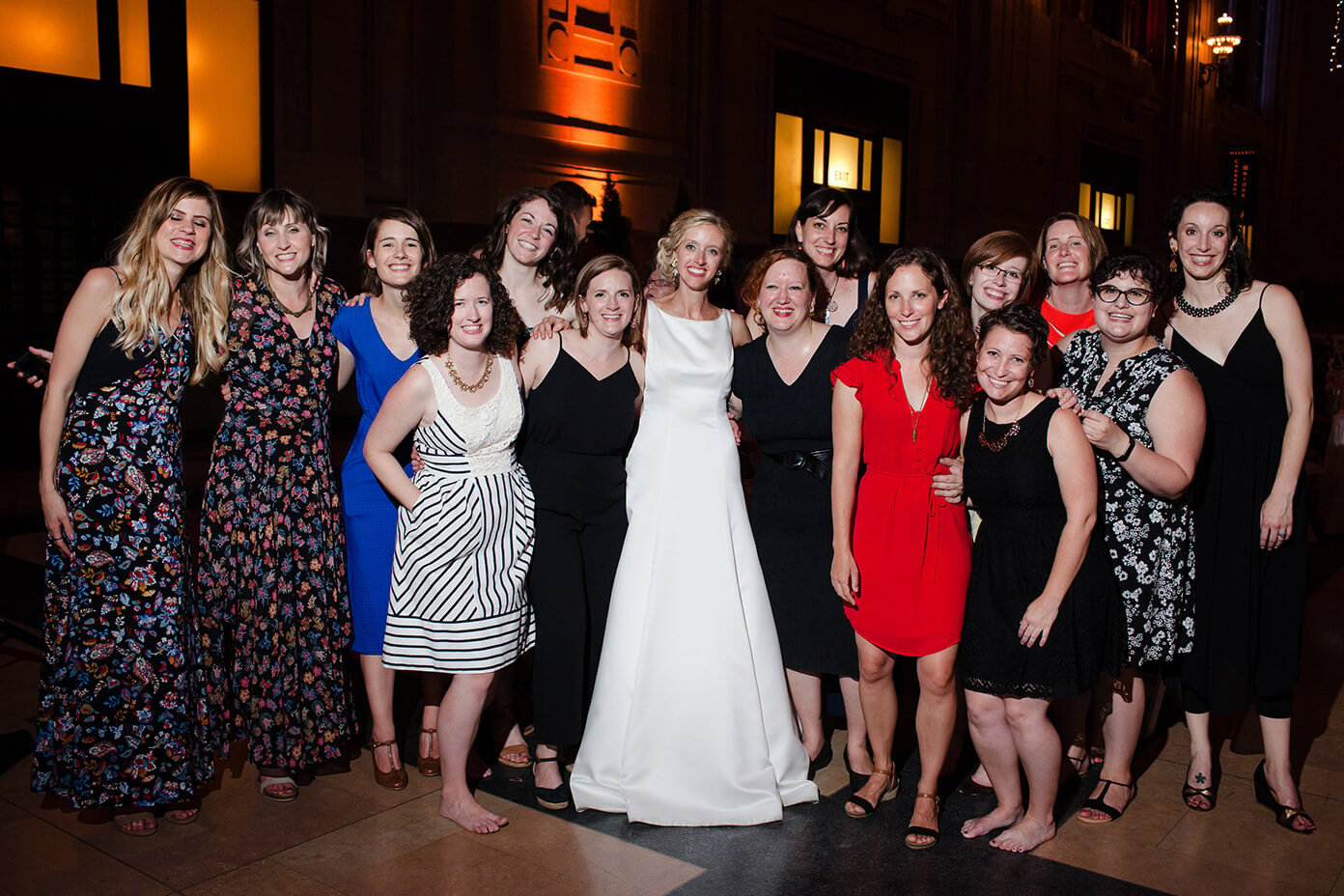 …then here are my book clubbers…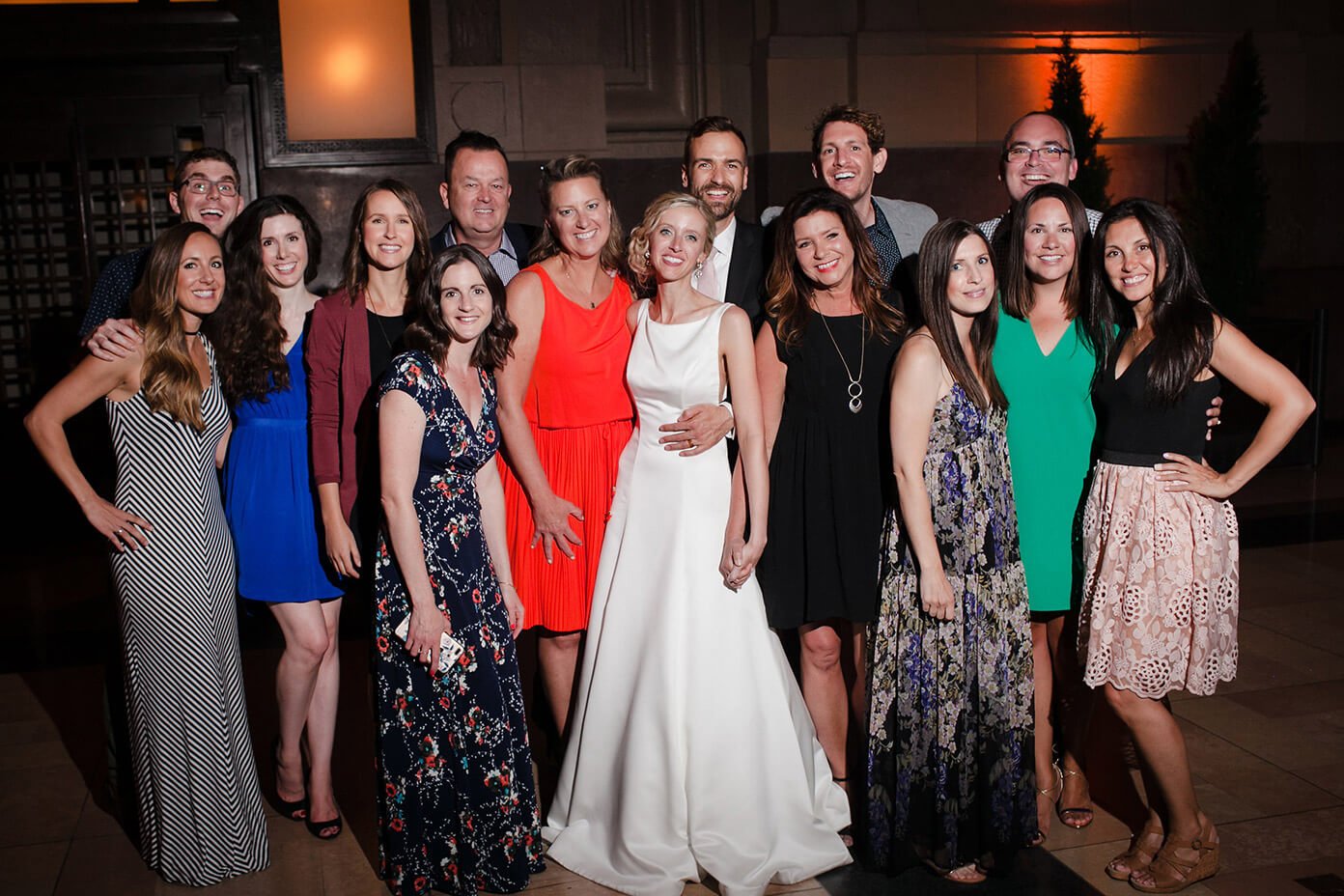 …and my food bloggers (since you all are probably familiar with their sites, that's (from left to right) Lindsay and Bjork from Pinch Of Yum, Kathryne from Cookie and Kate, Dana and John from Minimalist Baker, Maria from Two Peas and Their Pod, Heidi and Jeff from Foodie Crush, Sandy from Reluctant Entertainer, Jeanine and Jack from Love & Lemons, Julie from Coordinately Yours, and Gina from Skinny Taste all right there, in da flesh!)…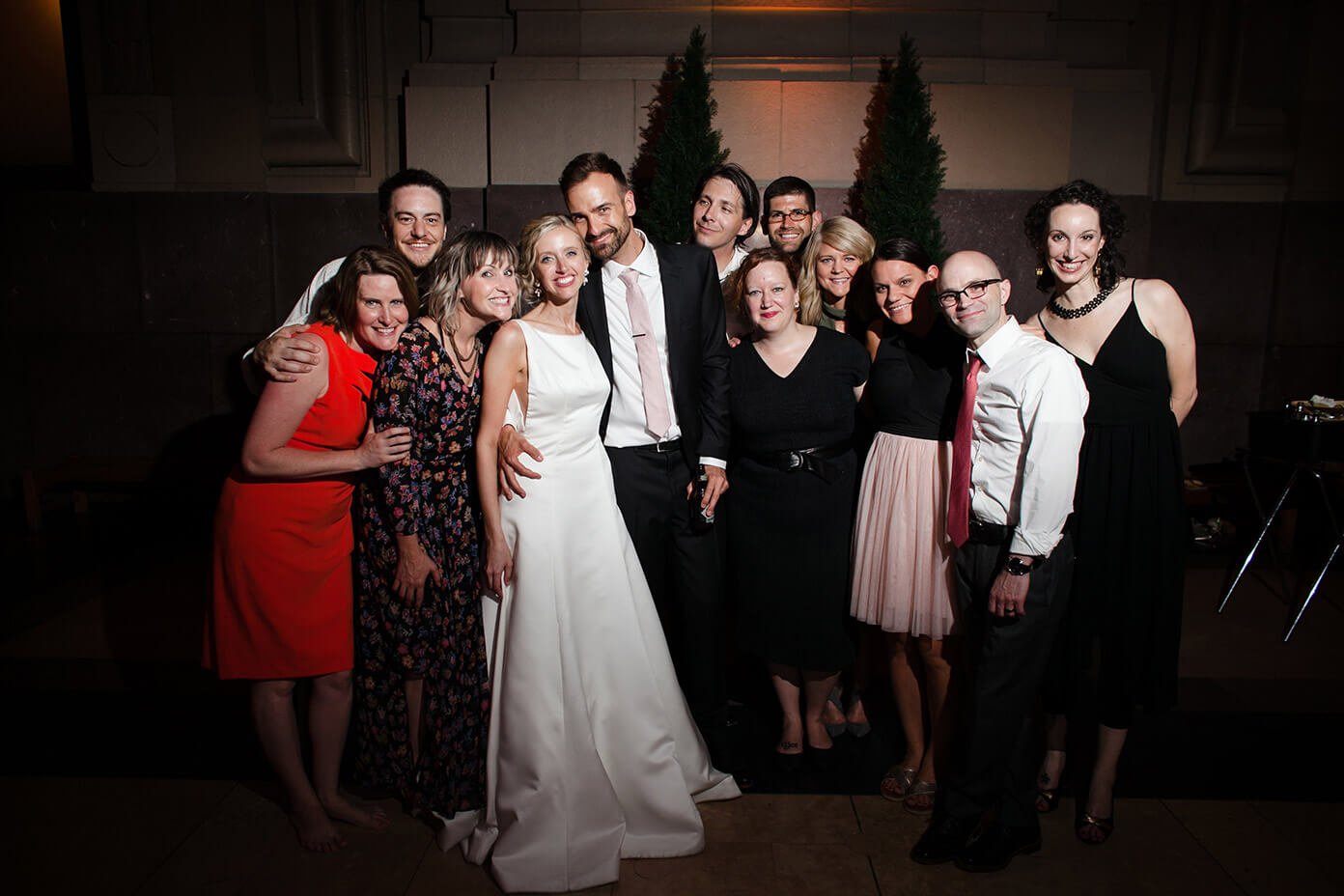 …and finally, our "small group", with whom we've spent our Wednesday nights for years. Love all of these groups of people so much!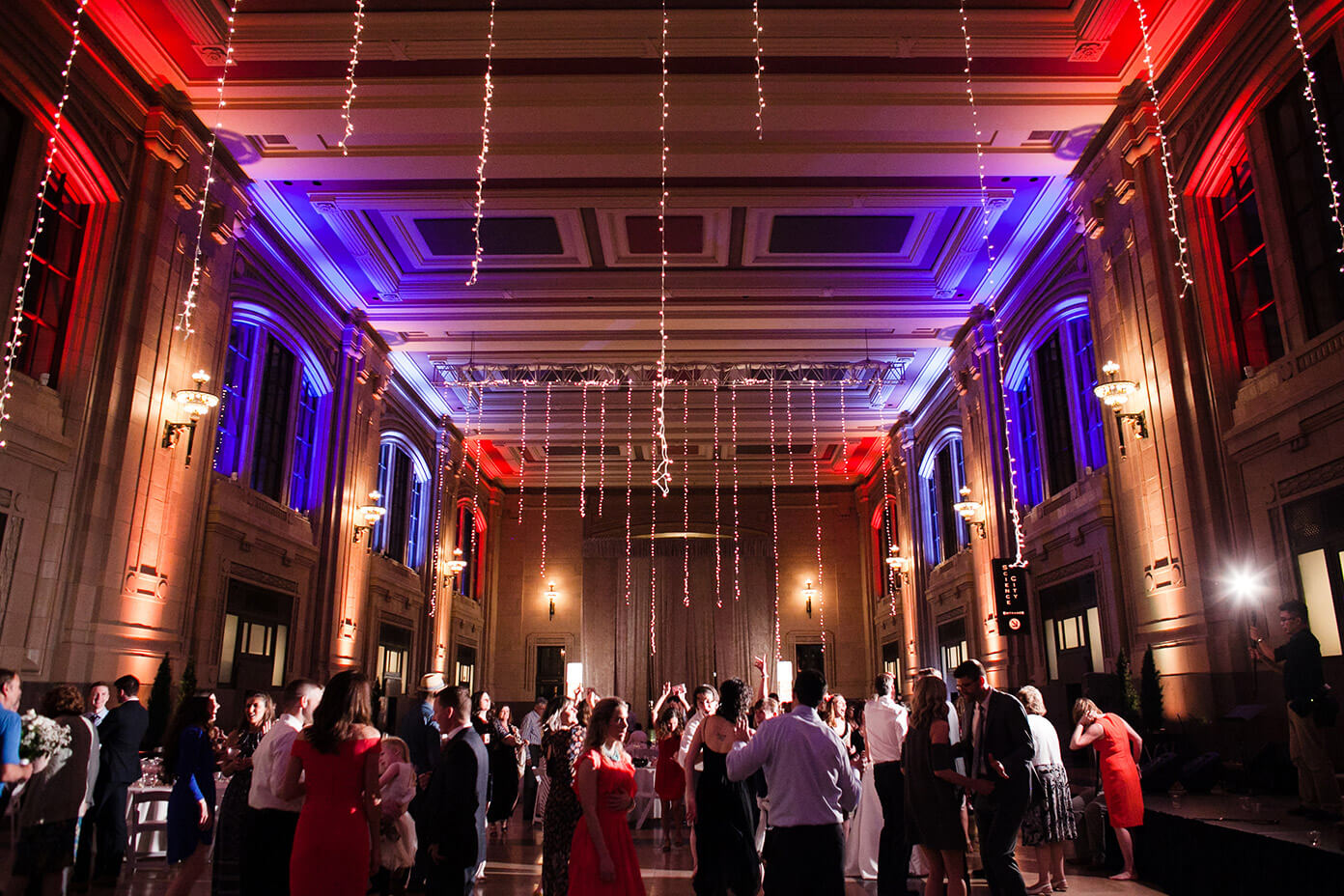 The Send-Off
Then, much too soon, our evening came to an end and it was time to head out. We seriously felt like the party was just getting started, but man, time sure flew and it was time for a little send-off.
These are always one of my favorite parts of weddings. But Union Station had a pretty strict throwing-tiny-things policy, so we knew that sparklers, confetti, rice, and most of our other send-off ideas weren't going to fly. Hehe…guess what did though…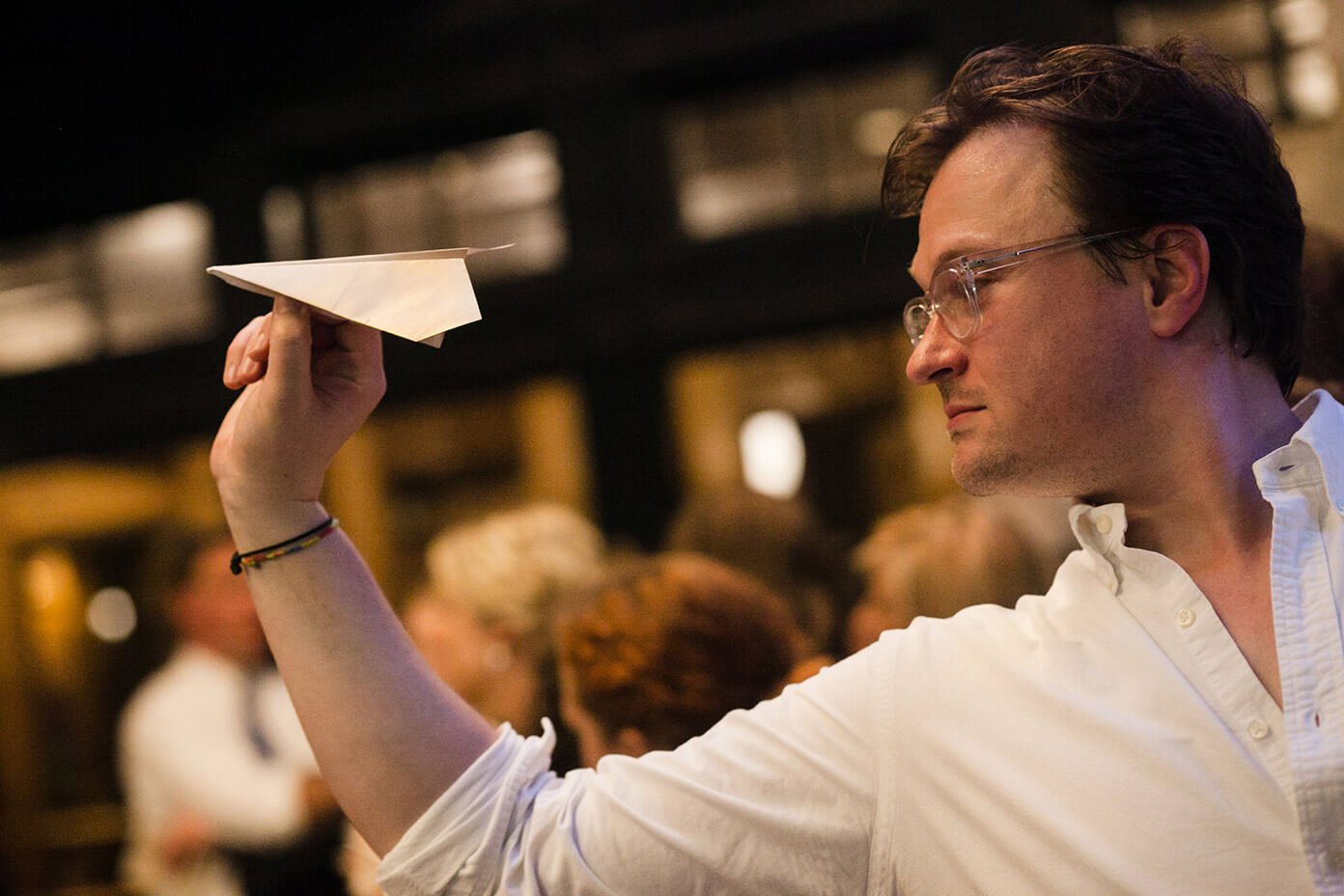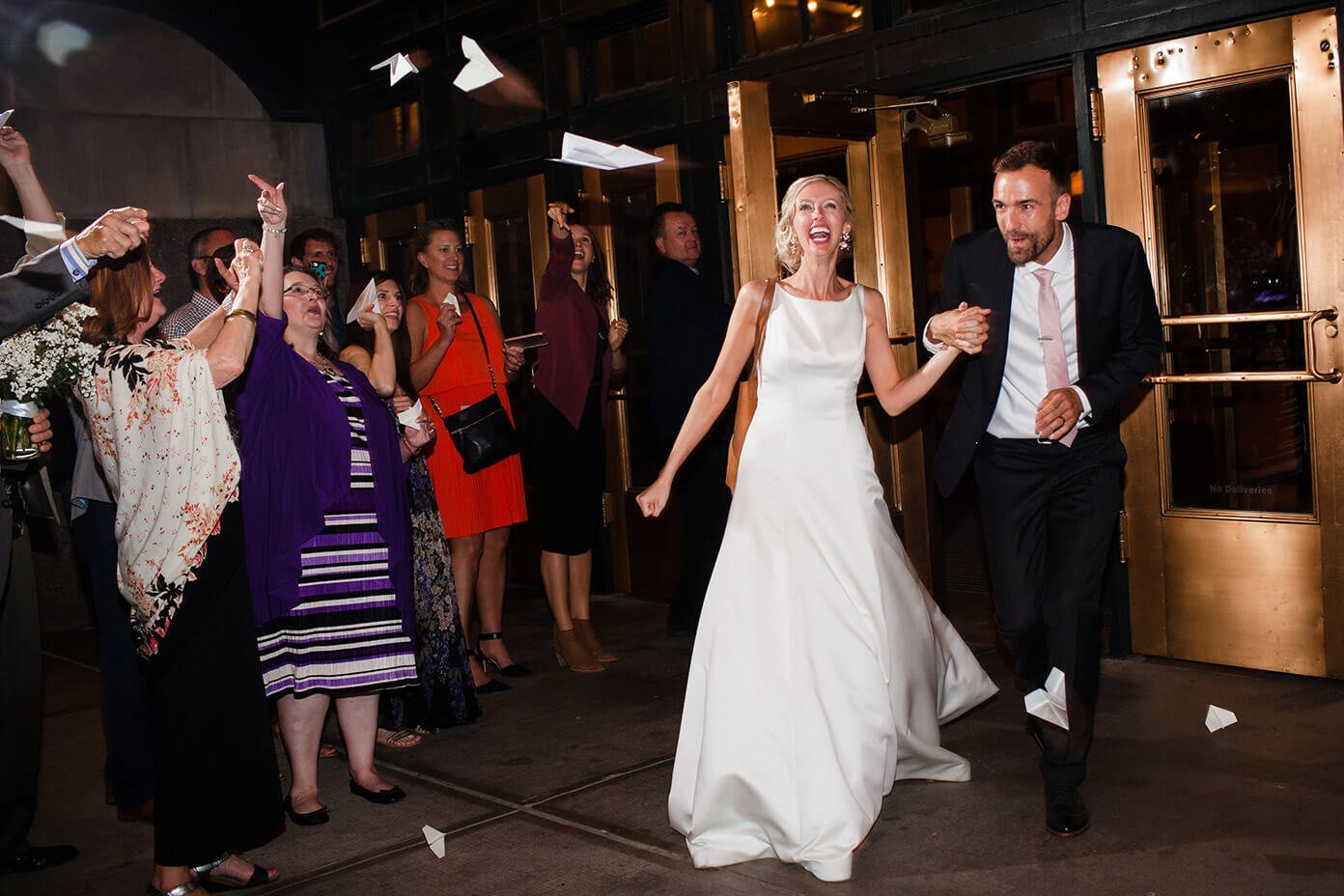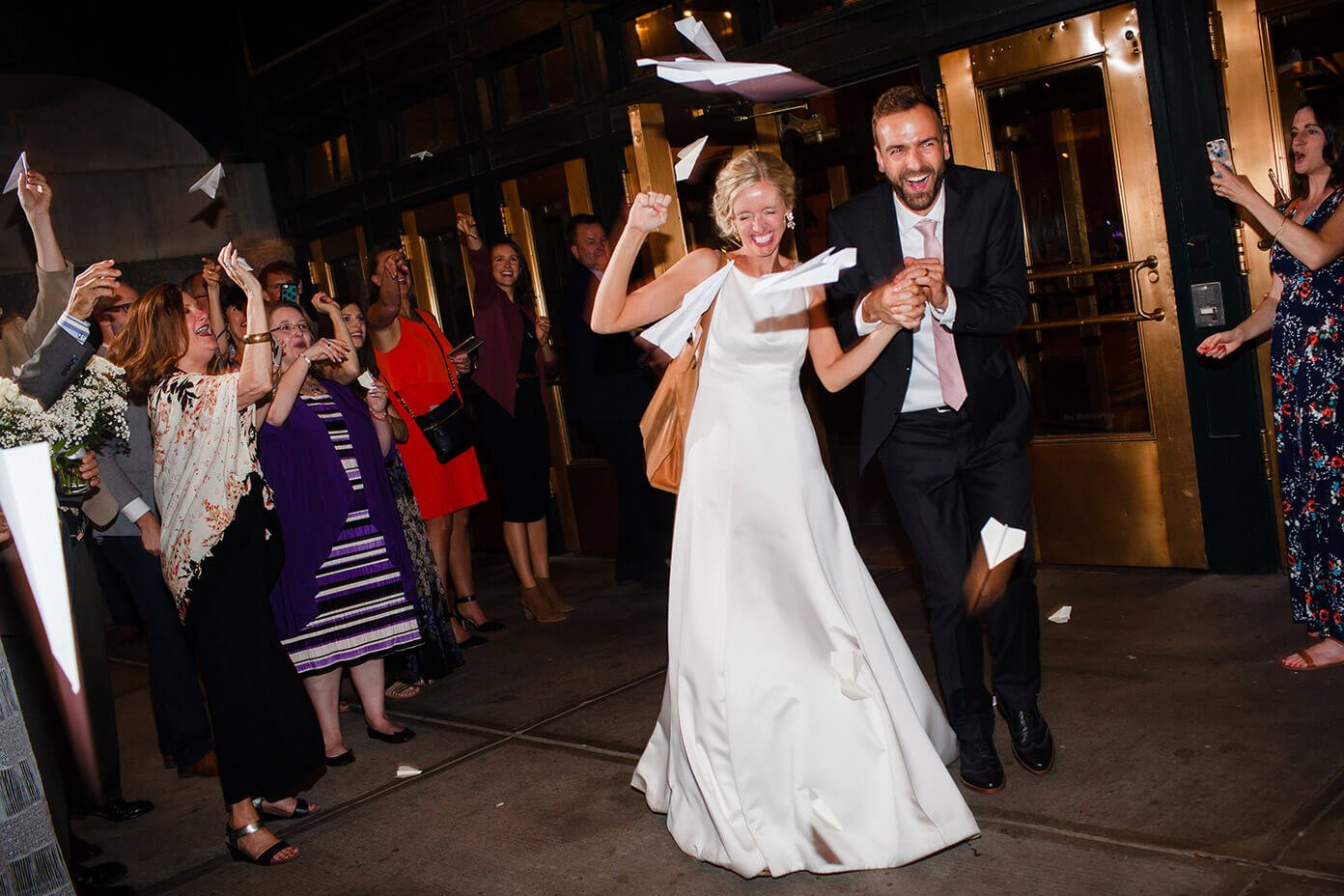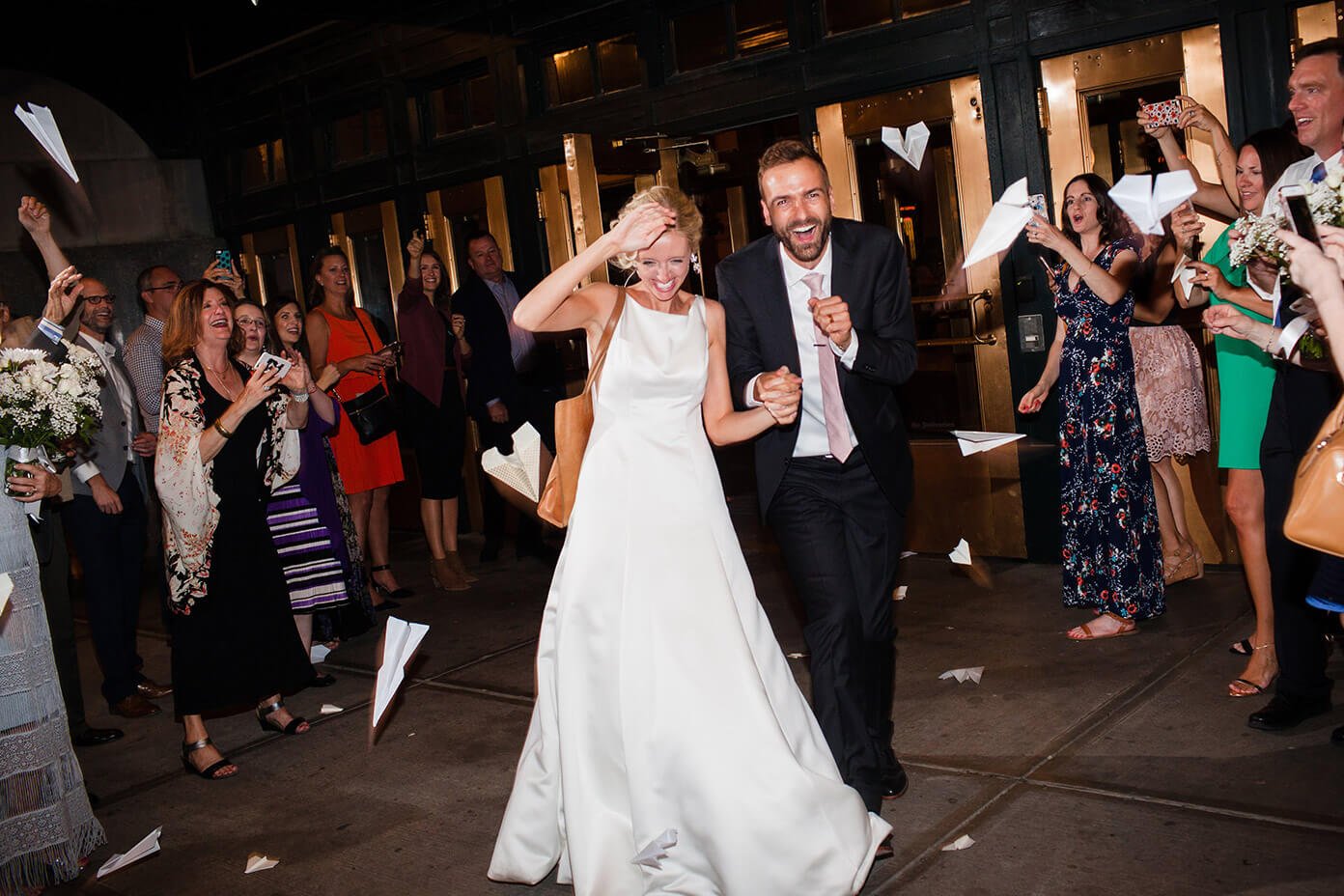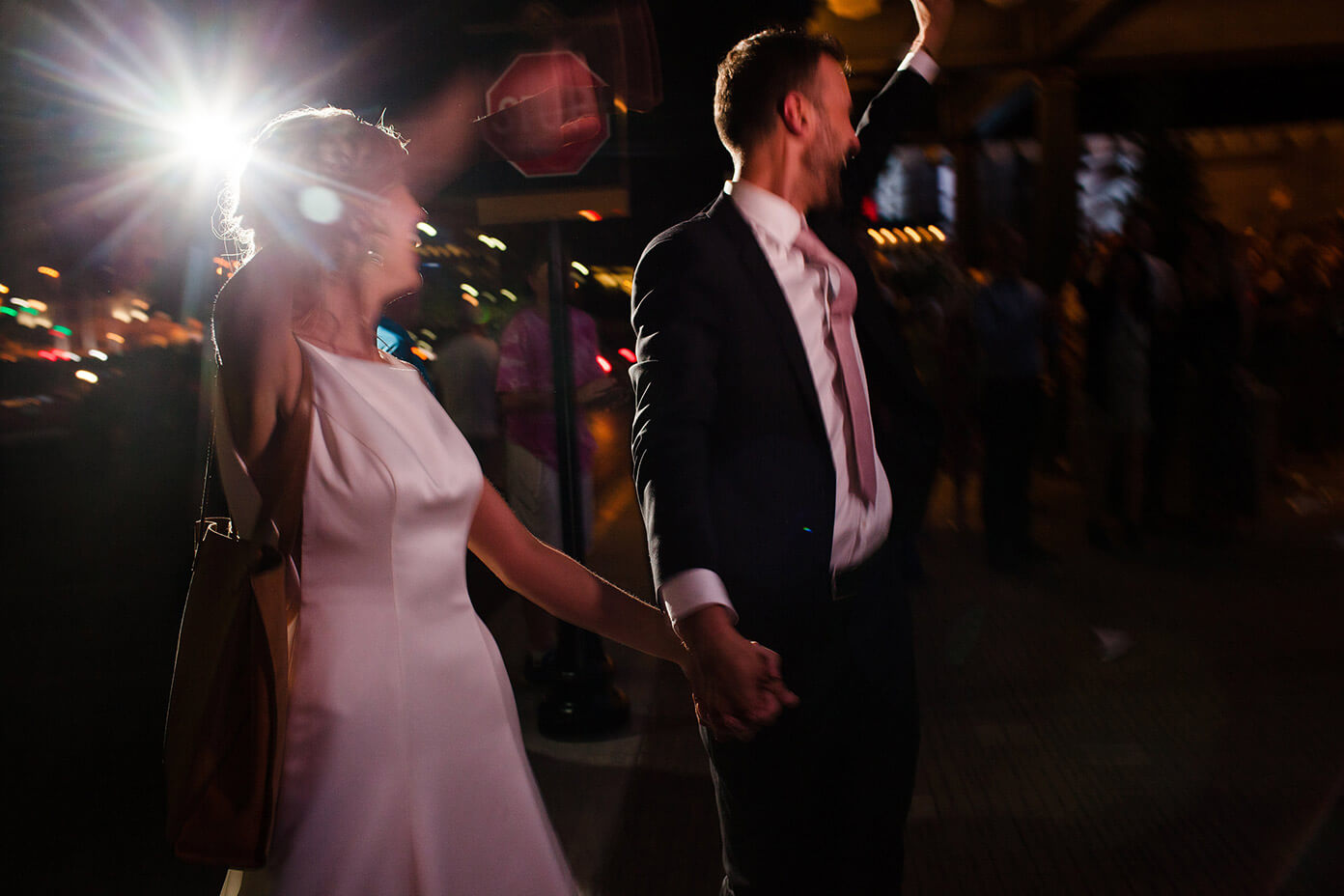 So great.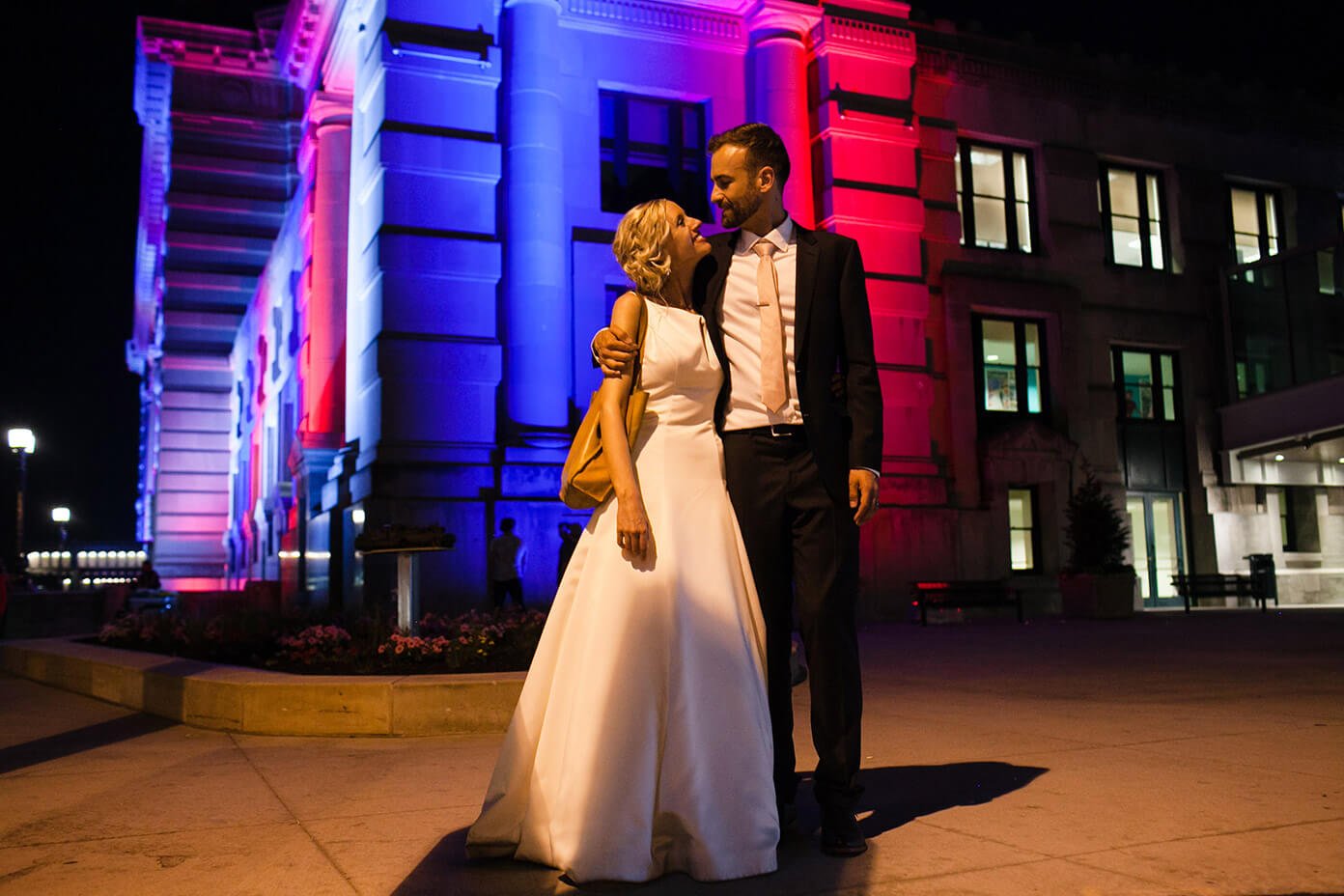 Heading Home
Finally, we thought it would be fun to take a relaxing ride on our new streetcar back home after the wedding for something different. But ha, we neglected to remember that Friday nights on the streetcar are hot and crowded and crazy. (Not quite the calm streetcar ride we had imagined!)  There were no seats available, and my back was officially calling it quits for the night. So my handsome husband made a little "chair" for me until a seat opened up. ?
Then we finally got to have a little snuggle, take a breath together, check out one another's wedding rings, make a bucket list of comfort food we wanted to eat that weekend now that our honeymoon was cancelled (suuuushi!)…and begin the first of countless conversations about how extraordinary this night of ours had been.
Gosh, from beginning to end, it was all just such a special gift.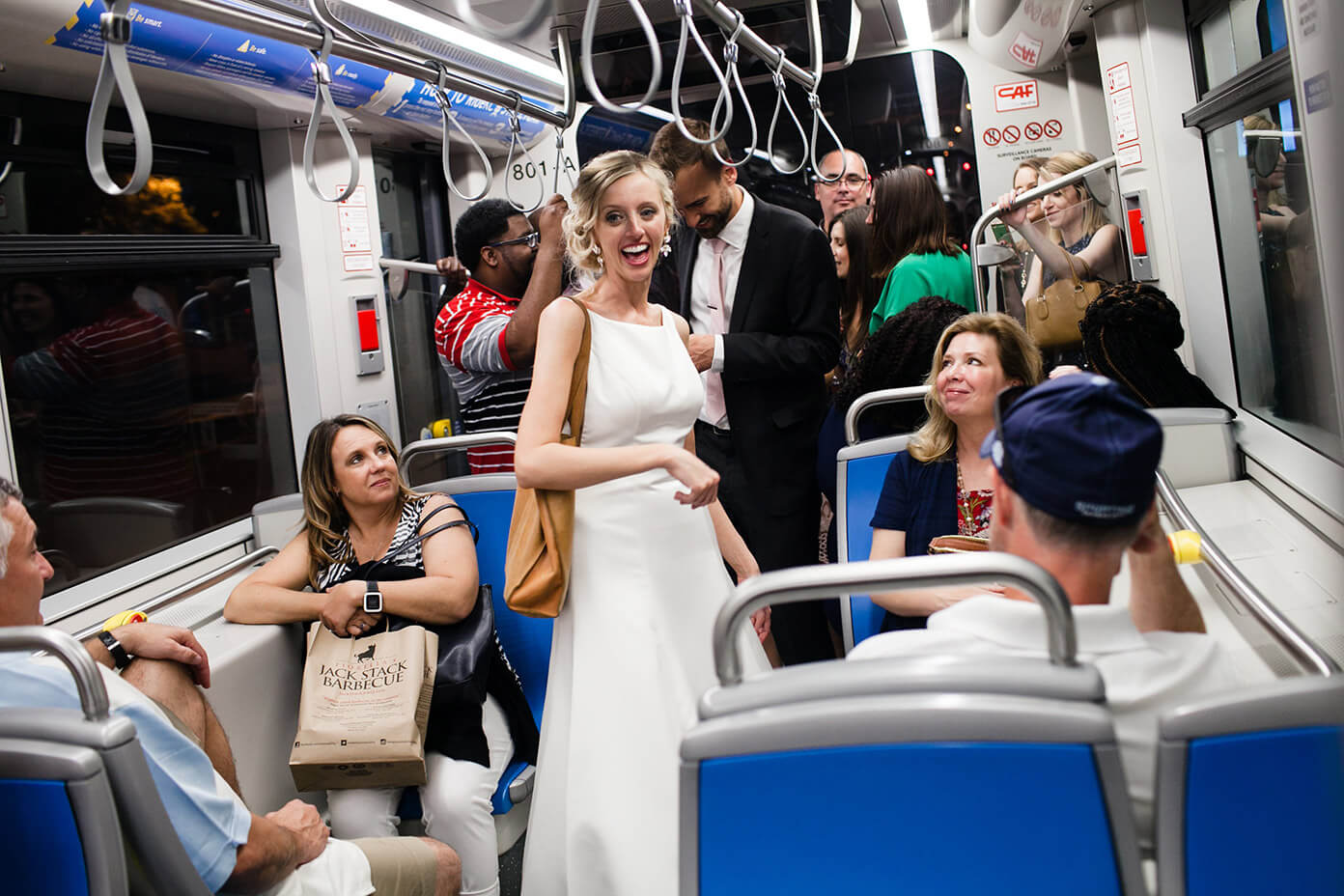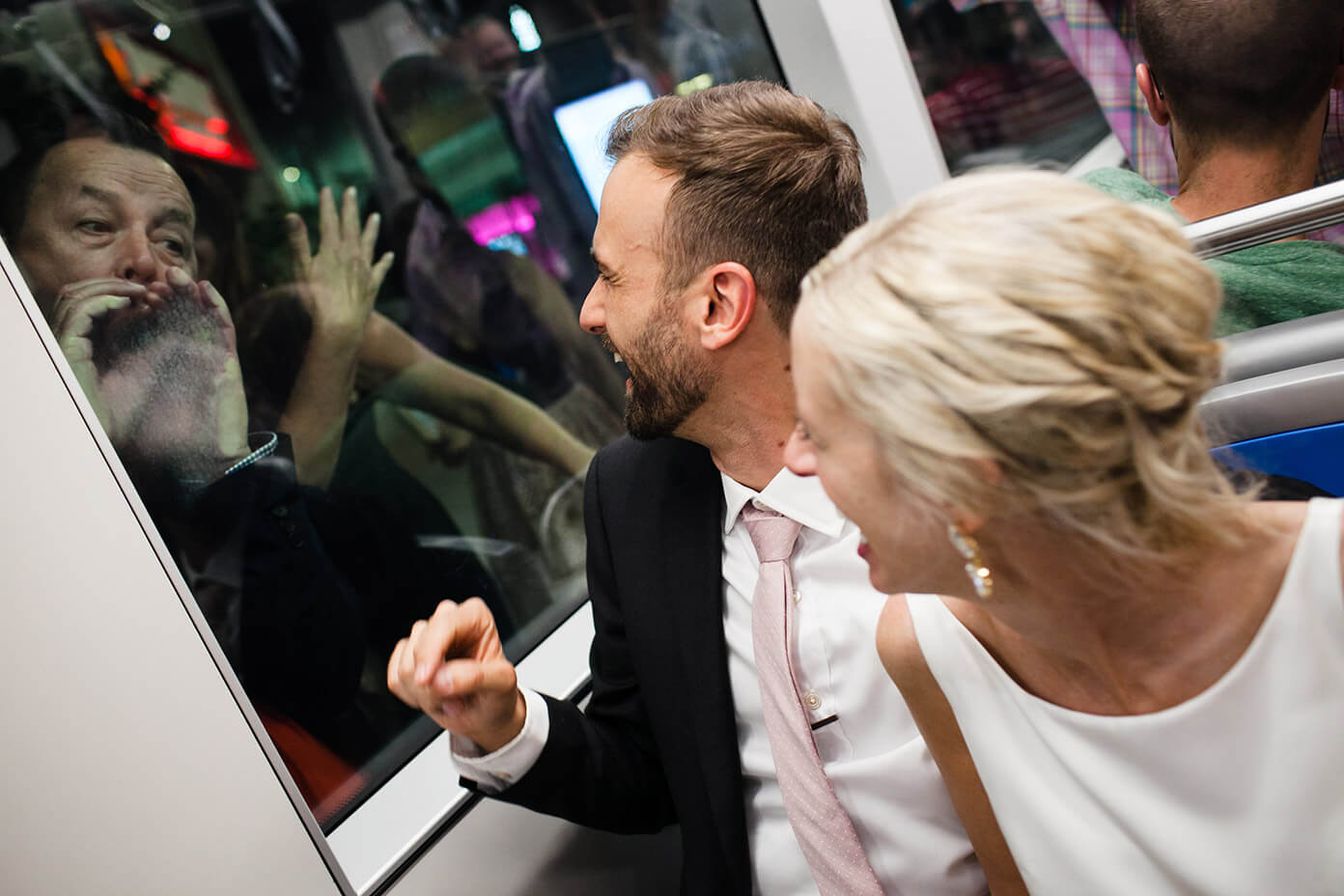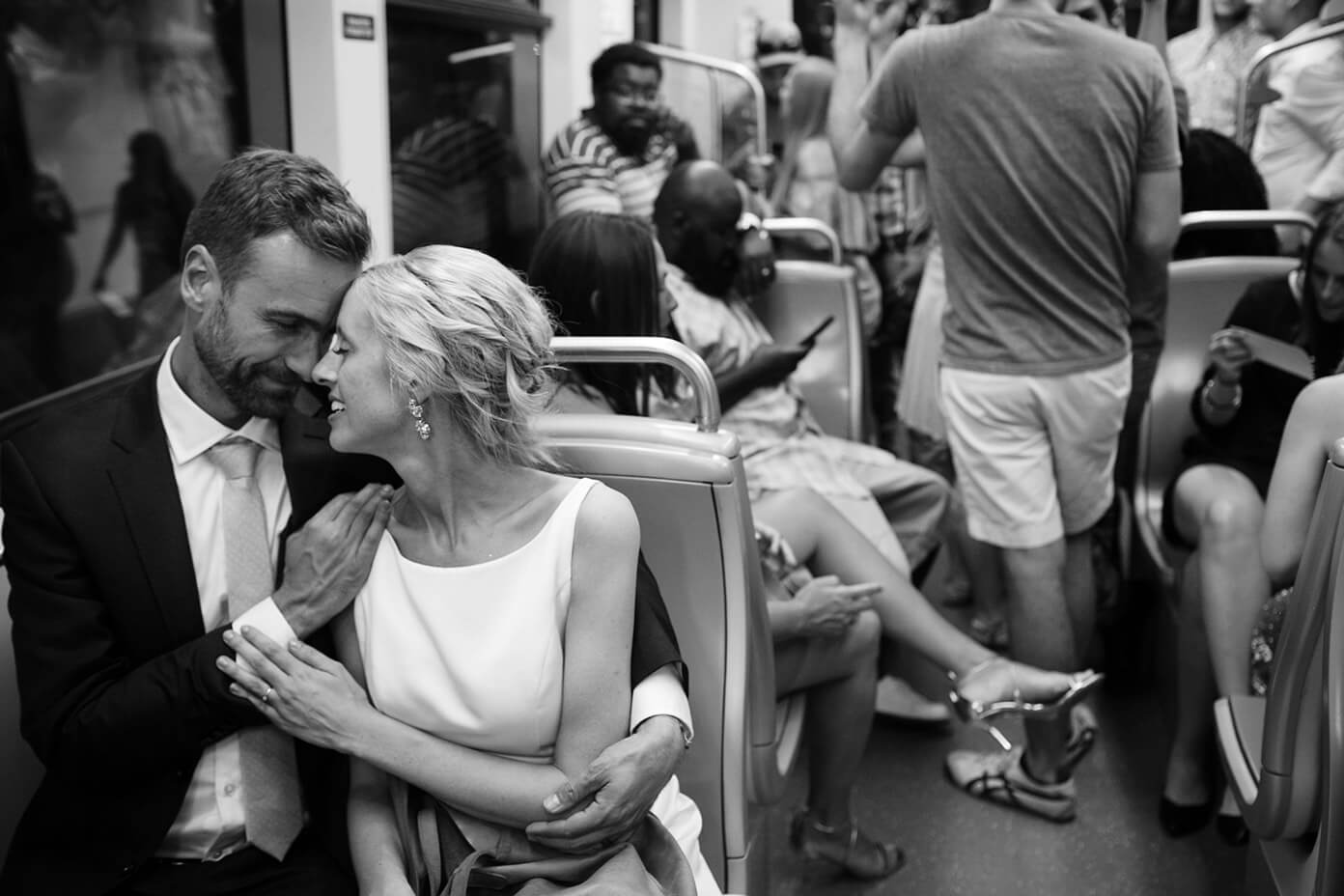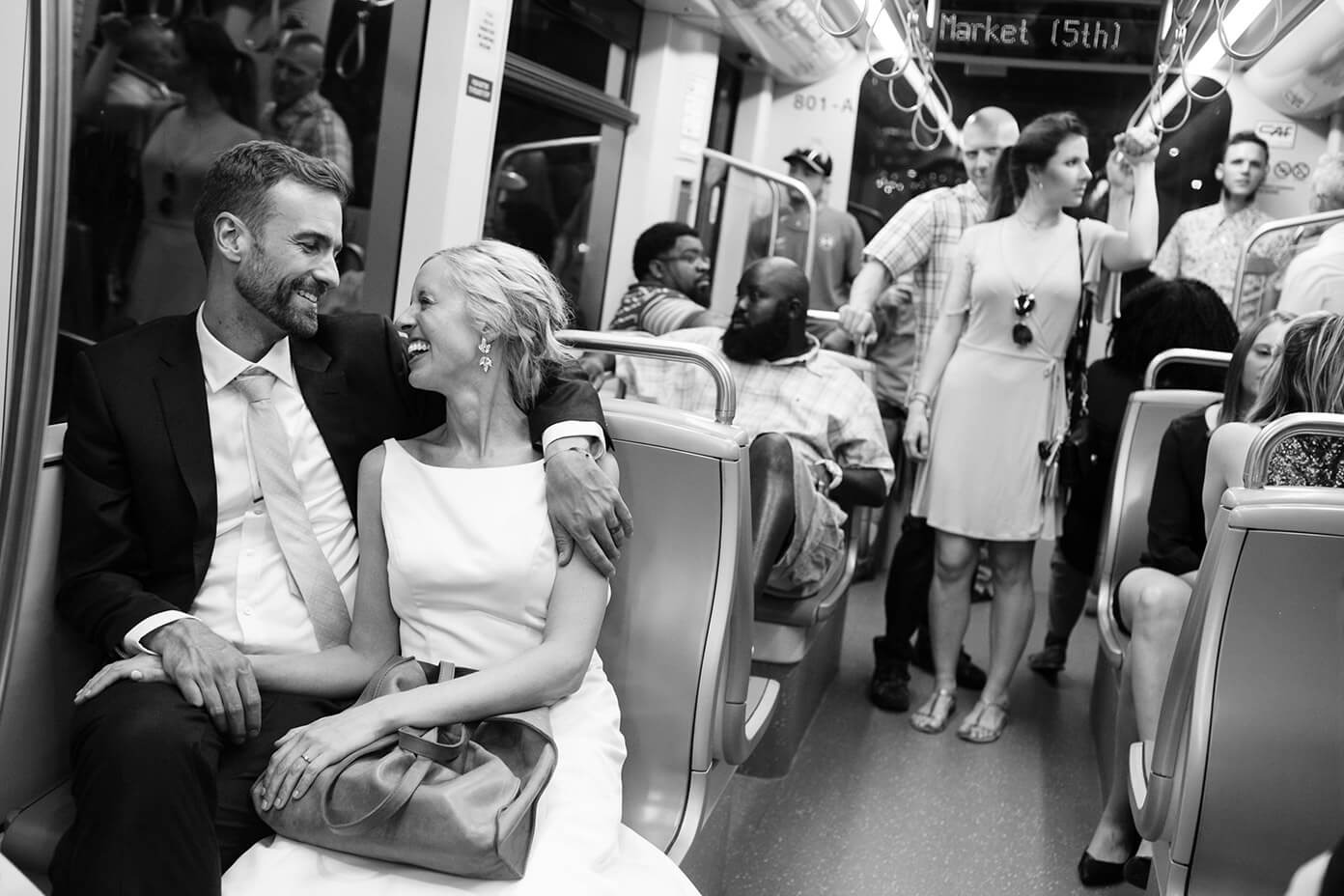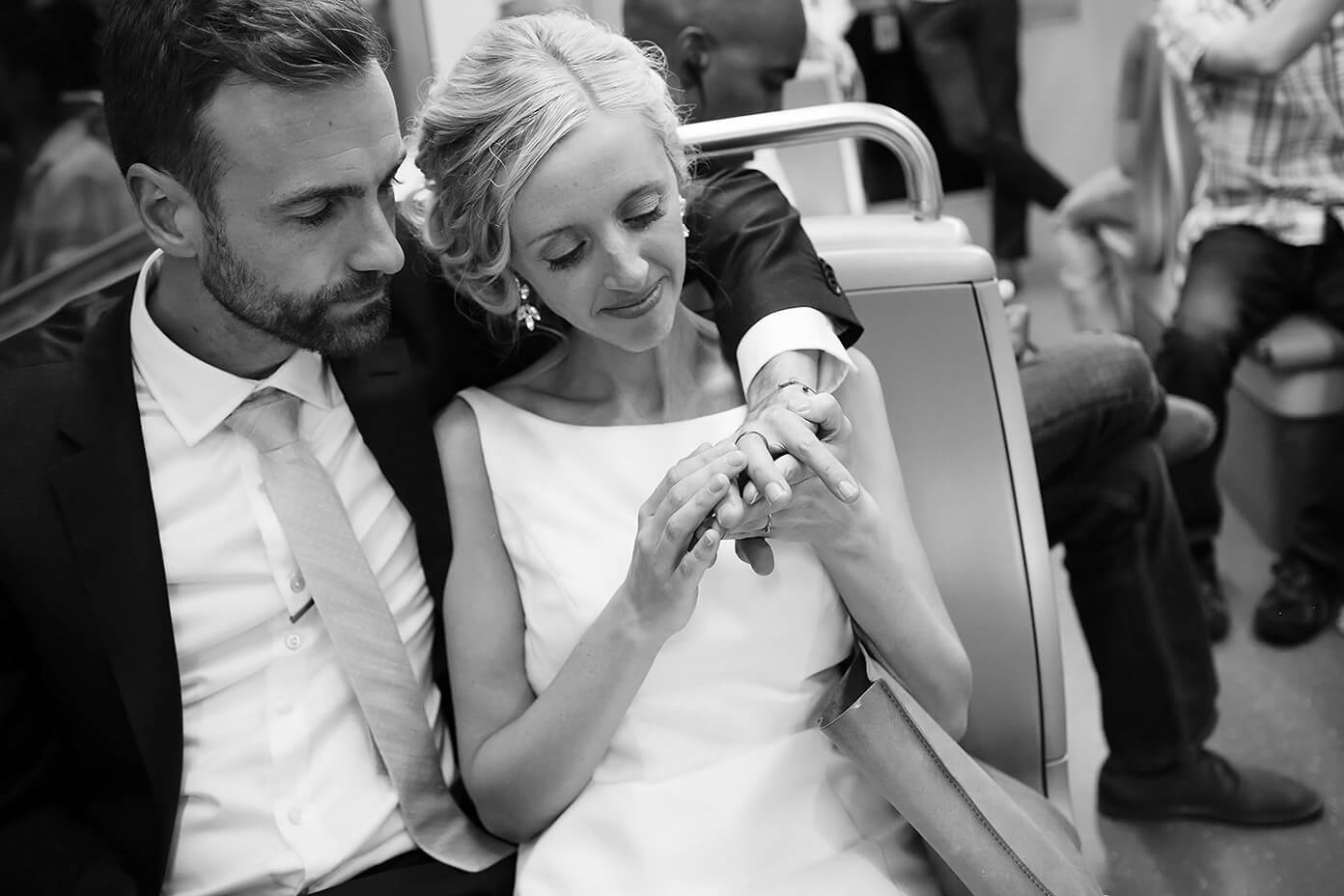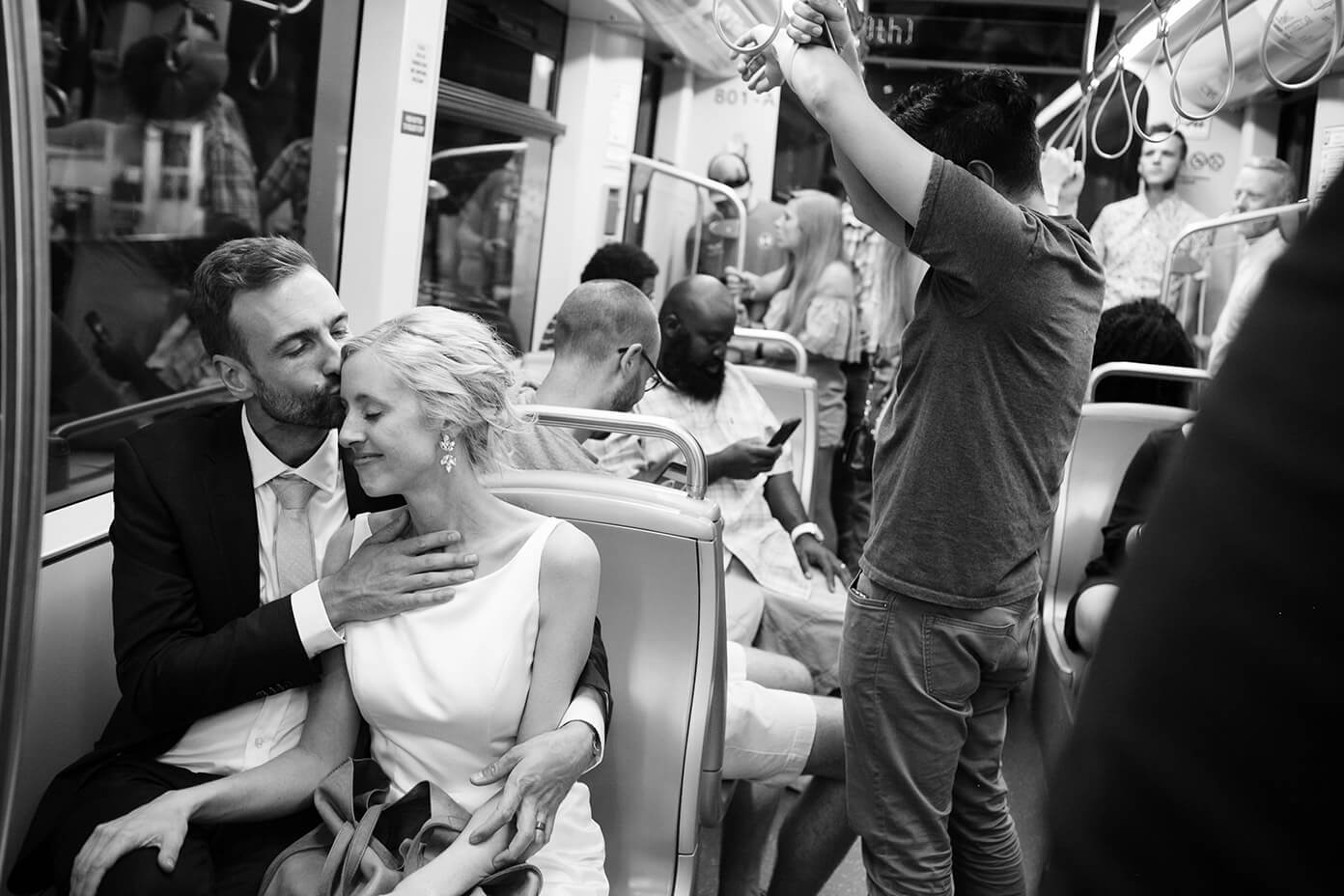 So to everyone — including all of you amazing readers — who has made us feel so celebrated and loved throughout all of this, THANK YOU. We are so appreciative, and love you so much! ?