Our Wedding Rehearsal Dinner
This post may contain affiliate links. Please read my disclosure policy.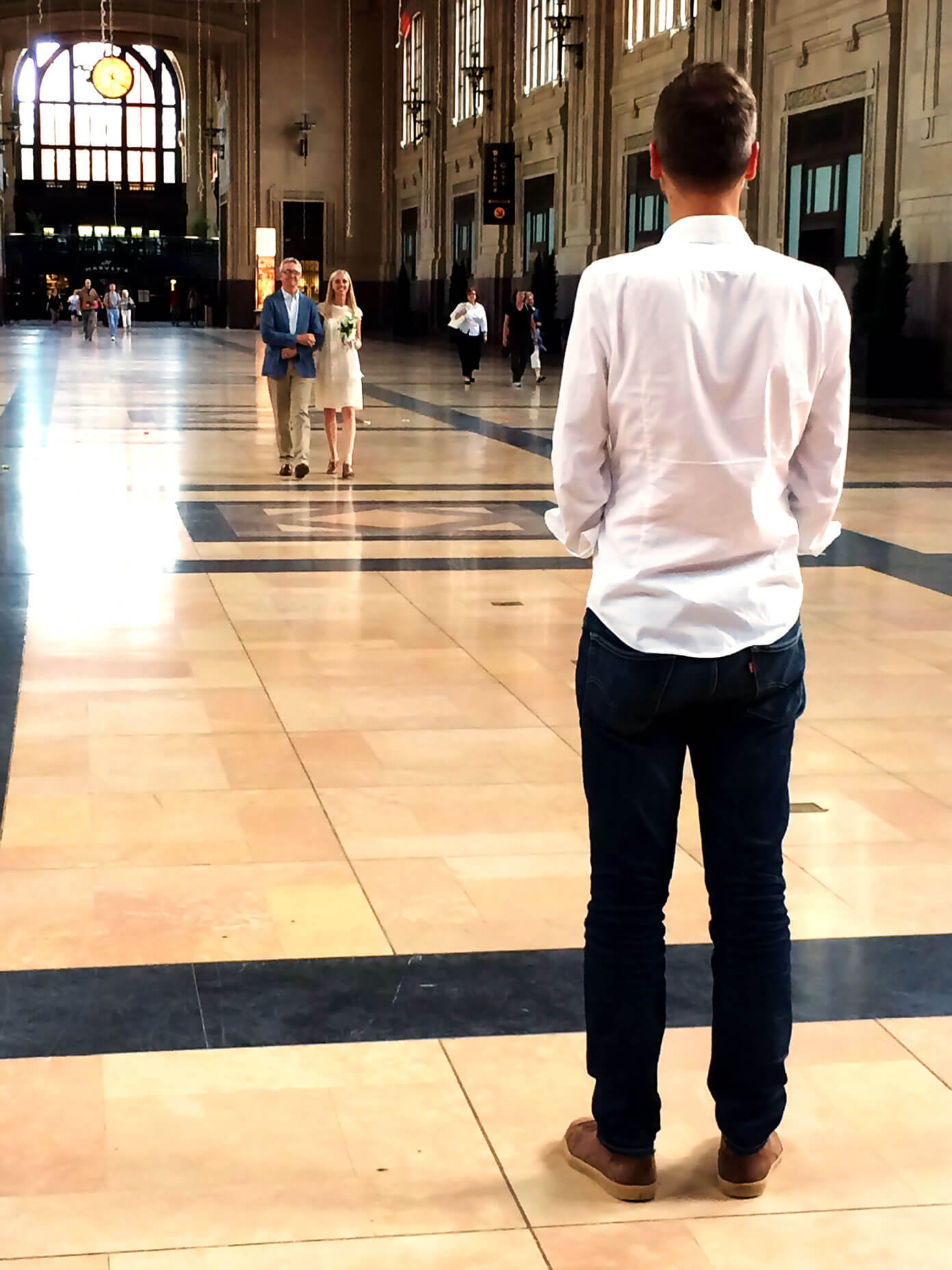 Hey guys! I'm taking a break from posting new recipes this week so that I can (finally) share all of the photos and stories and details with you from my favorite day ever…
…OUR WEDDING! ?
Actually, make that my favorite season ever. Because thanks to our amazing family and friends, the months and weeks and days leading up to our wedding were filled with so much love and celebration that the wedding practically felt like the icing on the cake.
Truly. From the amazing wedding showers (four of them, no less, each so unique and perfect), to our unforgettable bachelor and bachelorette parties, to last-minute DIY gatherings where everyone pitched in to help fold paper airplanes and arrange flowers and fold programs, to adorable flower girl practice sessions, to shopping dates galore, to family reunions, to the countless thoughtful texts and meet-ups from everyone checking in on us during the final throes of wedding planning…man, I just can't even come close to describing how blown away we were by our friends and family in the season leading up to the wedding. They downright overwhelmed us with the love and support and general awesomeness.
And our rehearsal dinner was no exception. ?
Seriously. In the flurry of planning for the actual wedding itself, I don't think that either Barclay or I had really prepared ourselves for what the rehearsal and rehearsal dinner would be like. I mean, we were looking forward to seeing everyone, of course, and were especially excited to have so many of our family and friends there who had literally flown in from all over the world. And, we were definitely excited about a delicious meal at one of our all-time favorite Italian restaurants. But oh my goodness. We were completely blindsided by what an absolute blessing the night turned out to be. And I mean that in the truest sense of the word. Through laughter, through tears, through stories, through so many hugs, through songs, through haikus, through specific affirmation, and through the sheer gift of their continued presence in our lives — the night felt like one enormous BLESSING for our marriage. And it soaked deep down into our bones…and completely overwhelmed our little hearts in the best of ways.
Ha, I mean it. As we were walking out of the restaurant that night, Barclay and I both turned to one another in awe and were like, "Wait, you mean we also still get to have a wedding after all of that?!" It all seemed almost too generous, too good, too much. But in retrospect, we now see that the rehearsal and wedding were two halves of one whole. The wedding was that incredible moment of commitment and celebration that we had hoped for with all of our loved ones there with us. But the rehearsal dinner was this profound moment of centering and blessing beforehand that prepared our hearts for what was to come, and rooted our story so deeply in the community surrounding us.
There's no way I will be able to do the experience justice in any of the descriptions below. Nor can I do so in photos — which, btw, we 100% forgot to take all evening!!! Dang! ? Thankfully, I was able to snag a few iPhone photos from friends below, including a round of 2-second videos my (other) brother-in-law snapped of each table saying hello. (Thank you, Jeff!)  But otherwise, the visuals for this one will mostly have to live on in our memories.
Still, I wanted to share a few highlights from this evening that meant so much to us. And hope you can catch a glimpse below of the amazing community of loved ones we're privileged to call ours.
(Also, stay tuned this week for more wedding posts to come, including lots and lots of photos! ?)
Lidia's
Ok first off, before we get to All The Feelz, the food blogger in me has to tell you about All The Italian Food. Because the dinner itself was an absolute treat.
Both Barclay and I were really excited when his parents — our gracious hosts — suggested holding the rehearsal at Lidia's KC, because:
It is hands-down Barclay's favorite restaurant. (The man loves him some pasta.)
Lidia herself is one of my heroes, and I'm completely obsessed with her recipes and really hope to meet her someday. (#Fangirl)
It's located in an old warehouse that's literally backs up to Union Station, our wedding venue. (Perfect!)
It has a beautiful, sun-lit terrace event space on the front the restaurant that we absolutely loved. (Barc and I are solar powdered. ☀️)
Two words: PASTA TRIO. (The best.)
Actually, Lidia's famous pasta trio (her signature dish, with three daily fresh pasta specials plated tableside all evening long) was only one of the many delicious parts of the evening. We began the night once everyone had arrived with a lovely champagne toast, which was followed by red and white wines to pair with the food all evening long. Then, we all tried hard not to completely spoil our appetites on an amazing round of breads and crackers and breadsticks that were served with Lidia's famous butters. (I could easily make a meal out of just those.)  Then we had our main three courses — a light and flavorful mista salad, everyone's choice of an entrée (pasta trio, steak or salmon), followed by dessert tasting platters.
As opposed to our wedding — where we totally did that cliche bride and groom thing and only ate like 3 bites of food the entire night ? — I devoured every single dish during the rehearsal dinner, and loved them all.
Like I said, a treat. If you're ever in Kansas City, Lidia's is a must.
MC Dooz
Another highlight of the rehearsal dinner? Our fearless MC for the evening — Barclay's younger brother, Dooz.
First off, I'd like to point out that I won the brother lottery when it came to this guy. (Since I grew up in a family of girls, I quickly nixed the "in-law" and have officially adopted him simply as my bro. ?)  He's just the best — so fun and friendly and genuine and easy-going. And I especially love him because he is such a good brother to Barclay.
Also, it turns out that he's quite the natural on the mic as an MC!
As explained below, the rehearsal dinner basically unfolded into a unforgettable marathon of toasts. And Dooz, as our tireless MC, was the one on his feet all evening who literally brought it all together — walking the mic all around the room so that everyone could share, offering his funny commentary between it all, encouraging more people to take a turn, and just generally doing what he does best — making everyone feel welcome and special. He also gave a sweet toast to the two of us, and welcomed me into the family as his very first sister, which made my heart go ?.
Dooz, you're the best!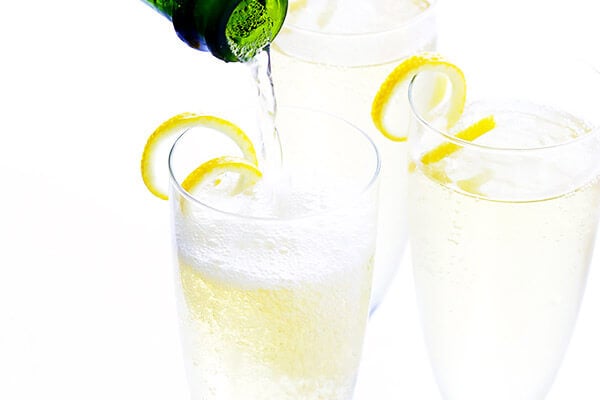 Haiku Toasts
Speaking of toasts, there's no question that these were the highlight of the night.
Although…they were maybe not what you'd expect. ? Instead of having only our bridal party and parents give long speeches, Barclay and I thought it might be fun to open the floor to anyone at the dinner who might like to say a few words. So for something fun and different, we mentioned in our invitations that everyone was encouraged to prepare a haiku to share if they were up for it.
As a bit of a backstory, Barclay absolutely loves haikus. And when he was working as a full-time musician for 7 years, he used to write each of his bandmates a haiku as a thank-you after each gig, which he gave to them on a card along with their paycheck for the evening. So over the years, he's literally written hundreds of these little 3-line poems. (And interestingly, multiple people shared that night that they actually saved each and every one as a momento from their time together in the band, which I think is so cool.)
Ha, so we thought it might be a fun idea for toasts. But we admittedly had zero idea how it go, and wondered whether or not people would choose to participate.
Turns out — our friends and family freaking killed it.? ? ?
Dozens of people ended up sharing, you guys! So many so, actually, that the haikus continued on all throughout the evening until the restaurant had closed. And they were the absolute BEST. Each person's haiku was totally personal and totally perfect. And they kept the entire room laughing, crying, smiling, awww-ing, ah-ha!-ing, cheering and cheers-ing with their original 17-syllable toasts all evening long. We immediately insisted that everyone email them to us so that we could keep them forever and ever. But for anyone interested, here's a small sampling of a few of them. (There's a backstory to each of them with little inside references and jokes that mean a ton to us, but you get the idea. ?)
This is the kind of
never-ending sunshine that
you've been waiting for.
-Sarah
What's it gonna take
Ain't no thang but chicken wang
Get hitched already
-Toby
You never wear shorts
You're the best man that I know
May you two be blessed
–Josh
Two people stumbled
Into joy so hopefully
Choosing openness
Their risk toward love
Has deepened their spirits and
Made a brighter world
–Beth
Diamonds on her soles
No more love hangovers
You have killed the blues
–Sara
Ali, my dear friend
One of the calmest and best
The deepest congrats
–Maureen
You are both great cooks
Howard and Jen would like a
Bun in the oven
–Josh
Kiwi Family Surprise
The other toasting highlight of the evening was a surprise presentation by Barclay's nine — yes, NINE ? — relatives from New Zealand who flew all the way to Kansas City for our wedding.
As I've mentioned on here before, Barclay's half-Kiwi. His dad (Howard) grew up in New Zealand, then met his mom (Jennifer) in grad school in United States, where the two of them have lived ever since. But all of Howard's siblings and relatives on his side of the family still live in New Zealand, and they are dearly missed over here. Granted, Barclay's family has been able to travel somewhat regularly to visit them over the years. And some of you may remember that Barclay and I were actually able make it there for a family reunion in 2016, where I got to meet all 50 members of the immediate family (big crew!) and tour their gorgeous country. But it's a long distance to travel, so sometimes decades pass between moments when the aunts and uncles and cousins are all able to see one another.
So — all that said — imagine our surprise when we found out that nine of them had booked tickets to fly halfway around the world for our wedding! Unbelievable!! It was the first time that Barclay's uncle had ever visited the United States, and the first time that many of them had ever set foot in the Midwest. We had a blast hanging out together and introducing them to a few of our favorite Kansas City spots during the week of our wedding. And we were also ultra-grateful when they graciously offered to pitch in and help us with some projects the day before the wedding. (So amazing, thanks guys!)
But my personal favorite moment with all of the Kiwis was during the rehearsal dinner, when they surprised us all by standing up together for a wedding toast, which included a very special welcome for me to the Martin family.
It makes me tear up anytime I think about it. But to make a long story short, Howard and his siblings there that night were from a family of eight children. And of those eight, three their sweet siblings were born with severe developmental disabilities and passed away before adulthood. It's a heartbreaking and deeply important part of their family's story. And I know that Howard and Cec and Wok and Bren and Tig still miss their siblings so. But…what I'd never been told was that one of their sisters who passed away was actually named…Alison Martin. They shared some sweet memories about her life. And then blew me away by sharing that when Barclay introduced me to the family as his girlfriend Ali (short for Alison), they all felt like this was meant to be. And then when they spent more time with us together, they knew for sure.
(Cue all the goosebumps…and all the tears.?)
So cool. And then, to welcome me to the Martin family, they continued on by presenting me with the most beautiful greenstone necklace from New Zealand. Which, they explained, is a precious stone that is traditionally only given as a gift, never purchased for yourself. (Love that.)  Then they concluded by singing this traditional Maori song all together. And…just wow.
It was such a profound gift from such a special family. I'm so honored to be included now as one of their own.
Our People
Barclay and I were actually talking recently about how much fuss is made around weddings about the bride and groom and how much they love each other…which is all well and good. But really, it seems to us that weddings are so much more about all of the other people surrounding you who love you. And about being confronted again…and again…and again…and again…and again…by the reality that they're in this with you. That you're not in it alone. That you're not meant to be in it alone. That this whole marriage thing is actually meant a team sport. And that this is the brilliance — and sheer grace, really — of how it is designed.
Of how life is designed. ?
I can say for sure that Barclay and I both feel so lucky to begin our marriage surrounded by such a stellar collection of people, including those who celebrated with us that evening and the many many beyond. They've already proven to be the ones with whom we can celebrate with in the best of times, lean on in the worst of times, and count on in all of the days in between to help hold us together. We learn so much from them, and love them deeply. And we're so thankful to call them ours.
So to everyone who made our engagement season so special while we prepared for the wedding, THANK YOU. We love you lots, and will remember this night and the life-changing season this was for the rest of our lives.
~
(Stay tuned tomorrow as we continue on to our wedding day!)