Our New Barcelona Apartment Tour (VIDEO!)
This post may contain affiliate links. Please read my disclosure policy.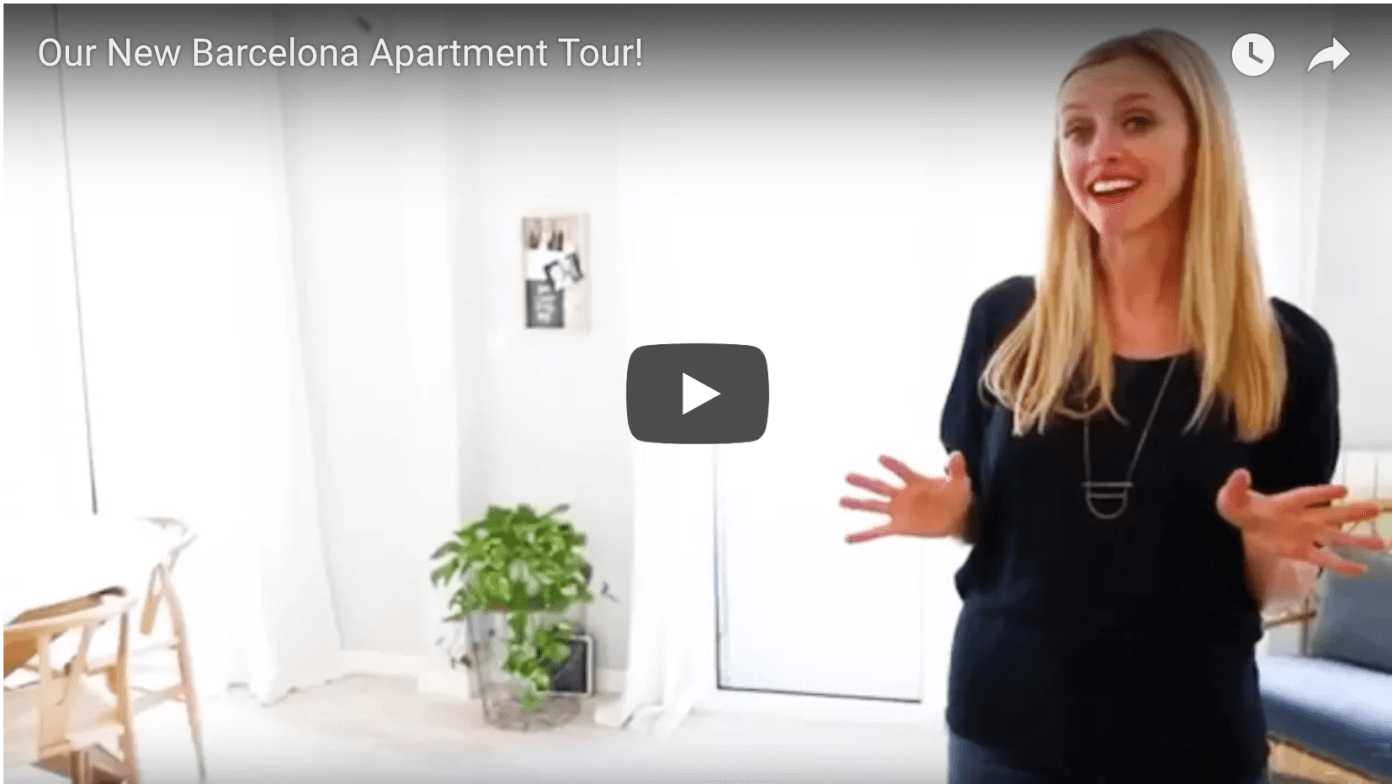 ¡Bienvenidos a nuestra casa!
Welcome to our new little apartment here in Barcelona! ♡
Spoiler alert: we love this space so much, you guys.  It's no exaggeration to say that it's literally everything that we had hoped to find in a flat here in the city…and so much more. From the location in town (we got to stay in our favorite neighborhood!), to the size of the place (far much more spacious we were expecting), to balconies and windows galore (so charming), to finally having a guest bedroom (lil' dream come true for me), to the downright glorious amount of light we get in here all day long (the best)…we feel like the luckiest ducks in the world to be able to call this place our home now. And also, to be able to welcome our dear friends and family into this home as well! As this post goes live today, Barclay and I have our second set of visitors here staying with us…which makes my heart happy for a hundred reasons…but especially because it feels so good to feel rooted in a space now where we can welcome friends and family from near and far. A space that really feels like home.
Anyway, we've been promising you all a tour for months now. So without further ado, here it is! Many thanks to my handsome husband for putting together this video for us. We hope you enjoy it, and stay tuned for new videos coming soon! Also, here are our answers to some of the questions you all have asked about our new place.
Our New Barcelona Apartment FAQ:
So when did you guys move in?
We moved into this space at the beginning of November 2017.
What happened to your first apartment?
We originally just had a short-term (2 month) lease for our first apartment, since we wanted to wait to choose a long-term neighborhood and apartment after we had spent some more time in the city. And our first place was totally cute! But unfortunately, the lighting in there ended up being so dark during the day that I was struggling to shoot photos for the blog. (I just use natural light.)  So we asked our apartment agency if they might have any other spaces available for an early move. And — miraculously — this place was going on the market just a few days after we asked. We toured it within hours, and the apartment agency graciously let us make the switch and move early. So we moved in during our third week here in Barcelona, and have a 1-year lease on the place.
Where is your new apartment?
It's located in the El Born neighborhood of Barcelona, literally just down the street from our last place. And we love, love, love our location. We're a 20-minute walk away from the beach, a 5-minute walk away from my favorite market, a 3-minute walk away from our favorite Mexican restaurant, a 2-minute walk away from our favorite park, and the neighborhood itself is absolutely charming and full of life. It's literally the exact place that we hoped to end up in the city. (Again, we totally lucked out.)
Are you near a park now for the dogs??
Ha, yes! Thank you for asking and remembering! :)  As rookie Barcelona apartment renters, we mentioned in our last video that we forgot to check when looking for our first apartment to see if green space was nearby. Short answer? There was nada, which was a bit of a challenge. Thankfully, though, our new apartment is located right by an enormous park. And all four of us are very happy about it.
How did it feel moving into a furnished apartment? And how did you make it feel like "your own"?
Honestly, it felt like an enormous relief moving into a furnished apartment…especially one as beautiful as this one. Just about every other detail of our international move was complicated. So not having to mess with buying and hauling furniture felt like a huge weight off of our shoulders. And, as you can imagine, it made our actual move a breeze.
That said, as we mention in the video, there were a handful of decor touches around the house that weren't quite our style. So we're slowly replacing some pieces of decor around the house to make it feel a bit more like "us". But we really don't want to buy much stuff here — especially since we don't know whether we'll be in this apartment for more than a year. So any new purchases will be minimal.
What sort of stuff comes in a furnished apartment? And what do you have to buy?
This apartment actually came stocked with more stuff than our last place, which is amazing! We pretty much only had to buy sheets, towels, hangers, kitchen gadgets…that sort of stuff. The apartment came fully stocked with everything from furniture to dishes to a tv to a European hair dryer and more. Again…so convenient. We wish that real estate rentals worked this way in the States!
Are pet-friendly apartments easy to find in Barcelona?
Short answer: NO. Like, literally, when you check the "pet-friendly" box on apartment rental websites, only 10% of rentals remain. Barcelona loves dogs…but apparently, not dogs in rental apartments. That said, we were given the tip of asking specific apartment owners if they would make an exception. We did, and we're so thankful that our owners agreed to welcome Henry and Fiona.
What are you growing in your garden?
At this point, our garden is entirely edible…which I love! We're growing All The Herbs and a few salad greens. My goal for the summertime is to try and grow some chile peppers (jalapeños, poblanos, etc.), since they're hard or impossible to find in Barcelona. And we really, really want to bring home a little "limonero" (lemon tree) soon.
What's in your fridge there? And pantry?
Ha, our video started to get a little long. So I've decided to save a kitchen food tour for a separate video. Coming soon!
Do you hope to stay in this apartment for longer than a year?
At this point, definitely. We can't imagine a better apartment for us for our time here in Barcelona, so fingers crossed that they will renew our lease next year!
If you have more questions, just leave them in the comment section below, and I'll do my best to answer. Thanks for tuning in, and be sure to subscribe to our YouTube channel for more updates!